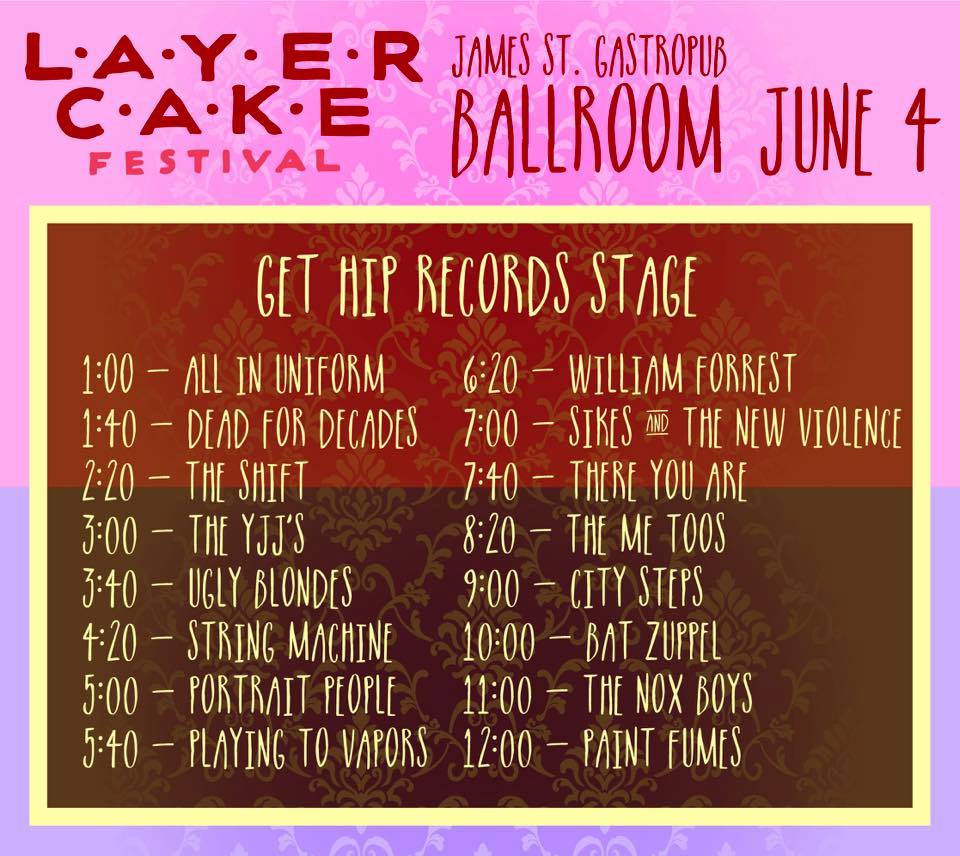 UPDATE (06/02/16): Check out a Layer Cake Music Festival event preview from this week's issue of Pittsburgh City Paper
Layer Cake Music Festival, now going into it's second year, is a two-day live music festival held in multiple neighborhoods across Pittsburgh It features 170+ regional and national music acts, 40+ live painters/visual artists, and 20+ performance artists. This year's festival will be held June 3 & 4.
Get Hip Recordings will host the Ballroom stage at James St. Gastropub from 1 p.m. to 1 a.m. on Saturday, June 4.
In addition to an roster of fantastic local musicians, the Get Hip Stage will play host to several label artists and alumni:
PAINT FUMES: These North Carolina Garage-Punks are set to release their second album this August on Get Hip
WATCH: Paint Fumes "Waste Of Time" official music video
NOX BOYS: Pittsburgh's own Garage luminaries are hard at work on LP2. Catch them opening for The Black Lips at Spirit Hall on July 11

WATCH: Nox Boys "Military School" official music video
SIKES & THE NEW VIOLENCE: Full-band indie hip-hop courtesy of Get Hip alum Brian Howe. Check out I've Seen Better (2015), available now on LP, CD, cassette, and digital
WATCH: Sikes & The New Violence "Low Expectations" performance video
Full schedule below.
RSVP on Facebook
Buy Layer Cake tickets here
GET HIP STAGE / BAND SCHEDULE
1:00 PM    All in Uniform
1:40 PM    Dead For Decades
2:20 PM    The Shift
3:00 PM    The YJJ's
3:40 PM    Ugly Blondes
4:20 PM    String Machine
5:00 PM    Portrait People
5:40 PM    Playing To Vapors
6:20 PM    William Forrest
7:00 PM    Sikes & The New Violence
7:40 PM    There You Are
8:20 PM    The Me Toos
9:00 PM    City Steps
10:00 PM  Bat Zuppel
11:00 PM  Nox Boys
12:00 AM  Paint Fumes