THE CYNICS "SPINNING WHEEL MOTEL"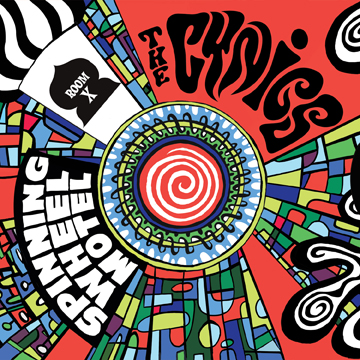 New studio album by Pittsburgh Garage Rock legends! Recorded in October 2010 at Ghetto recorders in Detroit and produced by Jim Diamond. Featuring rhythm section extraordinaire of Asturian-born Pibli Gonzalez (drums) and Angel Kaplan (bass). The The CYNICS latest release is a spinning, whirling, joyous dance into rock n' roll's traditions and contradictions and has the immediacy of a singular, impromptu performance.
The Cynics latest record opens with a massive swath of guitar power.  "I  Need More"  immediately projects the wealth of musical textures and colors that abound in Gregg's carefully chosen guitar chords and Michael's faux ambivalence.  It's a smooching kiss to the industry that gave them a livelihood, idols to worship, and a great big punch in the mouth.
You focus on the "Bells & Trains" of your insomnia, the sweet recollections of "Rock Club" revelries, and the pounding chorused puns of your "Junk".  The naughty, besotted dog of "Zombie Walk" might best be swatted with a rolled up newspaper, but when that same dog comes bounding to you with "Circles Arcs & Swirls" can you resist?  Before us stands the "Spinning Wheel Motel". Seen from outside it seems a humble monument to the weary traveller, but within each mirrored room, the depths of "Gehenna".
Fans have come to marvel at the kind of thoughtful revelations lurking within Michael's lyrics and Gregg's guitar sounds. Decades pass in a cymbal crash, a lifetime is portrayed in a three-minute ditty, it's a brand of gallows humor, both silly and profound. We who live our lives balancing look to artists poets and musicians to show us our possibilities. Plain language, directly sung and playfully wrung, will articulate this struggle to fill the void.
A seemingly simple song can squeeze complex stories into a bottle. Through hard lessons learned on the outskirts of notoriety, this album was largely recorded in just a few days. The quality of Jim Diamond's recording here is as taut as the rhythm section's playing. How many times can a band put out their "Best Record Ever" ?  The Cynics keep doing it…
Track Listing:
Side A:
Room 1 – I NEED MORE
Room 2 – ALL GOOD WOMEN
Room 3 – CRAWL
Room 4 – GEHENNA
Room 5 – BELLS AND TRAINS
Room 6 – ROCK CLUB
Room 7 – CIRCLES ARCS AND SWIRLS
Room 8 – SPINNING WHEEL MOTEL
Room 9 – ZOMBIE WALK
Room 10 – JUNK
LP includes Free Download Card and fabulous Gatefold jacket!
I NEED MORE Video by Jay Share-it: http://www.youtube.com/watch?v=euLGj3iOl98
BUY THE RED/BLACK COLORED EDITION
BUY THE YELLOW/ORANGE COLORED EDITION