THE FRANTIC FLATTOPS "HI-FI HONEY REVISITED"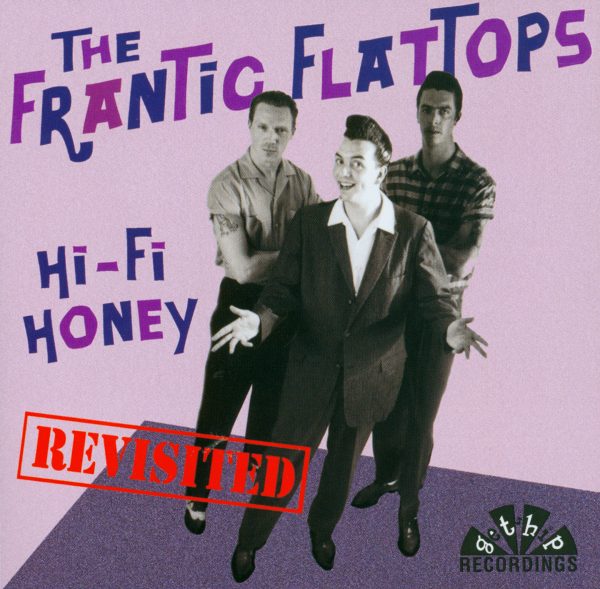 Rockabilly ain't big. Never has been. Even in its Eisenhower heyday, rockabilly never basked in the mainstream's lucrative luminescence. What did manage to slip through the cracks was, for the most part, painfully polished, cleaned up, and made ready for the countless vanilla masses. Although it has reared its snaky head several times since then, rockabilly remains, lurking happily in the underground with bands like The Frantic Flattops, maniacally grinning in the dark.
It was there, in the dark, subversive sub-terrain of Rochester, New York, that The Flattops formed in 1987. While many of their peers were too busy preening in ultra-period-correct outfits or splintering off into blues, country-swing or Psychobilly camps, The Flattops played straight-up rockabilly. Still do. OK, so maybe they were a little lascivious, tawdry, too fast and too loud, but they held the spirit of the music–not by imitation but by living and writing their own tales of love, lust, conquest, and heartbreak, with guts and swagger. When they did cover songs, they were drawn from an endless supply of the rockabilly unknowns they loved. The instrumentation remained raw, uncluttered and straight to the point. Just three greasy Romeos; the classic trio of guitar, upright bass and drums, pounding out raucous roadhouse rock n' roll, bluesy shuffles, and fast rockabilly.
The Flattops toured an endless road, logging up to 300 dates per year–initially in a green 1964 Cadillac hearse called Big Otis! Their live shows were known to be completely out of control, with the band playing until there was nothing left, the audience spent. Following the release of their debut LP Hi-Fi Honey in 1993, the hysteria grew, leading to three European tours and countless jaunts across America, playing to a growing legion of fans that couldn't get enough of the band's relentless performances. The independently released, live-in-the-studio release sold close to 10,000 copies.
With a Hail Mary phone call to Dallas, Texas in 1992, The Flattops became instrumental in bringing Texas rockabilly legend Ronnie Dawson back onto the road. Dawson and The Flattops played many memorable dates throughout the U.S. and Canada between '92 and '94. They logged some studio time together, but with the exception of one out-of-print single, the recordings were never released—until now!
A decade later, Get Hip proudly presents this expanded reissue of The Flattops' 1993 debut LP, fully remastered for superior rockin' and rollin'! Hi-Fi Honey Revisited combines the album's original 10 songs with three live cuts recorded for WMAX in July 1993, three previously unheard collaborations with rockabilly legend Ronnie Dawson, and one bonus track, "Teenage Partner."  Don't wait another 10 years!