HAXIXINS, OS "OS HAXIXINS"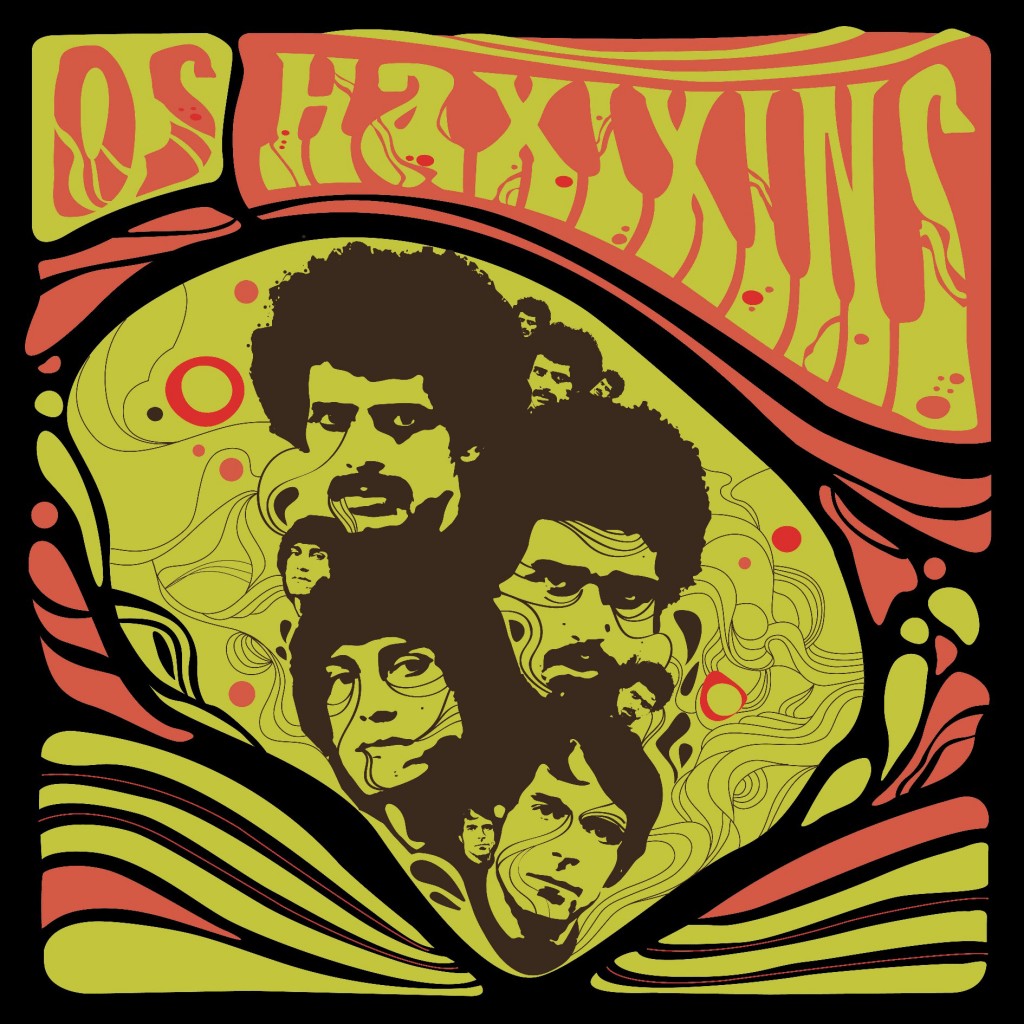 "Out of the southern hemisphere comes the fuzz laden with a measure of combo organ sounds from Brazil's OS HAXIXINS. In my opinion this is one of the most authentic garage bands I've heard in some time. These recordings capture true to the recorded performances of the great sixties groups the Music Machine the Standells & We the People. Portuguese & English vocals only adds to the uniqueness of OS HAXIXINS music. I find it a gas that they use only vintage equipment and analog recording techniques to achieve what's truly a great LP. Make dam sure you take the trip and dig this happening scene."   –   Gary Wilde (Luv Radio)
Born and raised in São Paulo, Brazil's "Lost Zone" (or "Zona Lost"), Os Haxixins are probably the most obscure and ill-fated band in the city's garage-rock scene. After an unsuccessful experience in a band called The Merry Pranksters, longtime friends Sir Uly (drums) and Fábio (guitar) decided to form a group with a repertoire based "only on fuzz pedal and guts" and influenced by a mix of hard-to-find Sixties LP's, garage-punk, and psychedelia. After recruiting bass-player Daniel and organist Alôpra, Os Haxixins was born.
The band's name is inspired by "Le Club des Hachichin"–translated in Portuguese as "Clube dos Haxixins"– an article published in 1846 by French poet and novelist Théophile Gautier. The piece spawned a group of French intellectuals including Baudelaire, Delacroix and Gautie, dedicated to the exploration of drug-induced experiences–notably with hashish. That's the kind of stuff Os Haxixins identifies with.
Besides their slick '60s thrift store outfits, the band maintains a dedication to writing and performing with vintage equipment, awash in the kaleidoscopic glow of psychedelic light shows. Since their genesis in 2003, they've played in all sorts of dives and underground clubs across the city of São Paulo.
After nearly giving up on the idea of recording an album, Os Haxixins was finally approached and by Berlin Estúdio co-owner Jonas Serodio (The Brazilian Sellouts, The Drugs, Thee Butcher's Orchestra, The Blackneedles). The band recorded reel-to-reel, capturing the glorious vintage sound of their influencers.
Originally released on Portugal's Groovie Records in 2007, Os Haxixins' self-titled debut album is now proudly being rereleased on Get Hip. This stellar reissue features two additional tracks (for a total of 16) of blistering garage-punk, all but one of which is sung in the band's native Portuguese. There's also a frantic cover of the garage classic "Dirty Old Man."