PAUL COLLINS BEAT "THE KIDS ARE THE SAME"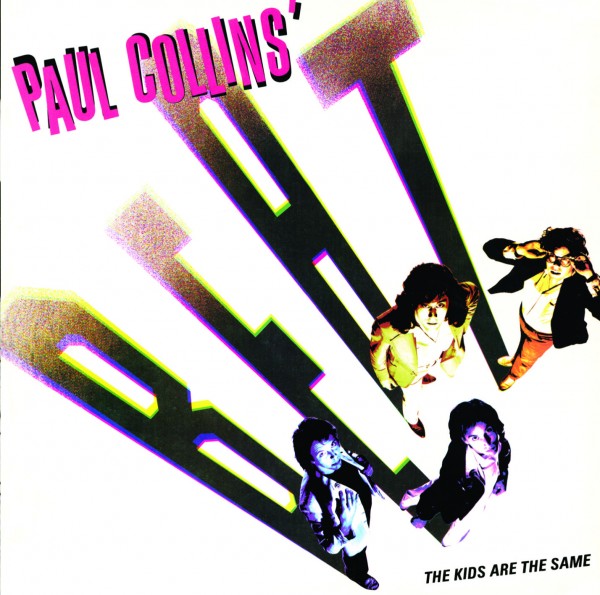 Description:
"As easy to like as Baby Sitters' Breasts." – CREEM Magazine, 1982

Now some 30 years later, those titties are getting ready to show themselves again! Paul Collins Beat's second album followed in the footsteps of his brilliant debut to rave reviews, an apathetic record company and a clueless public.  Despite featuring some of his greatest songs – "The Kids are the Same," "On The Highway," "Dreaming," "I Will Say No" – Columbia Records dropped the band as they toured relentlessly while "On The Highway" poured out of FM radio airwaves across the country and the newly launched MTV channel aired the videos for "The Kids Are The Same" and "On The Highway."
As noted rock journalist of The Los Angeles Times Robert Hilburn put it back in the day: "One song however, contains much of the stuff FM rock radio stations adore. While somewhat atypical of Mr. Collins' festive, compact style, "On The Highway" is a moody, extended track that has gotten more airplay around the country than anything on The Beat's first album. Still it hasn't been enough to make this album a hit."
Finally the weight of the business crushed their spirit, the band faded away as corporate rock devoured everything in its path, and this gem of a record was relegated to cutout bins and relative obscurity for years.
But wait! What's that sound? THEY ARE BACK! Yes it is true kids!
After being banished to another planet, The Paul Collins Beat is back and better than ever, touring constantly in the U.S., Europe, Australia and Japan! We are very proud to present after some 32 years in the bargain basement bins….The Kids Are The Same!
Now re-mastered and reissued for the first time on 180 gram vinyl, "The Kids are the Same" makes the perfect complement to The Beat "The Beat" (Sony-Get Hip, 2010).
The King of Powerpop rides again!
Track Listing:
1. THAT'S WHAT LIFE IS ALL ABOUT
2. DREAMING
3. ON THE HIGHWAY
4. WILL YOU LISTEN
5. CRYING WON'T HELP
6. THE KIDS ARE THE SAME
7. TRAPPED
8. IT'S JUST A MATTER OF TIME
9. MET HER YESTERDAY
10. I WILL SAY NO
11. DOWN (bonus track)
Watch the original 1982 The Kids Are The Same !