VARIOUS ARTISTS "FREE FLIGHT UNRELEASED DOVE RECORDINGS 1964-69"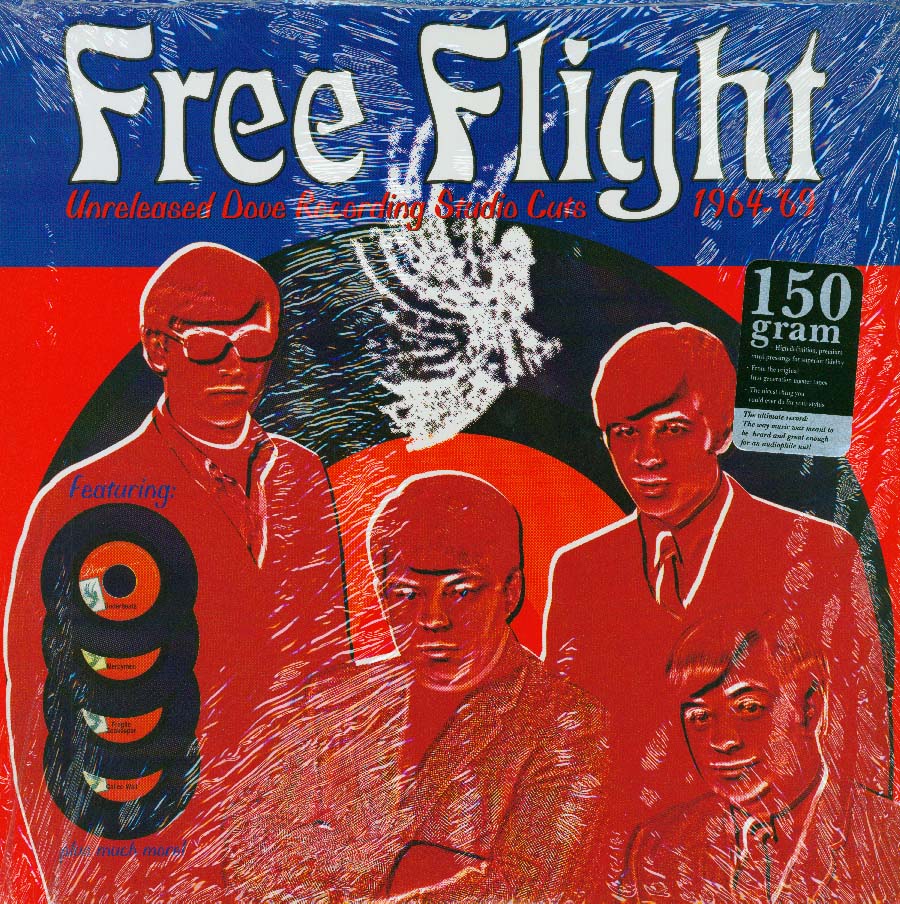 Description:
Dove Studio opened its doors in St. Louis Park, MN in the spring of 1964 and lasted until 1970. During this six year span, the studio literally recorded hundreds of groups of all different kinds of music genres. Contained on this album are 27 gems of unissued rock and roll material, beginning with hard-driving Mike Waggoner and the Bops in '64, and ending with probably the strangest recording session that ever occurred on Dove's premises, Michael Yonkers in 1969. Fifteen different bands are represented in this package, each showcasing a different musical style. Starting things off with straight-ahead rock 'n' roll are the Bops, Magpies and Mercymen, all of which owe a tip of the hat to Chuck Berry and Buddy Holly. R & B was a strong influence in the Twin Cities during the mid-'60s and the Lancers and the Nite Caps do their part to keep the style flowing. Since the Trashmen were out on the road most of '64, the Underbeats took over as "top-dog" combo in their absence. Four unreleased tunes by the group are included here. Two of the top instrumental bands from the state, the F.B.I. Idiots (Gregory Dee & The Avanties in disguise) and the Titans show their wares, along with the female-led Marcia & the Lynchmen.
In early 1966, Sir Laurence & the Crescents recorded a powerful, Raiders-like, open throttle rocker which has remained unissued until this day. Psychedelia/Punk was no stranger to the state of MN as witnessed by the Fragile Zookeeper, the Calico Wall, and an unknown, unnamed acetate of mammoth proportions included herein. Rounding things out is the Chad & Jeremy-like Longman & Fogel and the truly bizarre Michael Yonkers, who thought he was receiving transmissions through his guitar from aliens! In all cases, the bands contained on this project walked out of their respective sessions with acetates or mastertapes in hand to proceed with as they wished. Thankfully their musical legacy had survived the past three decades to finally see the light of day. Includes huge booklet with extensive liner notes, photos and much more.
Track Listing:
Mike Waggoner & The Bops  – Can I Be Kind
The Magpies  – Never See Her Again
The Magpies  – Everybody's Fool
The Mercymen  – If You Want To Be My Baby
The Mercymen  – Can't You See
The Underbeats  – Love To You
The Underbeats  – Don't Lie To Me
The Nite Caps  – You're Lookin' Good
The Underbeats  – Fate Of A Fool
The Underbeats  – Wishes Don't Come True
The F.B.I. Idiots  – Shot Thru The Grease
Marcia & The Lynchmen  – Very Last Day
The Titans  – Skokiaan
Sir Laurence & The Crescents – Cheatin' On Me
The Fragile Zookeeper  – The Nazz Are Blue
The Fragile Zookeeper  – Hey Joe
The Fragile Zookeeper  – Children Of The Night
Unknown Artist  – He's In Love With Himself
Unknown Artist – I Just Don't Know
Longman & Fogel – I Once Had A Dream
The Calico Wall  – Look Over Yonder's Wall
The Calico Wall  – Lotta Lovin'
The Calico Wall  – Flight Reaction- instrumental
The Calico Wall  – I'm A Living Sickness
Michael Yonkers  – Micro Miniature Love
Michael Yonkers  – Kill The Enemy