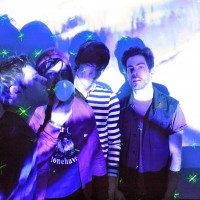 RECENT PRESS:
This wicked cool Toronto-based four-piece has already amassed a notable following among indie music fans and bloggers in Canuckland, and with good reason. Those in the know in Canada need to spread the word abroad because these guys represent something we need a lot more of in rock and roll right now: free-wheeling imagination, and songwriting talent. Being compared to the legendary
Simply Saucer 
and
The Monks
is way high praise, indeed, but it doesn't seem like a burden on them. When I hear the first organic strains of 60s-style dirt-punk leaking out of the speakers I immediately think of
Mudhoney
… The entire concept and execution is basically beyond reproach.
Nightmare Soda
(GH-1158)
will be on my list of the best albums of the year.
By Anthony Mark Happel »
Toronto's
Pow Wows
come wielding a crunchy guitar tone and simple tunes straight out of the Standells camp of garage rock. The four-piece recently released its standout debut album,
Nightmare Soda
, as an LP on Get Hip…
~Andy Mulkerin Pittsburgh City Paper