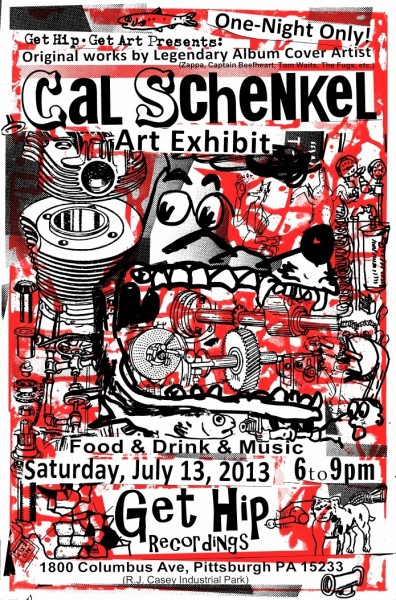 Get Hip is transforming its offices into a pop-up art gallery for a series of one-night only exhibitions. In keeping with its DIY-punk roots, the exhibitions will be held in Get Hip's third floor, walk-up headquarters in the R.J. Casey Industrial Park, at 1800 Columbus Avenue.
The first show, on Saturday, July 13, will feature original works by legendary album cover artist and graphic designer, Cal Schenkel. In addition to the gallery, limited edition T-shirts and silkscreened posters (see left) – designed by Schenkel exclusively for the event – will be available for purchase. You can access full event details here.
Schenkel established himself in the late 1960's as the primary visual collaborator with Frank Zappa and the Mothers of Invention. Known for his distinctive style, combining comic art, photography, collage and assemblage, Schenkel is considered by many to be the father of the American punk aesthetic and was a major influence on artists ranging from Gary Panter (Pee-Wee's Playhouse, Jimbo) to Patrick McDonnell (Mutts) and Matt Groening (The Simpsons, Futurama).
Schenkel came to prominence during the golden age of album cover art. In addition to Zappa, Schenkel's artwork and design appeared on albums by Tom Waits, The Fugs, Wildman Fischer, and the iconic Trout Mask Replica by Captain Beefheart and the Magic Band. Schenkel now lives in Eastern Pennsylvania where he continues to produce paintings, photographs and prints all featuring his one-of-a-kind vision.

Get Hip President, Gregg Kostelich, said, "Get Hip continues to focus on vinyl records, and our office is filled with classic rock-and-roll art. Wayno and I had been talking about creating a venue for visual artists and are excited to feature Cal's work as our first show." Wayno, who is also an avid record collector said, "I immediately became a fan when I saw Cal's ad for the Mothers' record, We're Only In It For the Money, in a 1967 comic book. To me, Cal epitomizes the joining of art and music, and he still inspires me."
The exhibit will feature a selection of Schenkel's work on paper and canvas and will include original paintings, as well as prints, all of which will be for sale. Schenkel is creating art for a commemorative t-shirt that will be sold only at this exhibition. In commenting on the show, Schenkel said, "Pittsburgh is the first stop I am making on a Mid-Atlantic tour. It brings back memories of traveling with Frank and the Mothers. I am thrilled to be working with Get Hip and meeting fans of music and art in Pittsburgh."