GET HIP • GET ART proudly presents the second installment in its celebrated Sound Series of live concert events! This free, all-ages show will be held on Thursday, August 7, 2014 at Get Hip Recordings' headquarters in the RJ Casey Industrial Park.
Veteran New Orleans psych-rockers Bipolaroid blew the roof off of April's premiereSound Series event. This time it's a Teenage Garage Explosion featuring thrilling performances by some of the area's finest young rock bands, including Pittsburgh's own garage-punk aficionados the Nox Boys, Detroit pop-rock idols Blaire Alise & The Bombshells, and up-and-coming Steel City alt-rockers Chase the Monkey.
Get Hip's Pop-Up Shop will be on-hand to present an expansive in-house selection of LP's, CD's, 45's, T-shirts, and more – all available for sale to attendees!
The show will run from 7 PM to 11 PM on Thursday, August 7, 2014. Get Hip Recordings' offices are located in the RJ Casey Industrial Park, 1800 Preble Avenue (North Shore, Pittsburgh).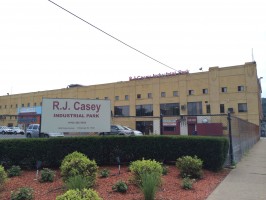 Donations are encouraged. All proceeds will go directly to the performing bands.
NOX BOYS
If listening to teenage rock bands often brings to mind the adage about youth being wasted on the young, then you ain't listening to Get Hip Recordings artists the NOX BOYS. These Pittsburgh rockers bring a wild and youthful abandon together with BIG, sophisticated sounds. They channel everything from '60s originals like The Sonics and The Standells to the current crop of slop rockers such as The Black Lips and Growlers… and three of them are still in high school. Yeah, the school of hard Nox.
BLAIRE ALISE & THE BOMBSHELLS
BLAIRE ALISE is the kind of singer/songwriter who refuses to sit on a stool and play an acoustic guitar. She IS from Detroit after all. Her style has been described as a combination of 50's pop and garage rock with an old school girl-group feel. Think Ronettes with a Detroit edge. She has the songwriting abilities and soul of someone well beyond her 17 years. Her influences include artists such as Lesley Gore, Patsy Cline, Nancy Sinatra. Blaire formed THE BOMBSHELLS with friends and talented musicians Eddie Baranek (lead guitar), Dylan Frazier (bass), and Peter Geloso (drums). The band has a cool throwback style which incorporates the catchy songwriting style of the 50's and 60's while maintaining their garage rock roots.
CHASE THE MONKEY
CHASE THE MONKEY is Pittsburgh's newest, youngest – and possibly greatest – power rock outfit. Featuring Alberto Sewald on guitar/vocals, Matt Hanson on bass/vocals, and Paige Suvick on drums, this teen trio is sure to impress – and rock a few houses in the process.