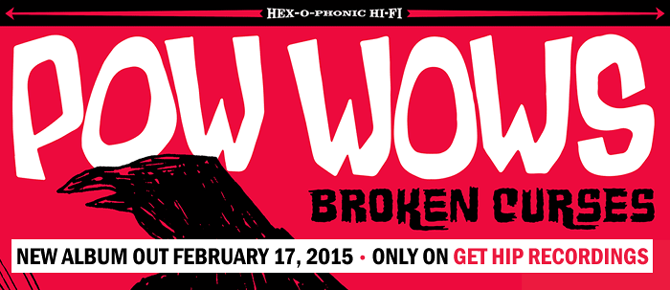 We're proud to announce the release of Broken Curses, the brand new album by Toronto Garage-punks Pow Wows.
Building on the success of their groundbreaking 2011 debut Nightmare Soda, Broken Curses features 10 unstoppable new tracks overflowing with '60s-influenced fuzz guitar, dynamic rhythms, and amped-up vocals. In addition to nine raucous original jams – including "Rebel Stop" and "Surfin' Dirge" – Pow Wows present an undeniably awesome rendition of The Equals' classic "I Can See But You Don't Know." With mastering by legendary producer Jim Diamond (Ghetto Recorders) and exclusive artwork by Jorge "Dr." Alderete, this killer package can't be beat!
Broken Curses is available now on special edition 180-gram Red Vinyl (limited to 300 copies), CD, and digital download. Order your copy today from the Get Hip webstore! (Standard edition 180-gram Black vinyl coming soon!)
Pow Wows have also announced an album release party at Toronto's Silver Dollar Room on Feb. 20, as well as a string of U.S. Tour dates beginning mid-March. Click below for full details.
BROKEN CURSES ALBUM RELEASE PARTY
02/20 – Toronto, ON (CAN) @ The Silver Dollar Room
Feat. Wave of Terror, King Creep,Towers, DJ Chino
RSVP on Facebook
POW WOWS SOUTHERN U.S. TOUR
03/12 – Charlotte, NC @ Snug Harbor w/ Paint Fumes
03/13 – Chapel Hill, NC @ The Cave w/ Couches
03/14 – Atlanta, GA @ Star Bar w/ Subsonics & Black Linen
03/15 – Athens, GA (TBA)
03/16 – Knoxville, TN (TBA)
03/17 – Nashville, TN @ The Stone Fox w/ Sherbert & Tyler Keith
03/18 – Memphis, TN @ The Buccaneer w/ Sherbert & Toy Trucks
03/19 – Houston, TX @ Big Top Lounge w/ Nick Gaitan and the Umbrella Man
03/20 – San Antonio, TX @ The Mix w/ The Two Tens & King Pelican
03/21 – Austin, TX @ Valhalla / Get Hip Recordings Showcase SXSW 2015
03/22 – Austin, TX @ SXSW (TBA)