SLIM FORSYTHE
Celebrates Groundhog Day 2018
·  Live on KDKA & Gobblers Knob ·
"Groundhog Day hearkens back to a European/Christian tradition called Candlemas, which occurs each year on Feb 2. Like the lyrics of the song, 'Who ventures forth to light our back in Winter's darkest hour," Groundhog Day is exactly halfway between the Winter Solstice (Dec. 21) and the Spring Equinox (March. 20) — aka Winter's Darkest Hour!
"So you basically take the tradition of Candlemas, transport it across the Atlantic Ocean, mix it all up with Native American folklore, Western Pennsylvania craziness and Bill Murray, and you get this HUGE culture phenomenon of GROUNDHOG DAY! But, it really goes all the way back to the 1800s in Punxsutawney, PA and in other parts of the world.
"For Zack [Keim] and me, it was a tremendous opportunity for us to perform live on KDKA this previous Wednesday w/ Queen of the West to promote my new single the 'The Ballad of Punxsutawney Phil.'
"But, it also meant we had to hit the road up to Gobbler's Knob (Punxsutawney, PA) to perform live for a couple thousand people when the temperature was about 13° F! All told, it was a tremendous opportunity. We got all sorts of local and national television coverage.
"Be sure to pick up my new single, 'The Ballad of Punxsutawney Phil.' — OUT NOW on the Get Hip Folk Series!"
Slim Forsythe
Groundhog Day 2018
(February 2, 2018)
---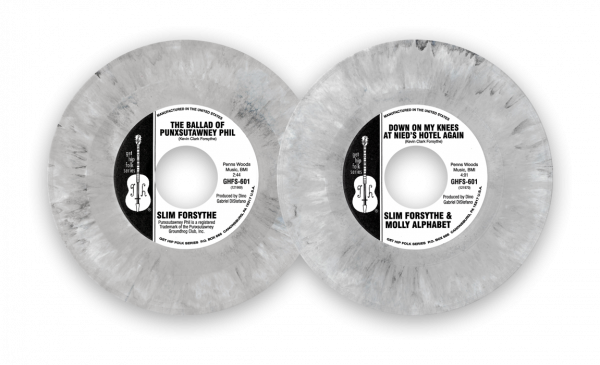 A-side, "The Ballad of Punxsutawney Phil," is an energetic ode to Central Pennsylvania's favorite prognosticating rodent. On the flipside, you'll find "Down on My Knees at Nied's Hotel Again," a twangy, soulful plea to one of Slim's favorite Pittsburgh haunts, featuring the vocal talents of local country crooner Miss Molly Alphabet. Wanna know more? We'll let ol' Slim tell you about it in his own words!
"Punxsy Phil" is available now on Groundhog Grey 7-inch color vinyl (limited to 500 copies) and digital download. Order your copy online at the Get Hip Webstore or stop by the Get Hip Record Store on Pittsburgh's North Shore.