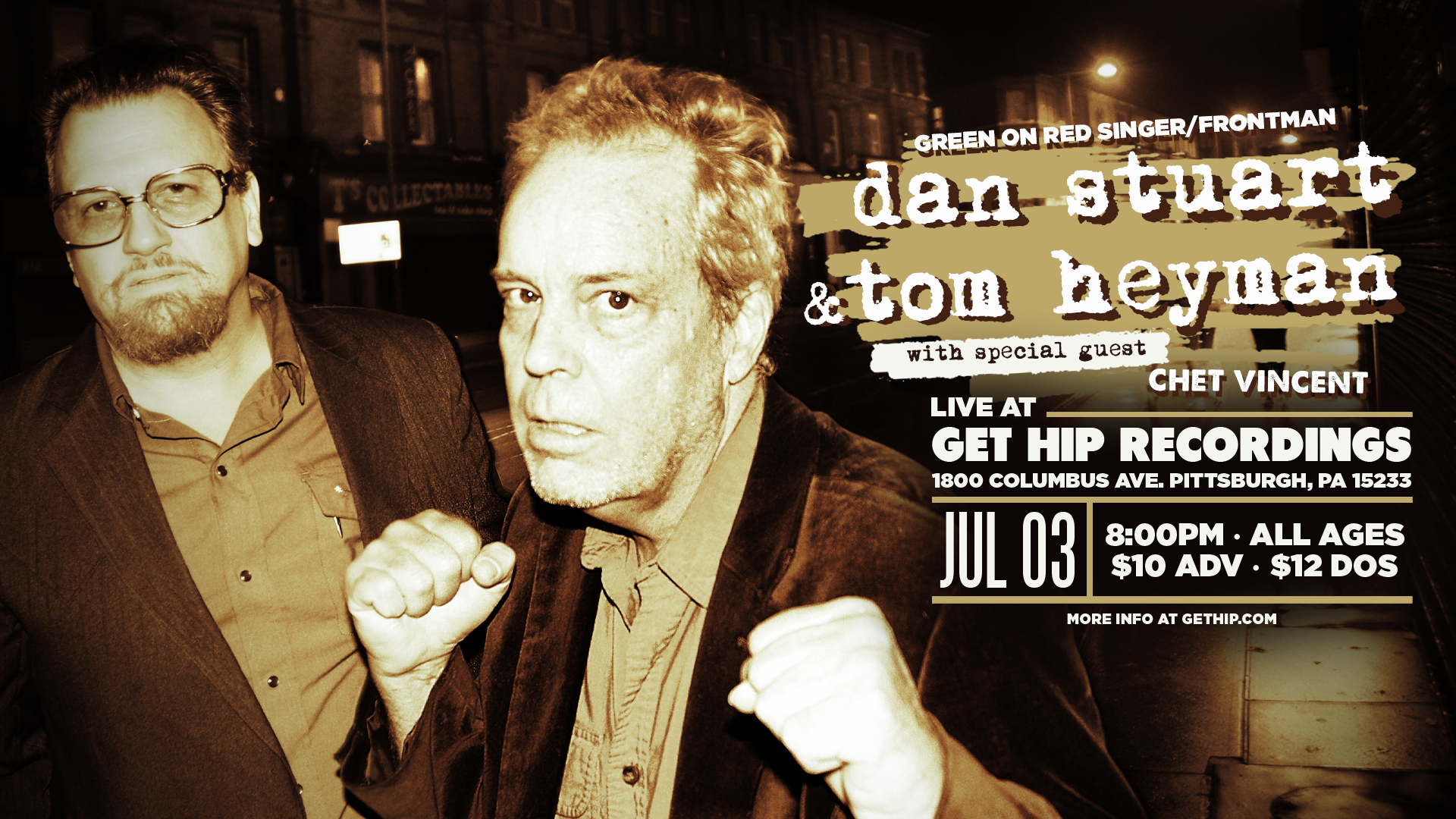 Live at Get Hip Recordings
Wednesday, July 3rd, 2019
"Dan Stuart, formerly of alt country pioneers Green on Red, will make a rare appearance performing in Pittsburgh on July 3rd at Get Hip Records. The last time that Dan toured this part of the country was the late 80s, so come out now because we don't know when he'll make it back. Come hear a master of story songs who effortlessly weaves folk, country, and blues with a distinctive southwestern vibe. If you dig Mark Lanegan, Chuck Prophet, Lucero, Neil Young, Steve Wynn or Ben Nichols then you could do worse than to seek this show out." 
~Jesse Novack, DJ
Get Hip Recordings  proudly presents a night of Country-tinged  storytelling with two veteran singer-songwriters and giant musicians and performers: Dan Stuart (Green On Red) and Tom Heyman.
Dan Stuart is a veteran singer-songwriter and alt-country pioneer who's touring worldwide in support of his latest album "The Unfortunate Demise of Marlowe Billings", a dark and compelling release in which Stuart masterly recounts the latest obscure tales of his alter ego, Marlowe Billings.
Backing Stuart and also performing solo is no less accomplished singer-songwriter and amazing guitar slinger Thomas Heyman.
Opening the show with a short set from his solo album is Pittsburgh's own Chet Vincent.
Admission to this all ages event is $10 (Adv) / $12 (Door).
Presale tickets are available now on Eventbrite.
Doors: 8 m Music starts: 8:30 pm
All show attendees will receive 10% OFF their purchase at the Get Hip Record Store during the event!
Presented by Get Hip Recordings
Live at Get Hip Recordings
DAN STUART & TOM HEYMAN
Wednesday, July 3, 2019
8 – 11 p.m.
All ages
Admission
$10 (Adv.) / $12 (Door)
Presale Tickets Available on Eventbrite
Get Hip Recordings HQ & Record Store
1800 Columbus Ave.
Pittsburgh, PA 15233
Google Maps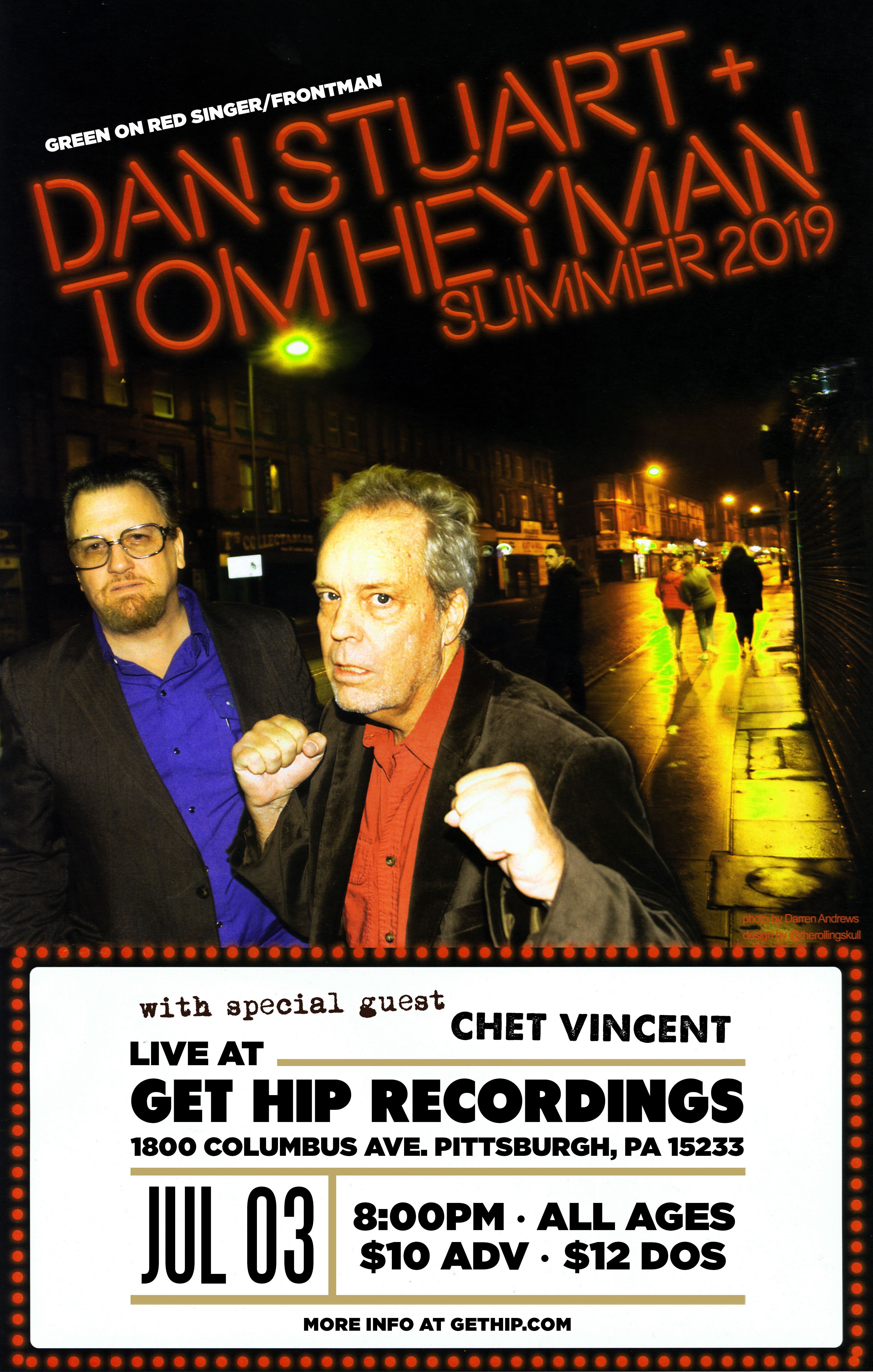 About Dan Stuart:
Dan Stuart is a songwriter, author and habitual expat last spotted in Mexico City. He was a founding member of Green on Red and Danny & Dusty in the 80's before leaving the music business in 1995 for a decade and a half. His comeback solo record in 2012 has the same title as his 2014 false memoir: The Deliverance of Marlowe Billings, both available through Cadiz Music, London. That was followed by Marlowe's Revenge recorded with Mexico City's Twin Tones and released in 2016 through Cadiz Music in UK & Europe and on Fluff & Gravy Records in the Americas. The last of the trilogy, The Unfortunate Demise of Marlowe Billings, was released in the fall of 2018 along with a novel of the same name. For more details go here.
Green On Red began in 1979 as The Serfers, a four-piece made up of Dan Stuart (vocals/guitar), Jack Waterson (bass), Van Christian (drums, later of Naked Prey) and Sean Nagore (organ), quickly replaced by Chris Cacavas. In the summer of 1980, the Serfers relocated to Los Angeles, where they changed their name to Green on Red (after the title of one of their songs) to avoid confusion with the local surf punk scene. Christian returned to Tucson and was replaced by Lydia Lunch sideman Alex MacNicol.
The band issued an overtly psychedelic, self-released red vinyl EP, sometimes called Two Bibles, though its first widely available record was an EP issued in 1982 by Dream Syndicate leader Steve Wynn on his own Down There label. Green on Red followed the Dream Syndicate onto Slash Records, which released the album Gravity Talks in the fall of 1983. San Francisco-based guitarist Chuck Prophet joined for the 1985 Gas Food Lodging (Enigma), after which MacNicol was replaced on drums by Keith Mitchell (later of Mazzy Star). In 2006 'Gas' was performed live in its entirety as part of the All Tomorrow's Parties-curated Don't Look Back series. Also in 1985, Stuart collaborated with Steve Wynn as "Danny & Dusty" on the album The Lost Weekend (A&M).
A major-label deal with Phonogram/Mercury followed, with the 7-song EP No Free Lunch released in summer 1986. A strong country music direction was evident, which music critic Ira Robbins remarked "should finally erase the group's original misassociation with the dreaded paisley underground". The album The Killer Inside Me came next, produced by Jim Dickinson at Ardent Studios in Memphis. The band split up afterwards; Cacavas began recording albums under his own name. When Stuart returned to recording, with the 1989 Here Come the Snakes, it was essentially as a duo with Prophet, using hired backing including Christopher Holland on keyboards. Three more albums were released before the pair called it quits, after the 1992 Too Much Fun.
Post Green on Red, Stuart recorded the album Retronuevo with Al Perry in 1993, and solo effort Can O'Worms in 1995, and then essentially quit the music business; Prophet maintains a career as a solo artist and semi-celebrity sideman.
However, in September 2005, the band reformed in its "golden era" line-up of Stuart, Cacavas, Prophet and Waterson, with Daren Hess filling in for Alex McNicol (who had died in the meantime) to play a one-off show as part of the celebrations for the 20th anniversary of Club Congress in Tucson. This was followed up by a show in London on 10 January 2006 (ostensibly to complete their aborted 1987 European tour).
In 2007, Stuart and Wynn released their second studio album as Danny & Dusty, Cast Iron Soul, which was released on Blue Rose Records. Danny & Dusty followed up in the same year with Here's to You Max Morlock—Live in Nuremberg, a live double album and DVD.
Dan Stuart formed The Slummers in 2010, with JD Foster, Antonio Gramentieri, and Diego Sapignoli. They released their debut album Love of the Amateur and toured Europe a year later.
In 2012, Dan Stuart reemerged in Oaxaca de Juarez, Mexico, and released a new solo record, The Deliverance of Marlowe Billings.
About Thomas Heyman:
Tom Heyman is a familiar artist at the Get Hip house, as he got his start in Philadelphia's Go To Blazes in the late 80's, a band that released a single on Get Hip and their debut album on former Get Hip partner label Skyclad Records. Now based in San Francisco, he's an accomplished singer-songwriter and venerable sideman (Chuck Prophet, John Doe, Alejandro Escovedo, Sonny Smith, Hiss Golden Messenger) turns up the reverb and lets himself get loose, shuffling out of mythical saw-dusted barrooms and squinting into the California sunlight.
Tom Heyman didn't set out to write a pub-rock magnum opus, but if you read the tea leaves you'll find it was pretty much inevitable.
With his latest solo album Show Business, Baby, the accomplished San Francisco singer-songwriter and venerable sideman (Chuck Prophet, John Doe, Alejandro Escovedo, Sonny Smith, Hiss Golden Messenger) turns up the reverb and lets himself get loose, shuffling out of mythical saw-dusted barrooms and squinting into the California sunlight.
Show Business, Baby is Heyman's fourth solo album, and in his words it's "a straight-up love letter/homage to my late '70s/early '80s pub rock heroes Rockpile, Mink Deville, The Leroi Brothers and all of their many offshoots." He wrote all the songs on the album, with the exception of "Daddy Rollin' in Your Arms" (Dion) and "Baby My Heart" (written by Sonny Curtis and recorded by the Crickets and the Bobby Fuller Four).
Heyman's relationship with rock and roll is long and deep. He started playing and recording in the 1980s with the acclaimed Philadelphia-based band Go To Blazes. The band released five full-length records, all featuring Heyman's songwriting and lead guitar work, and they toured the U.S. and Europe extensively before breaking up in 1997.
After relocating to San Francisco in 1998, Heyman began honing his chops as a solo artist and bandleader. He also frequently worked as sideman on guitar and pedal steel, joining Chuck Prophet's band as well as local favorites The Court and Spark.
Heyman released his first solo album Boarding House Rules in 2000, and his second, Deliver Me, in 2005. The latter received four-star reviews in Mojo and Uncut, and songs from the record were heard in the TV shows True Blood, Justified, Damages, and the feature film, Tammy.