U.S. Tour November 2019 with BOBKAT'65:
Mon Nov 11 – Beachland Tavern – Cleveland, OH – Buy Tickets
Tues Nov 12 – The Summit – Columbus, OH – Buy Tickets
Wed Nov 13 – Outer Limit's Lounge – Detroit, MI – Buy Tickets
Thur Nov 14 – Mickey's Tavern – Madison, WI – Buy Tickets
Fri Nov 15 – Pabst Blue Ribbon Brewery – Milwaukee, WI – Buy Tickets
Sat Nov 2 – Silver Spring, MD – Buy Tickets
Mon Nov 4 – Buffalo, NY – Buy Tickets
Tues Nov 5 – Erie, PA – Buy Tickets
Sat Nov 16 – Chicago, IL – Buy Tickets
Thurs, Dec 5 – New Orleans, LA – Buy Tickets
Fri, Dec 6 – Atlanta, GA
Sat, Dec 7 – Tampa, FL – Buy Tickets
Mon, Dec 9 – Orlando, FL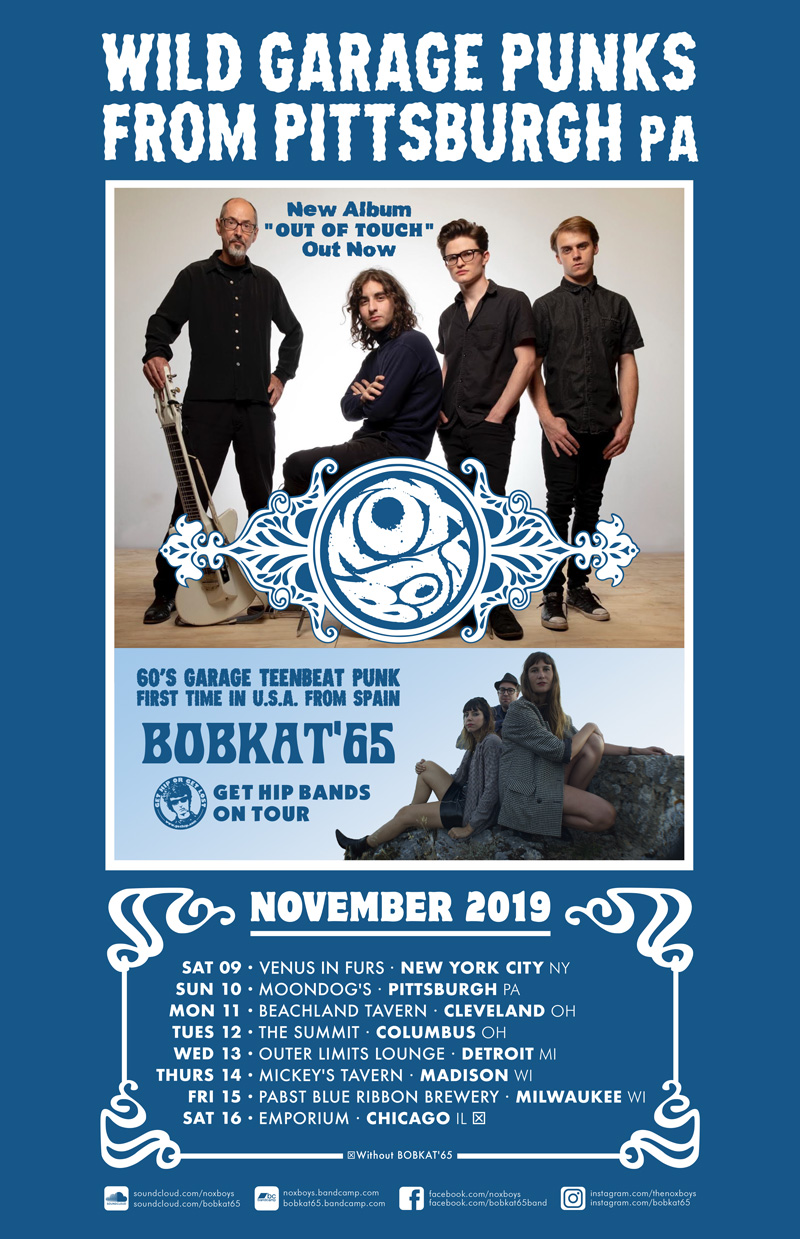 Inspired by mid-1960s American "Teenbeat Kiddie Garage" records, three friends from Asturias in Northern Spain, ANA (Guitar & Vocals), PAULA (Bass & Vocals) and DIEGO (Drums), decide to form a band. Even their name is unique, inspired by the BOBKAT model guitar manufactured by the Harmony Company in the mid-60s.
In July 2017 GET HIP released BOBKAT'65's debut album, "THIS LONELY ROAD". Jorge Explosion manned the control board again, capturing new, original material and a handful of well-chosen obscurities recorded by American Teenbeat combos. The album's unifying theme mirrors that of the vast majority of tunes featured on the Pebbles and Teenage Shutdown compilation series: loneliness—the feeling of being an outcast, finding it difficult to fit in. Songs range in style from moody ballads to beatpounding, punk-tinged rants influenced by well-known '60s Garage groups like The Dovers, Billy & The Kids, The Nightcrawlers, and Thursday's Children–all delivered, of course, with BOBKAT'65's unique Kiddie Teenbeat Garage Rock vibe. With these two masterpieces they toured all Europe before they were ready to record again. They followed up with another 45 rpm 7″ single that included two original songs: "FOUR TIMES A FOOL" / "PAIN EVERYNIGHT".
For their second full-length "BACK OFF ME" the band has enlisted ace Garage producer Jim Diamond, While the style and influences remain the same, their new songs show significant improvement in writing skills, arrangement choices and performance. They showcase the band's maturity and skillfullness while keeping their ever-present love for the Teenbeat sounds that inspired them intact.