Hope you enjoy reading and browsing through our list of weekly New Releases & Restock arrivals! It's always fun to put together and offer to you such an amazing array of great music! Thanks for your support!!!

DEAD BOYS "YOUNG, LOUD AND SNOTTY – COLOR VINYL"  JPR-068 (JACKPOT RECORDS)
Dead Boys hailed from Cleveland, OH and relocated to New York to become one of the first US punk bands signed to Sire Records.  "Young, Loud and Snotty" was recorded and released in 1977 and quickly became one of the definitive US Punk Rock Albums!
GROINOIDS "LOST"  NT-21 (NECRO-TONE)
Archival release of a record recorded in the 80's that was never released
HART, GRANT "GOOD NEWS FOR MODERN MAN"  MVD-6101 (MVD)
HART, GRANT "HOT WAX"  MVD-4917 (MVD)
HART, GRANT "INTOLERANCE"  MVD-4960 (MVD)
MELCHIOR, DAN "BARD FAWG"  LA-032 (LIMITED APPEAL)
Dan Melchior is a singer/ songwriter/ guitarist often labeled a garage rock musician
SEX CHURCH "FLOWERS"  LA-030 (LIMITED APPEAL)
Third and possilby final album by Vancouver's psychedelic punk unit – SEX CHURCH
VARIOUS ARTISTS  "WHITE SHIT / MEGAFUCKERS"  LA-016 (LIMITED APPEAL)
White Shit is a punk band that is a Melvins/Big Business side project featuring Jared Warren and Coady Willis
WIPERS "WIPERS TOUR 84 – COLOR VINYL"  JPR-067 (JACKPOT RECORDS)
Wipers "Tour 84" features tracks from the first three Wipers albums. Recorded live on tour in February – March 1984. Originally released on cassette by Greg Sage and on vinyl by Enigma Records in 1985.
AC/DC "FLICK OF THE SWITCH"  5107671 (COLUMBIA)
AC/DC "HIGH VOLTAGE"  5107591 (COLUMBIA)
[BEE GEES "CHILDREN OF THE WORLD"  00602577959387 (CAPITOL)
BEE GEES "HERE AT LAST: BEE GEES LIVE – 2XLP"  00602508004971 (CAPITOL)
BLOW, KURTIS "S/T"  B0028516-01 (MERCURY)
BROWN, ARTHUR "CRAZY WORLD OF ARTHUR BROWN: DELUXE BOXSET"  CRUS001BX (CHERRY RED)
Classic 1968 psychedelic album, includes: Vinyl LP, 3 CDs, 24 page booklet, and foldout poster
BUCKLEY, JEFF "GRACE"  88875147701 (LEGACY)
COOKE, SAM "NIGHT BEAT – 180-GRAM"  MOVLP-163 (RCA VICTOR)
Music on vinyl edition
GENESIS "S/T"  6748980 (CHARISMA)
JOY DIVISION "CLOSER – 180-GRAM"  RHI56282 (RHINO)
Replicating original album artwork, cut from 2007 remasters
KILLING JOKE "S/T – 180-GRAM / 2XLP"  MOVLP-2301 (MUSIC ON VINYL)
LED ZEPPELIN "CODA – 180-GRAM / GATEFOLD"  8122795588 (SWAN SONG)
LENNON, JOHN "SOMETIME IN NEW YORK CITY – 180-GRAM / 2XLP"  0600753570968 (APPLE)
LL COOL J "MAMA SAID KNOCK YOU OUT – RED VINYL / 3-D COVER"  B0028938-01 (DEF JAM)
Exclusive Marvel Comic
MAYFIELD, CURTIS "SUPERFLY – 2XLP"  CHARLYL-290 (CHARLY)
PUBLIC ENEMY "IT TAKES A NATION OF MILLIONS – 180-GRAM"  0600753468210 (DEF JAM)
Back to Black edition includes MP3 download
R.E.M. "IN TIME: OF THE BEST OF R.E.M. 1988-2003 – 2XLP"  00888072084827 (CRAFT)
RIHANNA "MUSIC OF THE SUN"  B002545401 (DEF JAM)
SMITH, JIMMY "CAT – 180-GRAM"  0600753458945 (VERVE)
SMITH, LONNIE "LIVE AT CLUB MOZAMBIQUE – 180-GRAM"  0822932 (BLUE NOTE)
SNOOP DOGG "R&G (RHYTHM & GANGSTA) THE MASTERPIECE"  B0030729-01 (GEFFEN)
UNCLE TUPELO "NO DEPRESSION"  19075814221 (LEGACY)
VARIOUS ARTISTS  "PLUNDERED VOL. 2 – THE MUMMIES UNWRAPPED – COLOR VINYL"  PLUND-002CV (PLUNDERED)
A COLL. OF PRIMITIVE ROCK'N'ROLL THAT INSPIRED THE MUMMIES! 14 tracks feat. VENTURES, TIDAL WAVES, SONICS, WAILERS, ANIMALS, SURFARIS, PLEASURE SEEKERS, DOVELLS & more!
VARIOUS ARTISTS  "PLUNDERED VOL. 2 – THE MUMMIES UNWRAPPED PART 2"  PLUND-002 (PLUNDERED)
A COLL. OF PRIMITIVE ROCK'N'ROLL THAT INSPIRED THE MUMMIES! 14 tracks feat. VENTURES, TIDAL WAVES, SONICS, WAILERS, ANIMALS, SURFARIS, PLEASURE SEEKERS, DOVELLS & more!
VARIOUS ARTISTS  "PLUNDERED VOL. 3 – THE STING-RAYS UNSTUNG"  PLUND-003 (PLUNDERED)
A COLL. OF PRIMITIVE ROCK'N'ROLL THAT INSPIRED THE STING-RAYS. 14 Tracks feeat. BARRY GRAY ORCH, MICKEY GILLEY, COUNT FIVE, SPADES, BAD ROADS, EMPERORS, ZOMBIES, EASYBEATS, REMAINS, SEEDS & more!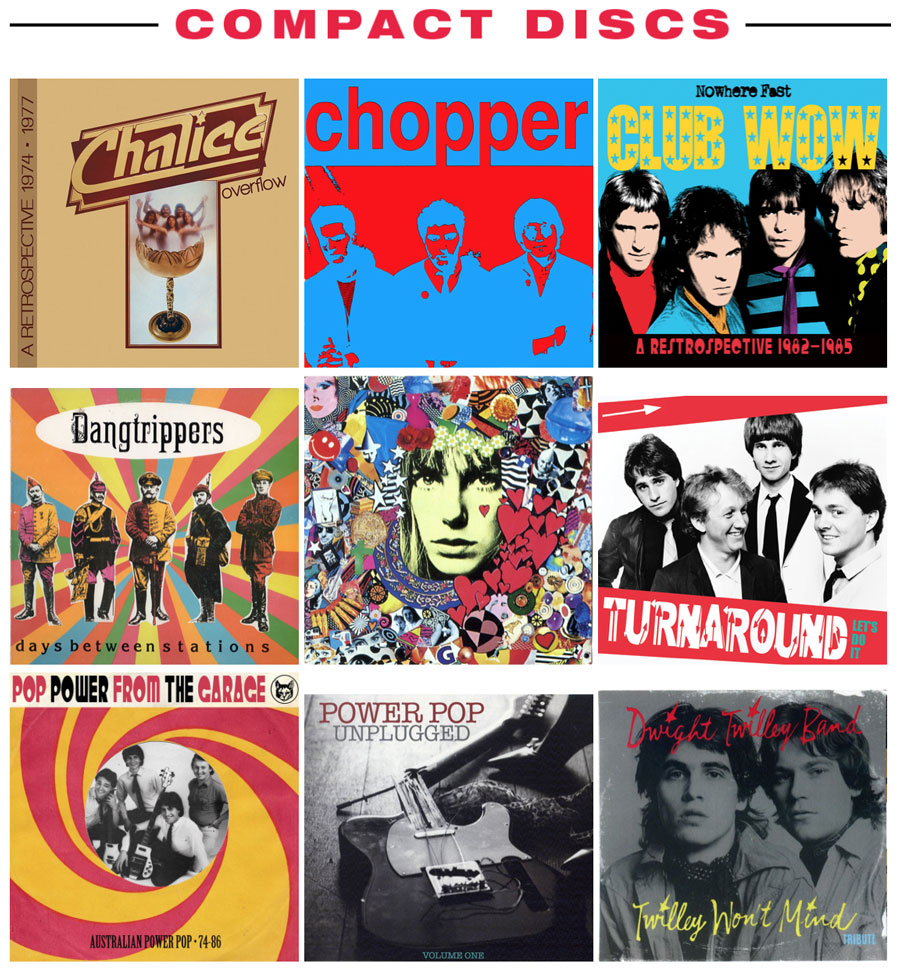 CHALICE "OVERFLOW – A RETROSPECTIVE 1974-1977"  ZEROCD1034 (ZERO HOUR)
Chalice were a Western Australian group that originally migrated from Manchester. They release a number of singles and one album. Zero Hour has gathered those releases and compiled them for your listening pleasure. A lost Australian classic.
The original album was half originals and half obscure covers but still makes for an interesting listen as their Raspberries/Badfinger/Beach Boys harmonies are immaculate.
CD insert includes their complete history as told by one of the main members.
CHOPPER "S/T"  ZEROCD1000 (ZERO HOUR)
Debut album from Connecticut Power Pop band. Crunchy, riff-addled guitar pop seizes the moment on this near-perfect bakers dozen, which happens to feature three British Invasion-era covers: The Creation's "How Does It Feel (to Feel)?, the Small Faces timeless "Itchycoo Park," and an obscure George Harrison penned track, "The Inner Light,"
CLUB WOW "NOWHERE FAST – A RETROSPECTIVE 1982-1985"  ZEROCD1030 (ZERO HOUR) Here's a little gem of a lost power pop band.
After the break up of the Dead Boys and the Stiv Bators Band in 1981, Jimmy Zero started recording with two friends Billy Sullivan and Jeff West. On January 1st, 1982 they asked their old friend Frank Secich from Blue Ash and the Stiv Bators band to play bass in their new group.
Only playing live on a few occasions but in the studio on many and this is the result. 18 rare unreleased songs and 2 live songs. It's all here for your listening pleasure.
DANGTRIPPERS "DAYS BETWEEN STATIONS"  ZEROCD1023 (ZERO HOUR)
DANGTRIPPERS "TRANSPARENT BLUE ILLUSION"  ZEROCD1022 (ZERO HOUR)
KEYS "GRAND REOPENING"  ZEROCD1032 (ZERO HOUR)
TURNAROUND "LET'S DO IT"  ZEROCD1031 (ZERO HOUR)
Turnaround were a cool Australian power pop band circa 1982 that released only 4 singles in their short time together. Formed from the ashes of Beathoven/The Innocents when drummer Brent Jeffrey met up with friend Tony Voglino who both shared a passion for all things jangly and pop.
Zero Hour has uncovered a batch of rare unreleased demos, a live track and put their single releases together onto this fine compilation. 16 tracks of cool power pop.
VARIOUS ARTISTS  "POP POWER FROM THE GARAGE – AUSTRALIAN POWER POP 74-86"  DEADCAT-100 (DEAD CAT)
22 obscure Australian Power Pop tracks from 1974-1986.
Thought you knew everything about Australian power pop? Think again, as this compilation will BLOW your mind ~ HIGHLY RECOMMENDED, 100% guaranteed POWER POP BLISS.
VARIOUS ARTISTS  "POWER POP UNPLUGGED"  ZEROCD1029 (ZERO HOUR)
22 Artists/Bands from around the world covering their fave power pop track but unplugged and virtually acoustically.
VARIOUS ARTISTS  "TWILLEY WON'T MIND TRIBUTE TO DWIGHT TWILLEY BAND"  ZEROCD1027 (ZERO HOUR)
23 TRAX Feat. DONOVAN'S BRAIN, RAINY DAY SAINTS, MICHAEL CARPENTER, SPIKE PRIGGEN, HONEYCHAIN, SLAPBACKS, POPDUDES & others!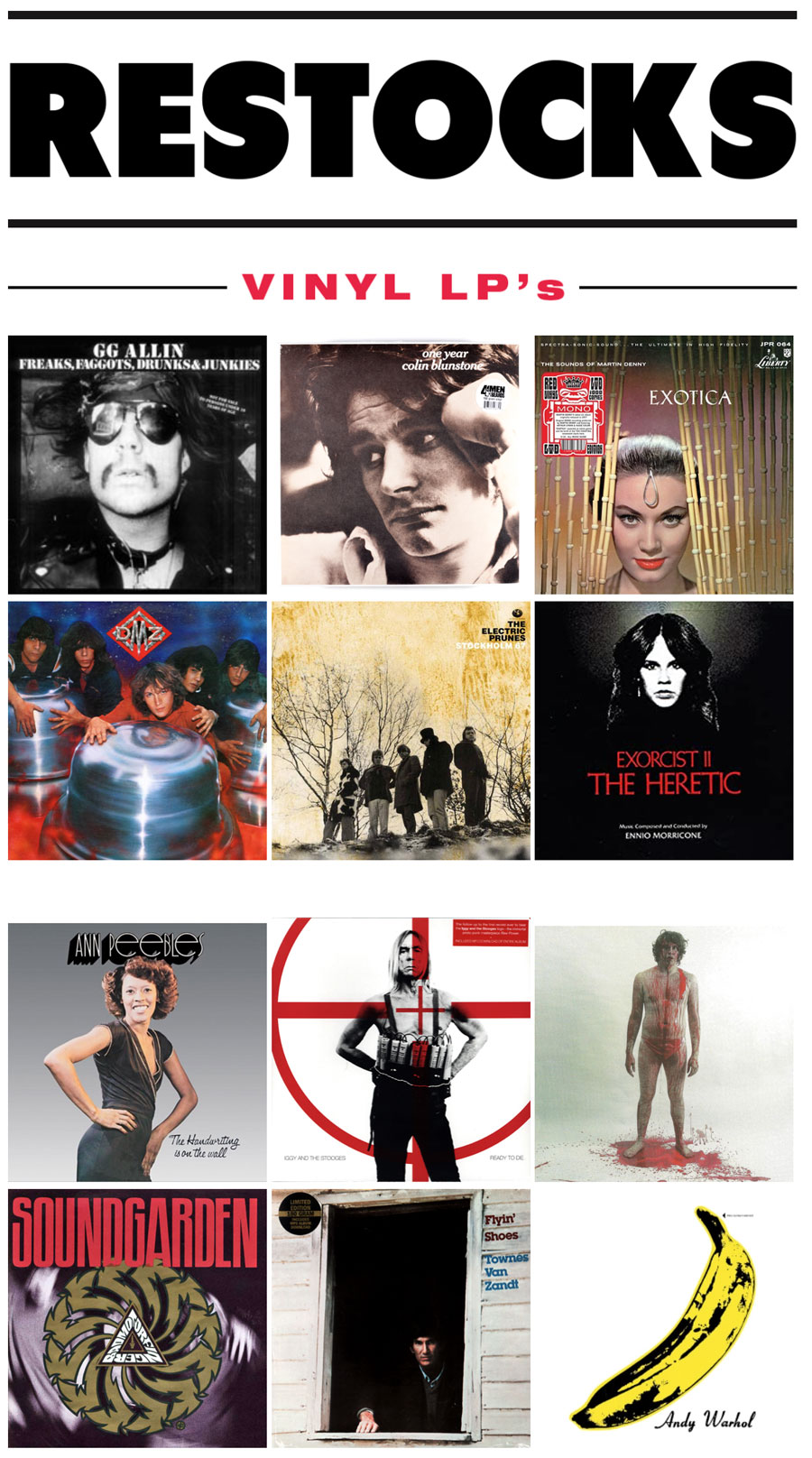 ALLIN, GG "FREAKS, FAGGOTS, DRUNKS & JUNKIES"  MVDLP-4811 (MVD)
Vinyl version of "the best" GG Allin studio album, originally released in 1988.
BLACK NASTY "TALKING TO THE PEOPLE – 180-GRAM"  4M-243 (4 MEN WITH BEARDS)
"Talking To The People" is the debut release from the Detroit group Black Nasty that was originally issued on Stax-Enterprise Records in 1973. The album features socially conscious songs that reflected the reality of black urban life in the early 1970s.
BLUNSTONE, COLIN "ONE YEAR – 180-GRAM"  4M-237 (4 MEN WITH BEARDS)
The debut solo album from Colin Blunstone, lead singer of legendary psych/pop group The Zombies, was originally released in 1971. It features classic Baroque pop with lush string arrangements and Argent's unique keyboard sound.
DAVIS, MILES "AGHARTA – 2xLP / 180-GRAM"  4M-811 (4 MEN WITH BEARDS)
Recorded at the Osaka Festival Hall on February 1, 1975, Agharta features one of Davis' strongest lineups from his electric period. It's a smoking set of jazz-funk fusion, featuring blistering live interpretations of some of his finest compositions.
DENNY, MARTIN "EXOTICA (MONO) – COLOR VINYL"  JPR-064 (JACKPOT)
Martin Denny's Debut #1 Album Originally Released in 1957. Original MONO recording preferred by MARTIN DENNY and featuring ARTHUR LYMAN & Augie Colon.
DENNY, MARTIN "HYPNOTIGUE – COLOR VINYL"  JPR-066 (JACKPOT)
Martin Denny "Hypnotique" originally released in 1959. A fan favorite from the father of the "EXOTICA" movement. Stunning Original Cover Artwork .
DENNY, MARTIN "QUIET VILLAGE – COLOR VINYL"  JPR-065 (JACKPOT)
Martin Denny "Quiet Village" originally released in 1959. Iconic album artwork reflected the fantasy of Denny's Influential fusion of tropical moods.
DMZ "S/T – 180-GRAM"  4M-528 (4 MEN WITH BEARDS)
Originally released in 1978, this much maligned (at the time) LP has come to be accepted as a classic record that helped jumpstart the ongoing garage-rock revival that began in the '80s. Reissued on 180-gram vinyl – for the first time since its release.
DR. JOHN "GRIS GRIS-  (MONO) COLOR VINYL"  JPR-051 (JACKPOT)
1968 Debut album from the king of the psychedelic bayou.  First ever reissue of the Original Mono Mix   Sourced from the Original Master Tapes.
ELECTRIC PRUNES "STOCKHOLM 67 – 180-GRAM (GATEFOLD)"  SPK-1010 (SUTRO PARK)
Stockholm 67 captures The Electric Prunes on the last stop of their first and only European tour. Over-amplified and fuzzed to the max, the 'Prunes' irreplicable live performance is explosive, noisy, and wild. Reissued on 180-gram vinyl. (2017)
GREEN RIVER "COME ON DOWN"  JPR-048 (JACKPOT)
Releases in 1985 on Homestead records and considered the first Grunge album. Feat. Mark Arm & Steve turner of Mudhoney + Jeff Ament & Stone Gossard of Pearl Jam. From mastertapes plus bonus track
HOWLIN' WOLF "HIS GREATEST SIDES VOL. 1 – COLOR VINYL"  JPR-032 (JACKPOT)
Howlin' Wolf electrified the sound of the Mississippi Delta blues and brought it to Chicago, laying down what would be come the foundation of R'n'R in the early 1950s. This compilation collects his landmark studio singles recorded from 1954 to '65. (2016)
JAMES, ETTA "ROCKS THE HOUSE – BLUE VINYL"  JPR-029 (JACKPOT)
Recorded in 1963 at the New Era Club in Nashville, TN, this legendary performance secured Etta James' reputation as a fiery no-holds-barred performer. Features 11 stellar tracks, including three previously unreleased on vinyl. Pressed on blue wax. (2014)
KESEY, KEN "ACID TEST"  JPR-042 (JACKPOT)
Ken Kesey's Ultra Rare 1966 studio recording of the Acid Test with The Grateful Dead. Legendary documentation of the 1965-66 Bay Area Acid Test scene from 14 hours of the actual trip! Limited to 1000.
LAZY SMOKE "CORRIDOR OF FACES: DEMOS"  JPR-026 (JACKPOT)
This record contains 12 "honest and intimate" demos that would later be reworked into Mass. psych band Lazy Smoke's 1968 debut, "Corridor of Faces." Also includes two acetate tracks from pre-LS band the Road Runners. Limited to 500 copies.
LAZY SMOKE "CORRIDOR OF FACES"  JPR-7107 (JACKPOT)
ONE OF THE BEST AND RAREST EXAMPLES OF 60s U.S. PSYCH. DRIFTY, GLORIOUS GUITAR WORK MELDS WITH FLOWING, LENNON-ESQUE HARMONIES TO IMMORTAL EFFECT. REMASTERED FROM THE 1968 MASTER TAPES, FEATURES ORIGINAL COVER ART, RARE PHOTOS AND BAND HISTORY
McDOWELL, FRED "VOL. 2"  F-1027 (ARHOOLIE)
With a distinctive and hypnotic guitar style McDowell powers through 12 tunes here, almost all originals. HARD CARDBOARD TIP-ON JACKET AND INCLUDES DIGITAL DOWNLOAD!
MORRICONE, ENNIO "EXORCIST II: THE HERETIC – COLOR VINYL"  JPR-069 (JACKPOT RECORDS)
1977 original soundtrack lp for the horror sequel – music composed by Ennio Morricone – green vinyl
NELSON, WILLIE "AND THEN I WROTE – COLOR VINYL"  JPR-046CV (JACKPOT)
Willie Nelson Debut Lp originally released in 1962.  Featuring the hit songs "Crazy", "Hello Walls" and more.   Sourced from the Master Tapes.  Pressed on Limited Color Vinyl.
NEW DAWN "THERE'S A NEW DAWN"  JPR-021 (JACKPOT)
An absolute must for all 'sixties heads! Highly sought after reissue now on vinyl.
Includes band history and historic photos. Complete original track listing plus four bonus tracks.
POISON IDEA "PICK YOUR OWN KING – 12-INCH"  JPR-055 (JACKPOT)
Not only the greatest Poison Idea record, but the greatest PUNK album of all time!  Originally Released in 1983 Poison Idea debut record features 13 songs in 13 minutes.
POP, IGGY "IDIOT – 180-GRAM"  4M-524 (4 MEN WITH BEARDS)
Originally released in 1977, this was the first album Iggy Pop made after the dissolution of the Stooges, several jailings and a self-imposed stay in a mental institution. Reissued on 180-gram vinyl.
PRIMAL SCREAM "VANISHING POINT – 2xLP / 180-GRAM (GATEFOLD)"  PLAIN-166 (PLAIN)
SATAN'S PILGRIMS "CREATURE FEATURE"  JPR-047 (JACKPOT)
Originally released in 1998, Creature Feature expertly distills the essence of West Coast '60s surf instrumentals. Eastern scales dive-bomb will full- bodied tremolo and glide across seas of reverb. Infused with Monster Sounds! Limited to 500. (2017)
SILVER APPLES "CONTACT – COLOR VINYL"  JPR-045CV (JACKPOT)
TEAL COLOR Vinyl Reissue of 1969 album. New 24 bit / 96 kHz masters taken from original master tapes. Includes master tape box photos.
SILVER APPLES "S/T – BLUE VINYL"  JPR-034CV (JACKPOT)
Silver Apples' eponymous debut was released in 1968 and still remains an innovative and revolutionary album, influencing both early Krautrock and artists like Beastie Boys, Blur, and Stereolab. Remastered and reissued on Blue Sky color vinyl. (2016)
SUN RA "PINE STREET THEATRE 10/28/88 -DOUBLE LP COLOR VINYL"  JPR-043CV (JACKPOT)
Sun Ra Double Live LP from Portland, OR (10/28/88) with concert poster.  Never before released concert sourced from the original master tapes of the audiophile recording engineer.
SUN RA "SPACE IS THE PLACE – COLOR VINYL"  JPR-049CV (JACKPOT)
TRANSLUCENT BLUE VINYL Reissue of the hypnotic, out-there, brilliant piece of expermental jazz by the inimitable Sun Ra!
SUPER SUPER BLUES BAND "S/T – COLOR VINYL"  JPR-033 (JACKPOT)
Recorded in 1967, this set of burning, irreverent, drunken, wild-eyed electric blues finds Bo Diddley, Muddy Waters, and Howlin' Wolf at their absolute best. With a backing band featuring Otis Spann and Buddy Guy, another "super" might be in order! (2016)
WEEN "MOLLUSK – 180-GRAM"  PLA-143 (PLAIN)
The Mollusk (1997) is perhaps Ween's most concise and well-honed record to date. After the previous year's exercise in country music, the duo returns to its usual genre jumping, though there is a heavy focus on prog-rock. Pressed on 180-gram vinyl.
WEST COAST POP ART EXPERIMENTAL BAND "VOL. 2 (MONO)"  JPR-039 (JACKPOT)
Originally released in 1967 on Reprise Records, Vol. 2 takes WCPAEB into more ambitious, psychedelic territory, mixing their unique pop sound with ominous fuzz freakouts and avant-garde arrangements. Reissued for the first time in mono. (2017)
WIPERS "IS THIS REAL?"  JPR-82801 (JACKPOT)
LTD. ED. VINYL REISSUE AVAILABLE FOR THE FIRST TIME IN OVER 25 YEARS! REMASTERED FROM ORIGINAL TAPES WITH FULL COOPERATION FROM GREG SAGE. STURDY, OLD-STYLE JACKET AND PRINTED INSERT. ONE OF THE MOST PASSIONATE AND INFLUENTIAL PUNK RECORDS EVER!
WIPERS "OVER THE EDGE"  JPR-82803 (JACKPOT)
What more do I have to say about this album? Thick cardboard with tip on cover. Heavy weight vinyl reissue, remastered from the original tapes from Greg Sage.Maybe their best album & definitely the most significant in sound
KILLERS "SAM'S TOWN"  B0026769-01 (ISLAND)
PEEBLES, ANN "GREATEST HITS"  FP-1217-1 (FAT POSSUM)
Compiled by Fat Possum, Ann Peebles' Greatest Hits contains 16 of the prolific soul singer's finest tracks, including "I Can't Stand The Rain," "(You Keep Me) Hangin' On," "I Pity The Fool," "Walk Away," and "Slipped, Tripped, Fell In Love." (2015)
PEEBLES, ANN "HANDWRITING IS ON THE WALL"  FPH-1168-1 (FAT POSSUM)
Peebles' seventh studio album, originally release on Hi Records in 1978. Produced by Willie Mitchell. Reissue. (2009)
POP, IGGY & THE STOOGES "READY TO DIE"  1296-1 (FAT POSSUM)
The follow-up to the first record ever to bear the Iggy and the Stooges logo–the immortal proto-punk masterpiece Raw Power–is finally out! Iggy Pop, guitarist James Williamson and drummer Scott Asheton joined by Mike Watt filling in for the late Ron Ash
REATARD, JAY "BLOOD VISIONS"  FP-1203-1 (FAT POSSUM)
"Jay Reatard was the kingpin of Memphis garage rock, and his best and most powerful full-length work—the record that made him a standalone rock star—was his first solo album." – Pitchfork. Tenth Anniversary reissue, courtesy of Fat Possum. (2016)
SOUNDGARDEN "Badmotorfinger"  A&M-395374 (A&M)
VAN ZANDT, TOWNES "DELTA MOMMA BLUES"  1088-1 (FAT POSSUM)
Delta Momma Blues is the fourth album by country singer/songwriter Townes Van Zandt, released in 1971.
VAN ZANDT, TOWNES "FLYIN' SHOES"  1091-1 (FAT POSSUM)
Flyin' Shoes is an album released by folk/country singer-songwriter Townes Van Zandt in 1978.
VAN ZANDT, TOWNES "FOR THE SAKE OF THE SONG"  FP-1087-1 (FAT POSSUM)
The debut album by country singer/songwriter Townes Van Zandt, released in 1968 on Poppy Records. The majority of its songs, including the title track and "Sad Cinderella," were rerecorded in stripped-down versions on subsequent releases. Reissue. (2007)
VAN ZANDT, TOWNES "IN THE BEGINNING"  1206-1 (FAT POSSUM)
A collection of 10 recordings produced by Jack Clement (Johnny Cash, U2, Waylon Jennings) in 1966. Recorded almost 2 years before the original release of "For the Sake of the Song," this is Townes in his original element. One of the best ever songwriters!
VAN ZANDT, TOWNES "S/T"  1083-1 (FAT POSSUM)
Townes Van Zandt is the third release by country singer/songwriter Townes Van Zandt, released in 1969. The cover photograph was taken by Sol
VEGA, ALAN / ALEX CHILTON / BEN VAUGHN "CUBIST BLUES – 2xLP (GATEFOLD)"  LITA-126 (LIGHT IN THE ATTIC)
The unlikely union of Suicide's Alan Vega, Big Star's Alex Chilton, and singer-songwriter Ben Vaughn happened in December 1994 at New York's Dessau Studios. These improvs yielded the wonderfully eclectic Cubist Blues. (2015)
VELVET UNDERGROUND AND NICO "S/T (BANANA COVER w/PEELING BANANA) – GATEFOLD JACKET"  UNIP-3717108 (VERVE)
WILLIAMS, ELMO & HEZEKIAH EARLY "TAKES ONE TO KNOW ONE"  F-80313-1 (FAT POSSUM)  LATEST BLUES DISCOVERY FROM NATCHEZ,MISS
X "MORE FUN IN THE NEW WORLD"  FP-1698-1 (FAT POSSUM)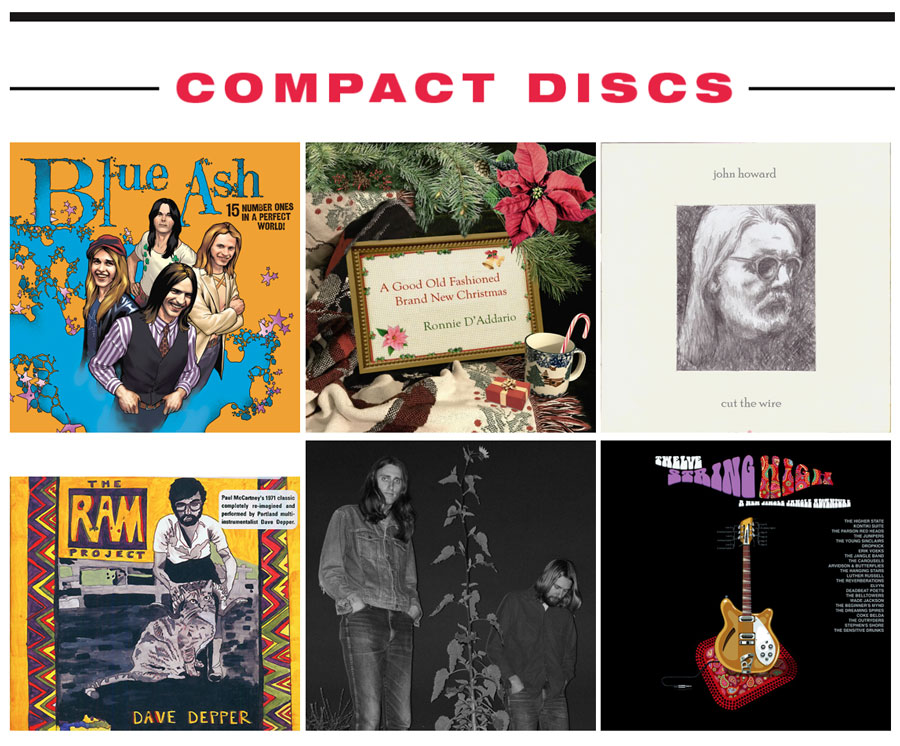 BLUE ASH "15 NUMBER ONES IN A PERFECT WORLD!"  YATC-20 (YOU ARE THE COSMOS)
In honor of Blue Ash's 2016 Spain Tour, YATC has issued a 15-track retrospective of the Youngstown, OH Power Poppers' finest compositions: "Abracadabra (Have You Seen Her?)," "Smash My Guitar," "She's So Nice," and more! Limited edition. (2016)
D'ADDARIO, RONNIE "A GOOD OLD FASHIONED BRAND NEW CHRISTMAS"  YATC-52CD (YOU ARE THE COSMOS)
A brand new Christmas album is here! Includes lots of harmonies – originals & covers!
D'ADDARIO, RONNIE "COLLECTED WORKS"  YATC-60CD (YOU ARE THE COSMOS)
New album produced, arranged, composed and performed by Ronnie! 40 years recording music and this new album sounds great. Recommended if you like Beatles, Brian Wilson, Procol Harum, Emitt Rhodes..
D'ADDARIO, RONNIE "DON'T WAIT FOR YESTERDAY: 1986-2017 – 3xCD"  YATC-38 (YOU ARE THE COSMOS)
D'Addario's latter-year omnibus contains three of the famed singer-songwriter's original albums: Time Will Tell on You (2011), A Very Short Dream (2015), and The Many Moods of Papa Twig (2017). Four bonus tracks round out the set. (2017)
D'ADDARIO, RONNIE "FIRST SONGS: 1976-1983 – 3xCD"  YATC-29 (YOU ARE THE COSMOS)
Ronnie D'Addario's classic first recordings are available for the first time in a physical format! This three-disc box set contains the original albums Take In A Show (1976), Falling For Love (1981), and Good For You (1983)–plus four bonus tracks! (2017)
DEPPER, DAVE "RAM PROJECT"  JPR-7110CD (JACKPOT)
PAUL McCARTNEY'S 1971 CLASSIC COMPLETELY RE-IMAGINED AND PERFORMED BY PORTLAND, OR'S MULTI-INSTRUMENTALIST DAVE DEPPER
HOWARD, JOHN "CUT THE WIRE"  YATC-54CD (YOU ARE THE COSMOS)
Cut The Wire is John Howard's 16th studio album. Featuring ten songs, John plays and sings everything on the album.
McGEEVER, DANIEL "CROSS THE WATER"  YATC-39CD (YOU ARE THE COSMOS)
Best known for his work in The Wellgreen, Scottish musician Daniel McGeever embarks on his solo career with debut album Cross the Water. Recorded and produced by Lewis Wilson, the LP contains 11 great folk-pop songs about love and death. (2017)
PARTING LINES "SEE YOU ON THE OTHER SIDE"  YATC-56CD (YOU ARE THE COSMOS)
First time on CD format the acclaimed first album of this band from California. Video Link: https://youtu.be/hfmiStbjDPE
VARIOUS ARTISTS  "TWELVE STRING HIGH VOL. 1"  YATC-21CD (YOU ARE THE COSMOS)
This mind-expanding compilation features 23 bands from around the globe playing 12-string electric guitar. Contains songs by Higher State, Deadbeat Poets, Dreaming Spires, Jangle Band, Dropkick, Coke Belda, Elvyn, and more. (2016)
VARIOUS ARTISTS  "TWELVE STRING HIGH VOL. 2"  YATC-35CD (YOU ARE THE COSMOS)
TSH's explosive second volume features 24 tracks of 12-string electric guitar mastery from international artists like Ronnie D'Addario, Peralta, Diamond Hands, the Naturals, Anton Barbeau, Tommy Lorente, the Britannicas, and more! (2017)
VARIOUS ARTISTS  "TWELVE STRING HIGH VOL. 3"  YATC-51CD (YOU ARE THE COSMOS)
The last of the Twelve String High series contains 22 artist from around the world playing 12-string guitars: Sid Griffin, Scott Gagner, Athanor, Jigsaw Seen, The Modulators, Lannie Flowers, The Nerk Twins

IF YOU HAVE ANY QUESTIONS, PLEASE CONTACT US
orders@gethip.com | Phone: 412-231-4766
Get Hip Recordings
R.J. Casey Industrial Park
1800 Columbus Ave.
Second Floor
Pittsburgh, PA 15233 (USA)
(store located on the second floor)
Our store is now open Monday through Saturdays 10 am to 6 pm!
MUST WEAR MASK!