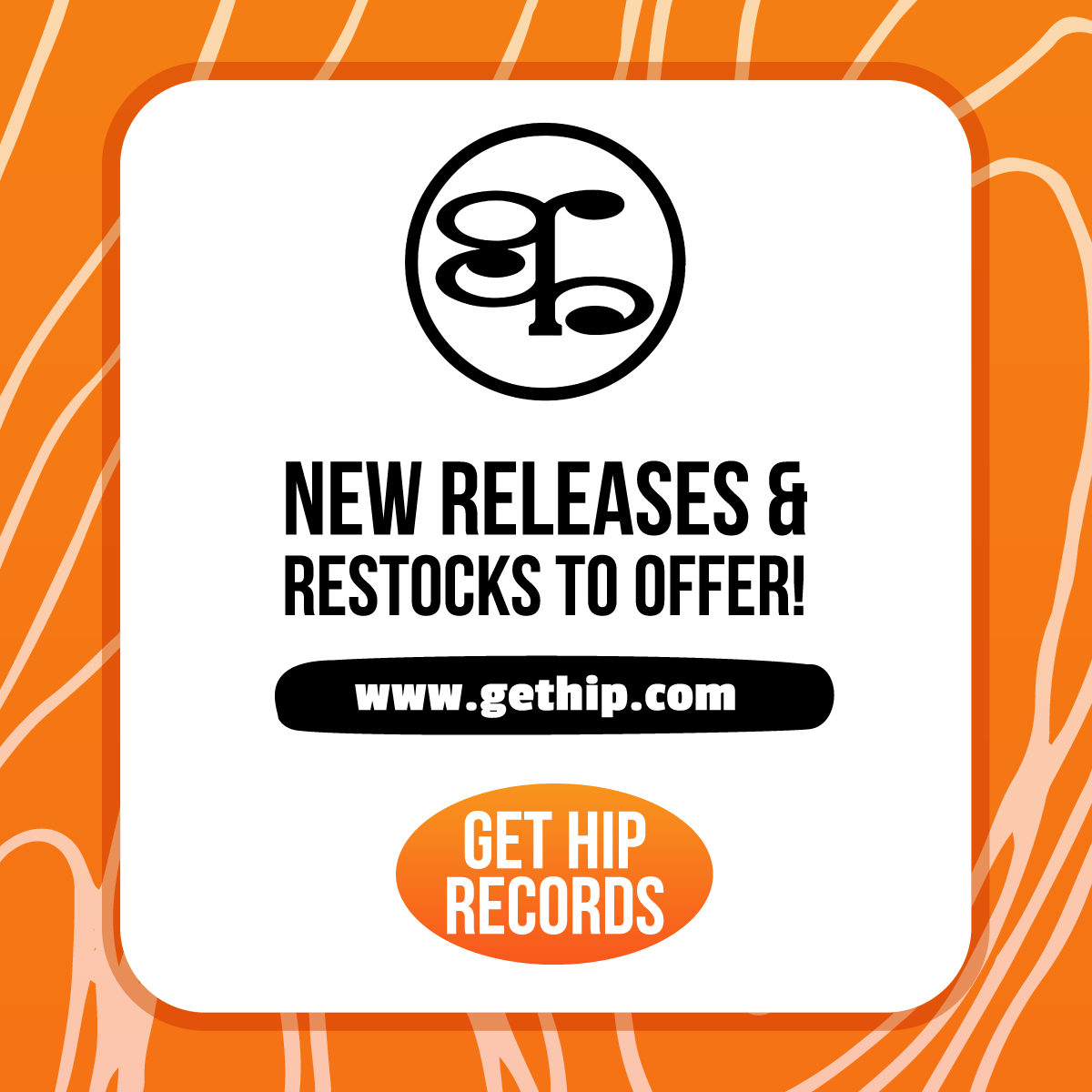 Dear customers and music lovers:
After a brief hiatus during my travels in Spain and Portugal I'm back at GET HIP HQ and we have a lot of New Releases & Restocks to offer!
We are also working on some new exciting projects and as always we offer the best service, prices, selection and assistance a true music lover can expect! Don't hesitate to contact us with inquiries or comments!
THANK YOU!
Barbara & Get Hip staff
NEW RELEASES & RESTOCKS from:
GROOVIE Records from Portugal, US Exclusive! ACE, BIG BEAT, SHINDIG!, UGLY THINGS, EASY ACTION SUNDAZED, MATADOR, OMNIVORE, THIRD MAN and more!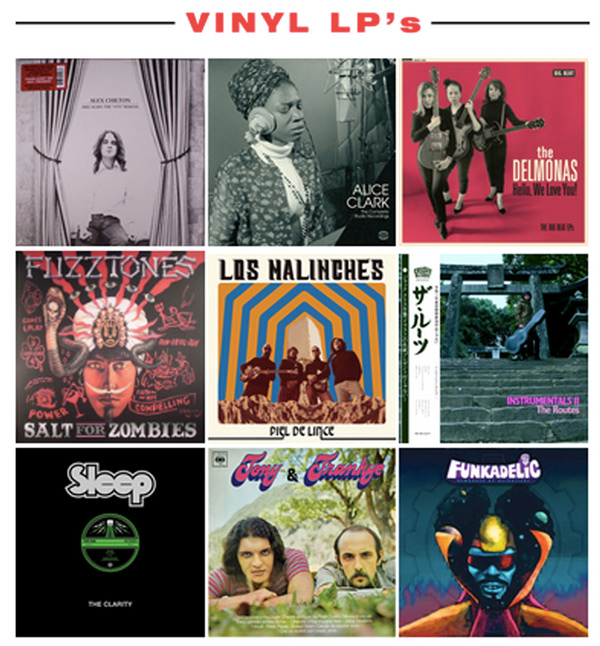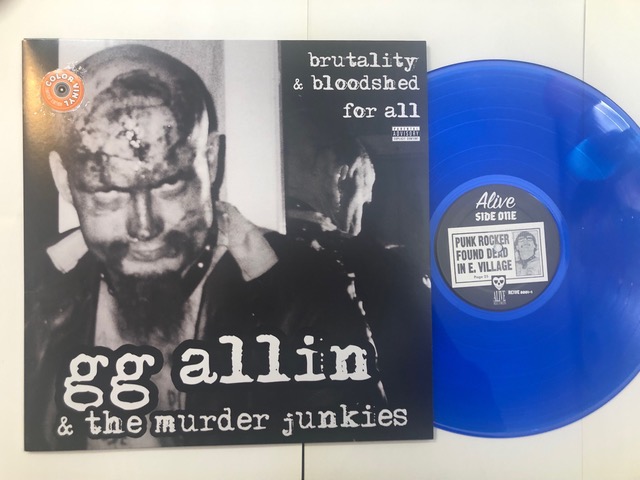 ALLIN, GG & MURDER JUNKIES "BRUTALITY & BLOODSHED FOR ALL – BLUE VINYL"  ALIVE-001CV (ALIVE)
Ltd. Ed. BLUE Vinyl new repress! GG's last  tracks studio recording produced by Don Fury in 1993 and recorded with his brother Merle and The Murder Junkies.All songs by Allin/Weber except "Highest Power" by GG Allin and "Anal Cunt" and "Legalize Murder" by Allin/M. Allin and "Fuck Off We Murder" by Allin/Weber/Aaron
1. Highest Power 1:00
2. Kill Thy Father, Rape Thy Mother 2:26
3. Anal Cunt 3:50
4. Raw, Brutal, Rough and Bloody 2:06
5. Shoot, Knife, Strangle, Beat, and Crucify 4:52
6. I Kill Everything I Fuck 2:33
7. Shove That Warrant Up Your Ass 2:54
8. My Sadistic Killing Spree 2:00
9. I'll Slice Yer Fucking Throat 2:06
10. Terror in America 2:01
11. Fuck Off, We Murder 2:29
12. Take Aim and Fire 2:36
13. Bastard Son of a Loaded Gun 2:18
14. Legalize Murder 3:13
15. Brutality and Bloodshed for All 3:26
Total Playing Time: 38:43
This is GG's final studio album and also his most coherent and well produced work of his career. This is a must and truly a legendary recording.
LEGER, JERRY "SONGS FROM THE APARTMENT"  GOLDENROCKET-1LP (GOLDEN ROCKET)
The surprise 2020 by Toronto singer-songwriter extraordinaire is a collection of lo-fi recordings made at home with one microphone. The performances are relaxed, intimate and unguarded. Initially released digitally, is now available on ltd. ed Red Vinyl.
CHILTON, ALEX "FREE AGAIN: THE 1970 SESSIONS"  OMNIV-13 (OMNIVORE)
Chilton's first post-Box Tops and pre-Big Star recordings. In the latter months of 1969, Alex Chilton decided to take back his life. At a time where liberation and self-expression were rallying cries, Alex Chilton was about to break free.
CLARK, ALICE "Complete Studio Recordings"  HIQLP-045 (ACE)
The complete output of a great but under-recorded soul singer. Pressed on 180g white vinyl, with in-depth notes and rare photos on inner bag.
DELMONAS "HELLO, WE LOVE YOU! THE BIG BEAT EP'S"  10WIK-348 (BIG BEAT)
Tracks from the group's two 1984 EPs together on a swanky 10-inch vinyl LP. Inner bag features liner notes by Kris Needs incorporating new interviews \with all three Delmonas and a series of great photos by Eugene Doyen.
FUZZTONES "SALT FOR ZOMBIES"  EARS-093 (EASY ACTION)
Reissue of 2003 album on Color vinyl with a bonus 7" of an Alice Cooper cover thrown in for good measure. Good old-fashioned garage rock music with plenty of organ and plenty of throaty vocals, including from The Seeds' Sky Saxon on 1 track!
MALINCHES, LOS "PIEL DE LINCE"  GROO-080LP (GROOVIE)
Two years after their debut release and in the midst of an utter crisis Los Malinches return with their second album, bringing us musical salvation. A kaleidoscope of retro-futuristic, frenetic, hypnotic, moody & groovy Latin sounds awaits you.
ROUTES "INSTRUMENTALS II"  GROO-081LP (GROOVIE)
Call it surf music, intrumental rock, psychedelic, you name it. It's original and carved with influences from 50's to now, almost unclasifiable. This has a special flavor: a true homage to Japanese guitarist Takeshi Terauchi. W/paper OBI, japanese style.
SLEEP "CLARITY"  TMR-711 (THIRD MAN)
This 12" single reissue of 2014's The Clarity is 9 minutes and 51 seconds of thick, slo-mo time travel. The b-side of the 12″ features brand new etching artwork by Dave Kloc.
TONY & FRANKYE "S/T"  GROO-071LP (GROOVIE)
NEW NUMBERED LIMITED WITH OBI OF THIS SUPER KILLER FUNK BRAZILIAN LP. For any fans of Psych with Fuzz and Funk, this record should be
no surprise! Full of groovy gems!! Including compositions by Tim Maia, Robson Jorge or Getulio Cortes
VARIOUS ARTISTS  "FUNKADELIC Reworked By Detroiters – TRIPLE LP"  SEW3-158 (ACE)
A diverse selection of remixers from today's generation of Detroit producers and musicians, looking back at the immense legacy of Funkadelic and re-imagining it for now, representing the vastness of Funkadelic's genre-bending music.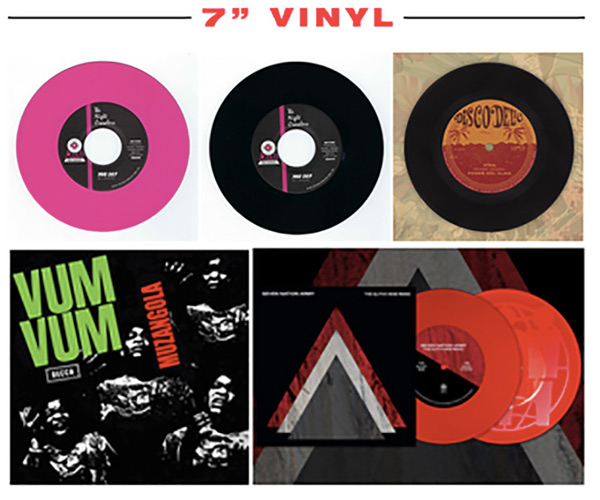 NIGHT CRAWLERS "YOU SAY / NIGHT CRAWLIN' – PINK VINYL"  IMP-51166CV (MAAD RECORDS)
Ltd. Ed. Pink Vinyl! Repro of fab 60's Garage 45 from Minnesota combo. Not the same  Nightcrawlers that sung Little Black Egg. Great quality!
NIGHT CRAWLERS "YOU SAY / NIGHT CRAWLIN'"  IMP-51166 (MAAD RECORDS)
Pretty cool repro of Minnesota 60's garage. Not the same  Nightcrawlers that sung Little Black Egg. Great quality!
PODER DEL ALMA "Mimo / Bacanal 76 (Color-Limited Edition)"  DSC004 (DISCODELIC)
Third installement on AFRO LATIN Nicaraguan music series. Poder Del Alma are the holy grail of Latin Funk in Nicaragua!
VUM VUM "MUZANGOLA EP LTD"  GROO-024EP (GROOVIE)
INCLUDES A 4 PAGES INNER WITH LINERS AND NEVER SEEN PHOTOS FROM THE ANGOLA PERIOD WITH THE BAND. KILLER!!!! An outrageously funky Mr. Bongo favorite! This is a real garage-style nugget.
WHITE STRIPES "SEVEN NATION ARMY (THE GLITCH MOB REMIX) – RED VINYL"  TMR-725 (THIRD MAN)
Now is the time! In early July, Third Man Records will be putting out the iconic Glitch Mob remix of The White Stripes' "Seven Nation Army". Indie store exclusive!

NEGATIVE SPACE "Hard, Heavy, Mean & Evil"  SC-6345 (SUNDAZED)
A crucial and thundering piece of proto-metal history! Negative Space's lone 1970 album is an impossibly rare private press treasure and one of the missing links connecting Blue Cheer to Black Sabbath.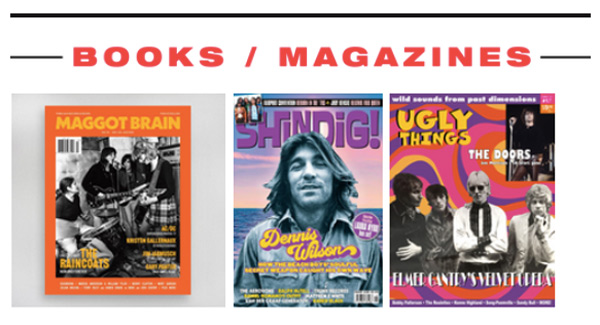 MAGGOT BRAIN "ISSUE NO. 5 – FEMINIST PUNK PIONEERS THE RAINCOATS"  MG-006 (THRID MAN)
Issue #5: Why feminist punk pioneers The Raincoats still matter. Includes unseen, amazing photos of AC/DC from their first US tour in 1977 and a rare look at celebrated indie auteur filmmaker Jim Jarmusch's playful newspaper collages.
SHINDIG! "ISSUE #118 – DENNIS WILSON COVER"  SHINDIG!-118 (SHINDIG!)
Fairport Convention  The folk-rock legends' first steps into the '70s. The Aerovons  St Louis Beatle-maniacs wind up in Abbey Road! Judy Henske Beatnik folk queen's extraordinary journey. Dennis Wilson The Beach Boys' original white punk takes flight
UGLY THINGS "ISSUE #57"  UT-57 (UGLY THINGS)
British '60s psychedelic underground heroes Elmer Gantry's Velvet Opera are the subject of an epic feature unwrapping their outrageous story in hilarious and hair-raising detail.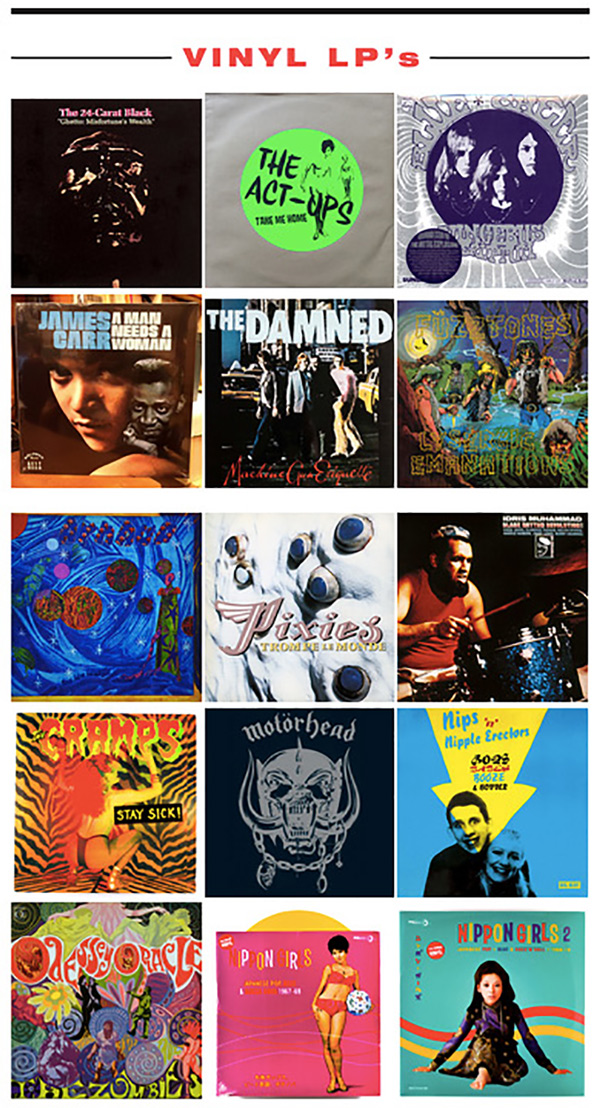 24-CARAT BLACK "GHETTO: MISFORTUNE'S WEALTH"  SXD-090 (STAX)
This 1973 rarity is an underground soul classic, a cohesive eight-song concept album about the hardship of black urban life, produced and arranged by classically trained Detroit song writer Dale Warren. Reissue.
ACT-UPS "TAKE ME HOME – 10″ LP"  67787F1 (GROOVIE)
5 TRACKS
BARNETT, COURTNEY & KURT VILE "LOTTA SEA LICE"  OLE-1148-1 (MATADOR)
Lotta Sea Lice is the product of Courtney Barnett and Kurt Vile's creative partnership. With it come songs as effortless and organic as the pairing of the collaboration: nine tracks of beautiful, country-tinged "harmonies and guitarmonies galore." (2017)
BLUE CHEER "VINCEBUS ERUPTUM (MONO)"  LP-5297 (SUNDAZED)
Vincebus Eruptum, Blue Cheer's landmark 1968 debut, is widely regarded as Ground Zero of the heavy metal explosion. The album, featuring the classic Blue Cheer lineup of guitarist Leigh Stephens, bassist/vocalist Dickie Peterson and drummer Paul Whaley
BRUNO, ROLANDO Y EL GRUPO AREVALO "EL MUNDO ESTA CUMBIANDO"  GROO-073LP (GROOVIE)
Rolando Bruno cumbia project, was born in 2005, in the solitude of his room and with his best friend and computer, used to create his cumbia backing tracks. In 2015 back in Buenos Aires he created the band and label its style Cumbia trash!
CARR, JAMES "A MAN NEEDS A WOMAN"  KEND-215 (ACE)
1968 LP REISSUE 16 CUTS FROM U.K. ED.
CAVESTOMPERS! "THE SECOND CHANCE"  GROO-075LP (GROOVIE)
NEW LP FROM THIS OUTSTANDING GARAGE PUNK COMBO, SUPER COOL FUZZ GARAGE, KEYBOARDS. ALL KILLERS, NO FILLERS.
COCTEAU TWINS "TINY DYNAMINE / ECHOES IN A SHALLOW BAY – 180-GRAM"  CAD-3510-1 (4AD)
Cocteau Twins' two EPs of Tiny Dynamine and Echoes In A Shallow Bay were originally released two weeks apart back in November 1985. Seen as companion pieces, they both acted as a precursor to their fourth studio album, Victorialand. Reissue. (2015)
COOL JERKS "INTERNATIONAL LP + 7″"  SFR-007LP (SOUNDFLAT)
THIRD LP BY BELGIAN FGARAGE-BEAT TRIO FEAT. NEW SONGS IN ENGLISH, GERMAN, FRENCH, JAPANESE, DUTCH AND ITALIAN! PLUS A COUPLE COOL INSTRUMENTALS TO BOOT. HIP TO THE BONE
COOL JERKS "THIS IS IT"  SFR-005 (SOUNDFLAT)
INSANE GERMAN BEATPUNK DEBUT! 60s R'N'B-
COOL JERKS "WIR BEATEN MEHR"  SFR-006LP (SOUNDFLAT)
3 BOYS FROM BREMEN IN DIE GARAGE-EN
CRAMPS "STAY SICK!"  WIKD-126 (ACE)
Originally issued through EMI & now with two live extra cuts, the world's sexiest rock'n'roll band star in the show that just won't stop
CURLEE WURLEE "OUI OUI"  SFR-011 (SOUNDFLAT)
Curlee Wurlee! are back with an impressive 17 track long-player on SOUNDFLAT RECORDS.  The album "Oui Oui…" proves how much they've developed and fine-tuned their organ based hallmark sound since their foundation in 1999.
DAMNED "MACHINE GUN ETIQUETTE"  WIKD-333 (ACE)
BRITISH PUNK MUST
DEAD ROCKS "SURF EXPLOSAO"  GROO-048LP (GROOVIE)
It's the brand-new full-length LP from premier Brazilian surf trio The Dead Rocks! While they've gone for spaghetti surf sound with previous releases, this one is all about surf rock. What a way to celebrate 10 years in the biz! (2015)
DEAD WEATHER "HOREHOUND – 2xLP / 180-GRAM (GATEFOLD)"  TMR-008 (THIRD MAN)
The debut album by Jack White's supergroup (f/ members of The Kills, QOTSA, and The Raconteurs) is thick with tense atmosphere; a bluesy, jammy grind punctuated by moments of hard rock bombast. Includes "Hang You From The Heavens." (2009)
DIRTY COAL TRAIN "SUPER SCUM"  GROO-053 (GROOVIE)
The third album by Portugal's Dirty Coal Train is filled with brutal, urgent garage rock. Here's an album that takes risks and explores the pleasures of Rock n' Roll, reminding us that's it worth fighting for! Contains 17 blistering rally cries. (2016)
DYNA JETS "SHE'S MAGNETIC – 10″ LP"  GROO-04710LP (GROOVIE)
Former Future Primitives Johnny Tex (guitar) and Warren Fisher (drums) reunite to keep the late FP's flame alive, churning out seven new tracks full of screaming guitar and diabolic rhythms. It's Link Wray meets The Cramps. Limited to 500. (2015)
ELECTRIC MESS "FALLING OFF THE FACE OF THE EARTH"  GROO-0036LP (GROOVIE)
FATBACK BAND "KEEP ON STEPPIN'"  SEW-001 (SOUTHBOUND)
GREAT 70'S FUNK
FLAT DUO JETS "GO GO HARLEM BABY"  TMR-059 (THIRD MAN)
Reissue of Flat Duo Jets' third album, originally released in 1991 on Sky Records. The band's deliciously dirty and rough brand of rockabilly is unrivaled, and this disc is perhaps their finest. Includes "TV Mama," "Apple Blossom Time," and 14 more.
FUZZTONES "LYSERGIC EMANATIONS – 2XLP GATEFOLD 40TH ANNIV."  EARS-081LP (EASY ACTION)
Great 40th Anniversary Deluxe Edition! DOUBLE LP with Gatefold Jacket, liner notes etc BONUS LP material recorded on may 3, 1985 at L.V.C. Holland and May 10, 1985 at Zabolinde, Nurnberg, Germany. A gem for 80's Garage fans!

FUZZTONES "MONSTER A GO GO"  EARS-092 (EASY ACTION)
GALL, FRANCE "1968 – 180G"  TMR-637 (THIRD MAN)
1968 dives further into the psychedelia that she was hinting at on Baby Pop.
GALL, FRANCE "BABY POP – 180G / MONO"  TMR-636 (THIRD MAN)
Baby Pop is not only an important album for France herself, it is also a hugely important record for the entire yé-yé scene. Baby Pop hinted at the musical direction that yé-yé was headed.
GALL, FRANCE "POUPÉE DE CIRE, POUPÉE DE SON – 180G"  TMR-635 (THIRD MAN)
Third Man Records is beyond honored to bring this music to a larger audience by issuing the first authorized North American vinyl pressings of these titles, some of the most brilliant highlights from Gall's catalog.
GREENHORNES "★★★★"  TMR-053 (THIRD MAN)
This is the Greenhornes first full length LP of new material for the band since 2002's "Dual Mono." It's diverse yet very concise, from the dark pop of lead single "Saying Goodbye" to "Cave Drawings" moody psych. Contains a download code. (2010)
HIGHSPEED V "DEMENTED R&B"  GROO-043 (GROOVIE)
Although they existed for only a year, the Highspeed V made enough of a mark on Stockholm's pioneering neo-garage scene for their name and music to live on several decades later. Features 13 tracks, including unreleased demos. Limited to 500 copies.
JOHNSON, BLIND WILLIE "AMERICAN EPIC: THE BEST OF BLIND WILLIE JOHNSON"  TMR-462 (THIRD MAN)
Texas slide guitarist and gospel bluesman Blind Willie Johnson recorded only 30 songs over the course of his life as a preacher and street performer. Even so, his savvy combo of gritty vocals and slide guitar bestowed a notable legacy. Remastered. (2017)

KAROVAS MILKSHAKE "IN THE SHADE OF THE PURPLE SUN"  GROO-052 (GROOVIE)
The debut album by Russian psych-rockers Karovas Milkshake is a lot like its attractively lurid dust sleeve: short on subtlety, with finesse aplenty. This is one for those revivalists who savor vintage production and Brian Jones-esque sitar riffs. (2016)
LEADBELLY "AMERICAN EPIC: THE BEST OF LEAD BELLY"  TMR-461 (THIRD MAN)
Louisiana delta native Huddie "Lead Belly" Ledbetter is the master of twelve-string blues guitar. His songs have been widely covered by artists such as Elvis, Nirvana, Johnny Cash, and the Grateful Dead. Remastered. (2017)
LOTHAR AND THE HAND PEOPLE "MACHINES AMHERST: 1969"  MH-8053 (MODERN HARMONIC)
Lothar And The Hand People emerged as one of the earliest pioneers to mix electronics into rock, incorporating theremin and synthesizers into their sonic onslaught.
MELVINS "HOUDINI – 180-GRAM (GATEFOLD)"  TMR-295 (THIRD MAN)
Released in 1993, The Melvins' best-selling fifth album was a conscious attempt by the band to make a record that wouldn't alienate their fans while also be enjoyed by the band itself. Six tracks are produced by Kurt Cobain! Remastered reissue. (2016)
MELVINS "STAG – 2xLP / 180-GRAM (GATEFOLD)"  TMR-297 (THIRD MAN)
The final album in The Melvins' major-label span, 1996's Stag finds the band fully spreading their wings (and budget) to create what is arguably their most wide-ranging and diverse album. Remastered reissue. (2016)
MOTORHEAD "S/T – WHITE VINYL"  WIK-2 (CHISWICK)
In celebration of its 40th anniversary Chiswick presents a special facsimile edition of Motörhead's debut album featuring the silver logo and white color vinyl from the original 1977 issue. Includes a fully illustrated inner sleeve. (2017)
MUHAMMAD, IDRIS "BLACK RHYTHM REVOLUTION!"  BGPD-1068 (BGP)
Originally issued on Prestige in 1971, Muhammad's debut album is a fine synthesis of the disparate elements that went into the era's R&B/Soul/Jazz experimentation and an indication of the many changes that were to occur in Black Music. Reissue. (2009)
MUSTANG 66, LOS "S/T"  GROO-021LP (GROOVIE)
NIPPLE ERECTORS / THE NIPS "BOPS, BABES, BOOZE & BOVVER"  WIKM-66 (BIG BEAT)
POGUES' SHANE McGOWAN EARLY PUNK BAND
NOMAD, NAZ & THE NIGHTMARES "GIVE DADDY THE KNIFE CINDY"  WIK-21 (BIG BEAT)
Recorded by the 1984 incarnation of The Damned, this "imagained 1967 film soundtrack" features 12 songs by influential '60s psych bands, including covers of "Action Woman," "She Lied," "I Had Too Much To Dream (Last Night)," and more! (2017)
PIXIES "TROMPE LE MONDE"  GAD-1014-1 (4AD)
Fourth studio album by legendary American indie rock band The Pixies – originally released in 1991. Contains the singles "Planet of Sound," "Alec  Eiffel," "Head On," and "Letter to Memphis." Reissue.
PONTAS, OS "FUZZ JUNGLE"  GROO-054LP (GROOVIE)
Having emerged from the torn and bloody earth once belonging to the Tupiniquim Indians, Os Pontas' present their second album, Fuzz Jungle: 12 tracks of instrumental soul-fuzz capable of tweaking mustaches and wasting shoe soles down to the core.
PUCHO "JUNGLE FIRE!"  BGPD-1049 (BGP)
Originally released in 1969, the seventh (and arguably best) album by Pucho's funky Latin combo differs from some of their earlier Prestige records in that the tracks are longer, more instrumental, and have a hard, fuzzy, electric groove. Reissue. (2009)
RAPIERS "SPOTLIGHT ON THE RAPIERS: THE BEST OF"  SFR-004 (SOUNDFLAT)
GREAT BRITISH AUTHENTICC 60s STYLE BEAT
REDDING, OTIS "IT'S NOT JUST SENTIMENTAL: THE UNHEARD OTIS"  SXD-041 (STAX)
This is the "lost" Otis Redding album: 14 never-before-heard cuts mined from the valuts at Stax Records. Essential for any stalwart fan of Southern Soul. Includes "Loving By The Pound," "You Got Good Lovin'," "Send Me Some Lovin'," and more. (1992)

RHYTHM CHECKERS "WILD RAW EUROBEAT 1966/67"  GROO-010LP (GROOVIE)
The Rhythm Checkers were an exceptional '60s beat group playing a raw mixture of R&B and RNR with a wild garage attitude. The eight mythical tracks of their two rare records are present on this LP, plus both sides of their rare prog-pop single from '72.
ROB K & UNCLE BUTCHER "JAM MESSENGERS – 10″ LP"  GROOV-009-10 (GROOVIE)
Ex-Workdogs and Chumps singer Rob Kennedy! Now the loopy motor mouthed blues poet has reincarnated yet again – a "strip show soap opera" that features the superb musical stylings of The King of the Brazilian One Man Bands – Marco (Uncle) Butcher!
RODRIGUES, ARNAUD "MURITURI"  GROO-069LP (GROOVIE)
With plenty of Brazilian grooves, tropicalia and fuzz guitars by the great Larry Gordin, this LP proves the creativity of Arnaud mastering words and summoning maestros for arrangements.
ROSS, DIANA & THE SUPREMES "SUPREME RARITIES: MOTOWN LOST & FOUND 1960-1969 – 4xLP (BOXSET)"  TMR-506 (THIRD MAN)
This essential 2008 comp showcases 48 rarities, outtakes and incomparable live recordings from Detroit's inimitable group of globe-trotting superstars —  including early Primettes cuts, covers, and alternate takes of Supremes smash hits. Reissue. (2018)
ROUTES "IN THIS PERFECT HELL"  GROO-059LP (GROOIVE)
The Routes' fifth LP brings you 10 original tracks thick with Japanese fuzz pedal and brain-penetrating guitar stabs. Each song takes a unique tack, from hypnotic Spacemen 3 guitars to playful Modern Lovers power pop to Maureen Tucker heavy fuzz.
ROUTES "SKELETONS"  GROO-0050LP (GROOVIE)
The fourth album by Japanese garage revivalists The Routes is bursting with pissed-off energy, earworm melodies, and the suzziest fuzz guitar sound you've ever heard. Contains 11 new tracks of '60s-era R'n"R to knock the cobwebs off your speakers. (2015)
ROUTES "TUNE OUT SWITCH OFF DROP IN"  GROO-076LP (GROOVIE)
THE JAPANESE RESIDENTS, THE ROUTES, LEADING BY CHRIS JACK, RETURNED WITH A NEW SLAB OF A KILLER GARARE, PSYCHEDELIA, INDIE AND HEAVY LIKE HELL LP…
SEGALL, TY "FRIED SHALLOTS"  DC-684-1 (DRAG CITY)
Fried Shallots is a handful of numbers from different times and places that all work together in a weird way; rock with the gears shifting and stripping; a primal outburst; a quick-and-fuzzy soundtrack of rock, folk, R&B, and pure powerpop. (2017)
SLEEP "SCIENCES – 2xLP (GATEFOLD)"  TMR-547 (THIRD MAN)
Sleep's first full-length album of new recordings since 1998. Years after the release of Dopesmoker in 2003, the sonic titans reaffirm their place at the top of the riff pyramid with this brand-new double album, The Sciences. (2018)
SOUND REASONS "WALK WITH MY SHADOW"  GROO-068LP (GROOVIE)
Debut album that launches attacks of primordial FUZZ over unstoppable, hammering rhythms and unveil a world of janglin strings within a landscape of groovy bittersweet harmonies.
SWAMPS "ROCKIN' MESS!!!"  GROO-058LP (GROOVIE)
Remember The Gories with their fucked up solos, off tempo and beat, sounding as wasted as they can be? This is the japanese translation: Infused with fury it's a collection of rollicking tunes and rockin'raucousness that will send you dancing to Nippon.
T. REX "CATCH A BRIGHT STAR – CLEAR VINYL"  EARS-072 (EASY ACTION)
Taken from Marc Bolan's own 1/4″ tape reels, this rare live recording of the band at the height of T. Rextasy features the singles "Debora," "Jeepster," "Telegram Sam," and three more. Limited to 500. (2016)
T. REX "IN AMERICA"  EARS-130 (EASY ACTION)
This remastered compilation features rare and unreleased broadcasts from the USA, including "The Groover," "Jeepster," "Get It On," "Hot Love," and a 12-minute-plus version of "Jewel." Includes unpublished photos and copious liner notes. (2017)
T. REX "T. REXTASY – 2xLP (GATEFOLD)"  EARS-131-1 (EASY ACTION)
This double live album captures T. Rex at the very top of their game in 1971-72. Taken from Marc Bolan's very own tape reels, the audio has been fully remastered for vinyl and set within a deluxe mirror-board jacket. (2017)

THIRD BARDO "I'M FIVE YEARS AHEAD OF MY TIME + 5 (MONO) – 10″ LP"  SEP10-160 (SUNDAZED)
6 KILLER 1967 CUTS FEAT. ONE UNRELEASED
THUNDERBEATS "PRIMITIVE SOUND"  GROO-067LP (GROOVIE)
Recorded using 100% analogue equipment, this is a delivery of top-notch garage rock from Russia. 'Primitive Sound' is suitable for fans of a.o. The Kinks, The Seeds and The Remains!
TONES, LOS "WHAT HAPPENED"  GROO-060LP (GROOVIE)
On LP2, Sydney four-piece Los Tones lay down a twang-slung vision of garage rock as filtered through the ghosts of The Blues Magoos, Electric Prunes, and The Monks. They're running the fuzz high and hectic and binging on surf vibes. (2017)
VAN ZANDT, TOWNES "OUR MOTHER THE MOUNTAIN"  1090-1 (FAT POSSUM)
Our Mother the Mountain is the second album by country singer/songwriter Townes Van Zandt released in 1969. It is generally acknowledged as his first masterpiece.
VAN ZANDT, TOWNES "S/T"  1083-1 (FAT POSSUM)
Townes Van Zandt is the third release by country singer/songwriter Townes Van Zandt, released in 1969. The cover photograph was taken by Sol
VARIOUS ARTISTS  "BOBBY GILLESPIE PRESENTS SUNDAY MORNIN' COMIN' DOWN – 2xLP / 180-GRAM / CLEAR VINYL (GATEFOLD)" HIQLP2-040 (ACE)
Primal Scream frontman Bobby Gillespie presents his first commercially released compilation of influential tracks, featuring cuts by The Beach Boys, Gene Clark, and The Byrds–plus an LP-only bonus remix by Suicide. Pressed on Clear vinyl. (2015)
VARIOUS ARTISTS  "BRAZILIAN NUGGETS VOL. 4"  GROO-078LP (GROOVIE)
New volume on this killer series that digs dip into the Brazilian archives, dumps, stores, caves, and in the most obscure and faraway places to bring you another unbelievable selection of fuzz, psych and crazy tracks from the tropics….
VARIOUS ARTISTS  "LOST NOTEBOOKS OF HANK WILLIAMS – 180-GRAM + CD"  TMR-119 (THIRD MAN)
Spearheaded by Bob Dylan, this album features a wide spectrum of current artists putting music to unused lyrics left behind by legendary country singer Hank Williams. Features Merle Haggard, Lucinda Williams, Jack White, Alan Jackson and more. (2011)
VARIOUS ARTISTS  "LOVE HIT ME! DECCA BEAT GIRLS 1963-1970 – 180-GRAM / YELLOW VINYL"  XXQLP-041 (ACE)
For British girl-pop, 1960s Decca is a goldmine. This gorgeously packaged collection brings together 12 hits by Billie Davis, Dana Gillespie, Lulu, The Orchids, Twinkle, Beverley, Goldie & The gingerbreads, and more. (2016)
VARIOUS ARTISTS  "LOVIN' MIGHTY FIRE: NIPPON FUNK ∙ SOUL ∙ DISCO 1973-1983 – 2xLP (GATEFOLD)"  XXQLP2-046 (BGP)
Howard Williams (Japan Blues show) curates an incredible 14-track playlist of Nippon soul music from the early '70s to the early '80s. The bluesy funk of Lily; the soul-diva brilliance of Minako Yoshida; and the sultry steaminess of Mari Natsuki. (2017)
VARIOUS ARTISTS  "MARYLEBONE BEAT GIRLS 1964-1967 – 180-GRAM / ORANGE VINYL"  XXQLP-050 (ACE)
This stellar 12-track compilation comprises superior '60s she-pop from the EMI group of labels headquartered in Marylebone in the heart of London's West End–feat.  Liza & The Jet Set, The Chantelles, Toni Daly, Alma Corgan, and more! (2017)
VARIOUS ARTISTS  "NIPPON GIRLS 1: JAPANESE POP, BEAT & BOSSA NOVA (1967-69) – 180-GRAM / COLOR VINYL"  HIQLP-001  (BIG BEAT)
"Nippon Girls" is a celebration of the female side of Japan's 1960s pop scene. The LP is pressed on 180g vinyl and sports a zingy gatefold cover and 23″ square poster designed by Niall McCormack.
VARIOUS ARTISTS  "NIPPON GIRLS 2: JAPANESE POP, BEAT & ROCK'N'ROLL (1966-70) – 180-GRAM / ORANGE VINYL (GATEFOLD)"  HIQLP-022 (BIG BEAT INTERNATIONAL)
International girl-pop authority Sheila Burgel curates a second volume of Japanese pop and beat classics featuring 12 tracks by Kayoko Ishuu, Reiko Mari, Mari Henmi, Katsuko Kanai, Akiko Wada, and more! Pressed on 180-gram red vinyl. (2014)
WHITE STRIPES "COMPLETE JOHN PEEL SESSIONS – 2xLP (GATEFOLD)"  TMR-375 (THIRD MAN)
Capturing Jack & Meg at the precipice of international renown in the hubbub of White Blood Cells, their two frequently bootlegged 2001 live sessions with famed BBC DJ John Peel finally receive an official issue. Repressed on black vinyl. (2017)

WHITE STRIPES "GET BEHIND ME SATAN – 2xLP / 180-GRAM (GATEFOLD)"  TMR-300 (THIRD MAN)
Released in 2005, The White Stripes' celebrated fifth studio album trades in the band's signature blues-rock squall for piano ballads, mandolin, acoustic guitar, and even some touches of marimba. Features "Blue Orchid" and "My Doorbell." Reissue. (2016)
WHITE, JACK "BLUNDERBUSS – 180-GRAM (GATEFOLD)"  TMR-139 (THIRD MAN)
Released in 2012, Jack White's (White Stripes) celebrated solo debut has garnered tons of critical accalim, as well as four Grammy nominations including Album of The Year. It features the singles "Sixteen Saltines" and "Freedom At 21." Repress.
WILD CHERRIES "16 POUNDS OF R&B"  GROO-063LP (GROOVIE)
Less celebrated than many of their Australian contemporaries but arguably more significant in the creative stakes was Melbourne's Wild Cherries. If you're into savage stuff like The Knks or Pretty Things or late-60s psych, this album is for you. (2017)
X "UNDER THE BIG BLACK SUN"  FP-1697-1 (FAT POSSUM)
ZOMBIES "ODESSEY & ORACLE: 30th ANNIVERSARY EDITION"  WIKD-181 (ACE)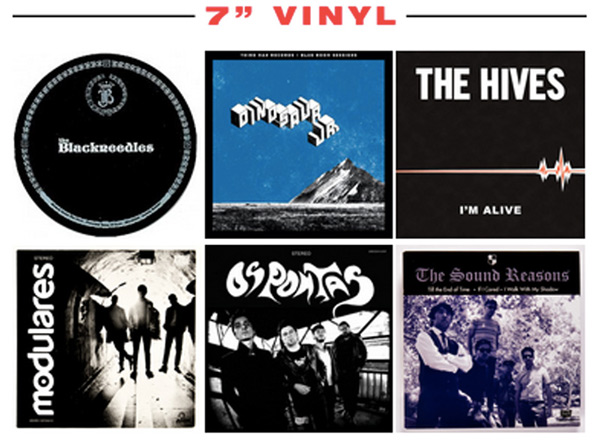 5.6.7.8.'s "SHO-JO-JI / CHARUMERA SOBAYA"  TMR-075 (THIRD MAN)
Features two classic sides from legendary all-girl Japanese garage-pop trio The 5.6.7.8.'s: "Sho-Jo-Ji (The Hungry Raccoon)" backed with "Charumera Sobaya (The Soba Song)."
BLACKNEEDLES "KICKED DOWN THE DOOR/PERSONAL TALES OF LOVE/BLACKBIRD/LONELY AVENUE"  GROO-011 (GROOVIE)
Jonas Serodio(ex-THEE BUTCHERS ORCHESTRA) guitar, bass and vox and Fred Hila on the Drums. Brazilian duo elements of punk, garage, rockabilly, guided by the spirit of Nick Cave, Henry Miller, Richar Hell, Television and other underground heroes
DINOSAUR JR. "BLUE ROOM SESSIONS: GOIN' DOWN / TINY"  TMR-489 (THIRD MAN)
Seminal Amherst alt rockers Dinosaur Jr. grace Third Man Records' legendary Blue Room with a double dose of live-in-the-studio, fuzzed out bliss: "Goin' Down" backed with "Tiny." (2018)
FUZZTONES "BAD NEWS TRAVELS FAST / BRAND NEW MAN"  EA-45020 (EASY ACTION)
FUZZTONES "STRYCHNINE / SHE'S WICKED"  EA-45038 (EASY ACTION)
HIVES "I'M ALIVE / GOOD SAMARITAN"  TMR-626 (THIRD MAN)
It's been nearly two decades since the Swedish rock-n-roll heroes The Hives unleashed their debut album on the world and almost 5 years since new music has been released.
MC5 "I CAN ONLY GIVE YOU EVERYTHING / I JUST DON'T KNOW – WHITE VINYL"  MH-114 (MODERN HARMONIC)
MC5 "LOOKING AT YOU / BORDERLINE – WHITE VINYL"  MH-115 (MODERN HARMONIC)
MODULARES "S/T EP"  GROO-0113 (GROOVIE)
A terse explosion of Portuguese post-punk influenced by late '70s and early '80s powerpop – with a twist from the old garage-punks of the '60s. Features songs about love adventures and misadventures, swinging nightlife, and lonliness. (2014)
MUDDY WATERS "ROLLIN' STONE / WALKING BLUES"  TMR-468 (THIRD MAN)
Originally released as a 78rpm 10" shellac in 1950, this now-legendary Chicago blues A-side changed the course of Western Music. As the primary inspiration for Mick Jagger & Co., this song helped engage an entire generation in Waters' brand of RnR. (2017)
PONTAS, OS "S/T"  GROO-0112EP (GROOVIE)
Os Pontas represent the best of Brazil's contemporary instrumental garage-soul. Featuring four great hammond grooves thick with fuzz and heavy with crunch. Think Howlin' Wolf and Booker T jamming with The Ventures. How's that strike you?
SOUND REASONS "TILL THE END OF TIME / IF I CARED / I WALK WITH MY SHADOW"  GROO-110EP (GROOVIE)
Coming from the four corners of LA County, the Soud Reasons united to reinvigorate the period of musical lawlessness between 1965-67. Their debut is sure to turn your party, cookout, or freakout on. These guys have the stuff. The stuff that defies Reason!
VARIOUS ARTISTS  "AUTORAMAS / GREENMACHINE – SPLIT"  GRO-04 (GROOVIE)
2 GREAT SURF, GARAGE & PUNK BANDS FROM BRAZIL! 2 TRACKS EACH, SANG IN PORTUGUESE
WHITE STRIPES "BIG THREE KILLED MY BABY / RED BOWLING BALL RUTH"  TMR-117 (THIRD MAN)
Reiusse of The White Stripes' (feat. Jack White) "Big Three Killed My Baby," originally released on Sympathy For the Record Industry in 1999. Presented as a large-hole 45. (2011)
WHITE STRIPES "FELL IN LOVE WITH A GIRL / I JUST DON'T KNOW WHAT TO DO WITH MYSELF"  TMR-169 (THIRD MAN)
WHITE STRIPES "HARDEST BUTTON TO BUTTON / ST. IDES OF MARCH"  TMR-264 (THIRD MAN)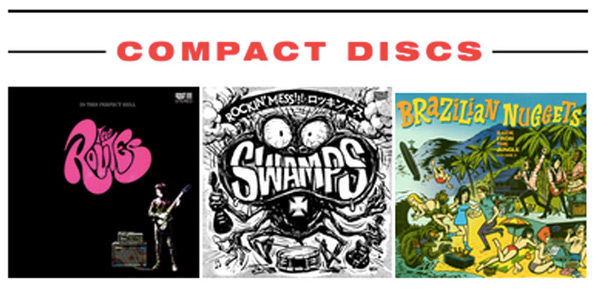 ROUTES "IN THIS PERFECT HELL"  GROO-059CD (GROOVIE)
The Routes' fifth LP brings you 10 original tracks thick with Japanese fuzz pedal and brain-penetrating guitar stabs. Each song takes a unique tack, from hypnotic Spacemen 3 guitars to playful Modern Lovers power pop to Maureen Tucker heavy fuzz. (2017)
SWAMPS "ROCKIN' MESS!!!"  GROO-058CD (GROOVIE)
Remember The Gories with their fucked up solos, off tempo and beat, sounding as wasted as they can be? This is the japanese translation: Infused with fury it's a collection of rollicking tunes and rockin'raucousness that will send you dancing to Nippon.
VARIOUS ARTISTS  "BRAZILIAN NUGGETS VOL. 2"  GROO03CD (GROOVIE)
VARIOUS ARTISTS  "CAZUMBI VOL. 1 – AFRICAN SIXTIES GARAGE"  NSCD-02 (NOSMOKE)
VARIOUS ARTISTS  "SOUL BRAZA VOL. 1"  NS009CD (NOSMOKE)
A collection of some of the best tracks of Brazilian psychedelic soul music; a fusion of fuzz, sweat and dancing inspired by the likes of James Brown, Otis Redding, and Aretha Franklin. Viva la Braza!

IF YOU HAVE ANY QUESTIONS, PLEASE CONTACT US
orders@gethip.com | Phone: 412-231-4766
Get Hip Recordings
R.J. Casey Industrial Park
1800 Columbus Ave.
Second Floor
Pittsburgh, PA 15233 (USA)
(store located on the second floor)
Our store is now open Monday through Saturdays 10 am to 6 pm!