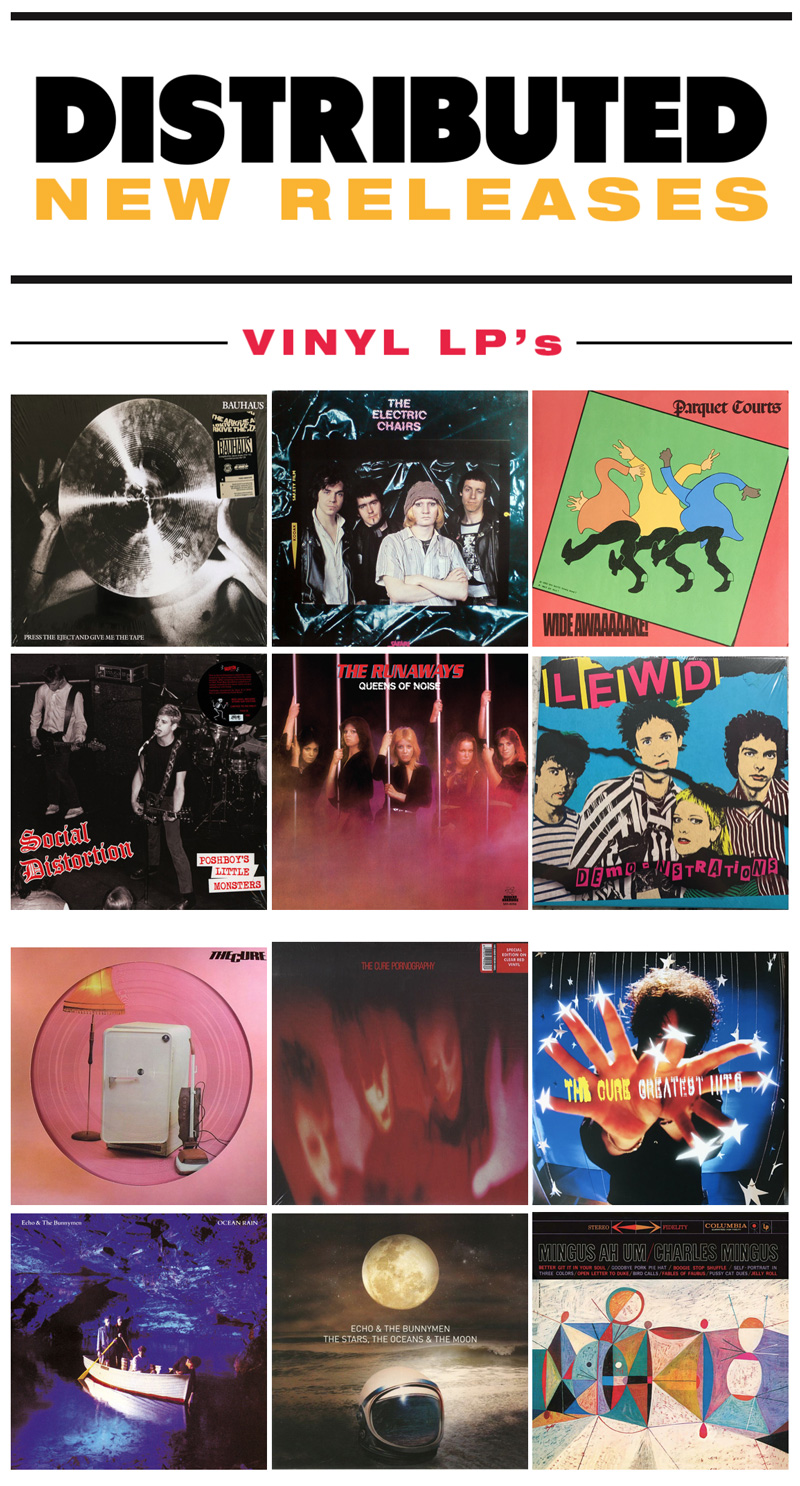 ADDERLEY, CANNONBALL "SOMETHIN' ELSE – 180-GRAM"  VNL-12213 (ERMITAGE)
BAUHAUS "PRESS THE EJECT AND GIVE ME THE TAPES"  BBQLP-38X (BEGGARS BANQUET)
CURE "GREATEST HITS – 2XLP"  RBI-559252 (RHINO)
CURE "PORNOGRAPHY – COLOR VINYL"  990236 (VINYL LOVERS)
CURE "THREE IMAGINARY BOYS (PICURE DISC)"  POLY-130PD (POLYDOR)
ECHO & THE BUNNYMEN "OCEAN RAIN"  if05 (RHINO)
ECHO & THE BUNNYMEN "STARS, THE OCEANS, & THE MOON – 2XLP / 180-GRAM"  538355200 (BMG)
ELECTRIC CHAIRS "S/T – PINK VINYL"  RRS-77 (RADIATION)
Ltd. Ed. 500 copies Pink Vinyl RSD 2021 Release. Reissue of Safari Records 1978 album by Jayne County (back then Wayne County) essential NYC Punk-Rock gem!
HANCOCK, HERBIE "MAIDEN VOYAGE"  3593196 (BLUE NOTE)
KREWMEN "SWEET DREAMS"  PC-004 (PHANTOM CHORD)
Great U.K. Psychobilly 1987 album reissue!
LEWD "DEMO-NSTRATIONS"  PNV-112 (PUKE N VOMIT)
Original 1979 Demos. 14 tracks. Includes Nice package with a color insert.
MINGUS, CHARLES "MINGUS AH UM – 180-GRAM"  VNL-12208 (ERMITAGE)
PARQUET COURTS "WIDE AWAKE!"  RT0001LP (ROUGH TRADE)
ROLLINS, SONNY "SAXOPHONE COLOSSUS – 180-GRAM"  VNL-12224 (ERMITAGE)
RUNAWAYS "QUEENS OF NOISE"  MH-8094 (MODERN HARMONIC)
Second album released just months after their Debut. It cranks up the intensity, paiting stark pictures of teenage rrebellion across a stunning set of original songa.
SHORTER, WAYNE "SOOTHSAYER"  BN-988 (BLUE NOTE)
SOCIAL DISTORTION "POSHBOY'S LITTLE MONSTERS"  RRS-100 (RADIATION)
6 great tracks from 1981 showcasing the potential of teenage Social Distortion. Liner notes by Robbie Fields.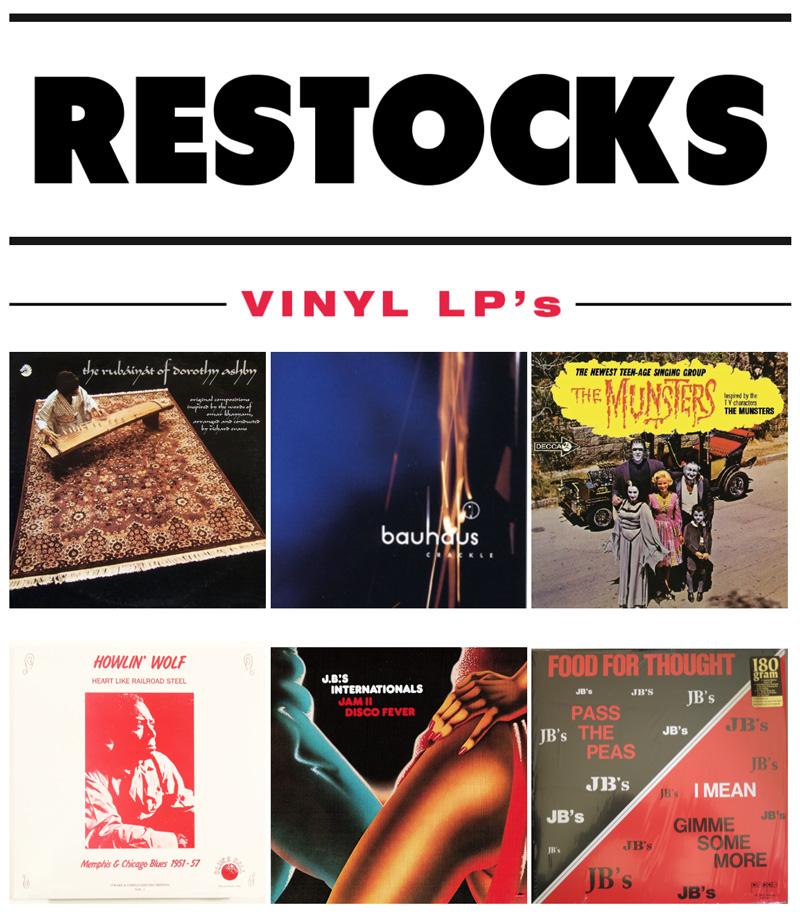 ASHBY, DOROTHY "RUBAIYAT OF DOROTHY ASHBY"  CADET-841 (CADET)
BAUHAUS "CRACKLE: BEST OF – 2xLP (GATEFOLD)"  BBQ-2018-1 (BEGGARS BANQUET)
Reissue of Bauhaus' 1998 compilation album featuring 16 tracks, including "In the Flat Field," "Mask," "Ziggy Stardust," and an unreleased hybrid remix of "Bella Lugosi's Dead," and more.
BOOTSY'S RUBBER BAND "STRETCHIN' OUT IN – 180-GRAM"  R1-76445 (WARNER BROS)
BURNSIDE, R.L. "MR. WIZARD"  E-80301-1 (FAT POSSUM)
A must-have for raw Delta Blues fans, featuring Jon Spencer
BURNSIDE, R.L. "WORRIED BLUES"  FP-1597-1 (FAT POSSUM)
Fat Possum and Amazon Originals present Worried Blues, a curated series featuring rare, lost, and out-of-print recordings from 10 towering figures of 20th Century delta blues. R.L. Burnside's volume contains 13 songs recorded in 1969. (2017)
BYRD, DONALD "STREET LADY"  BN-140 (BLUE NOTE)
CAR SEAT HEADREST "TWIN FANTASY: MIRROR TO MIRROR – 2xLP (GATEFOLD)"  OLE-1330-1 (MATADOR)
Record Store Day 2018 Exclusive: Recorded at 19 on a cheap laptop, Will Toledo's vulnerable and highly danceable breakthrough album is deeply, truly adored. Released in November 2011, it's available now for the first time on vinyl. Limited to 4000. (2018)
COCTEAU TWINS "TREASURE – 180-GRAM"  CAD-3710-1 (4AD)
Cocteau Twins returned to being a trio for the release of their third album. Issued in 1984, Treasure is often celebrated as one of the band's finest works and features the tracks "Lorelei," "Ivo" and "Persephone." Remastered reissue. (2018)
CURE "DISINTEGRATION – 180-GRAM / 2XLP"  IMT874126 (FICTION)
CURE "FAITH – 180-GRAM"  RHI-60783H (RHINO)
CURE "THREE IMAGINARY BOYS – 180-GRAM"  LR-130H (POLYDOR)
FALCO, TAV "BEHIND THE MAGNOLIA CURTAIN / BLOW YOUR TOP – (GATEFOLD)"  1264-1 (FAT POSSUM)
Behind the Magnolia Curtain is one of the great recordings to emerge from the post-punk era and remains the essential Panther Burns document.
FALL "THIS NATION'S SAVING GRACE"  BBQ-2134-1 (BEGGARS BANQUET)
Originally released in 1985, their eighth album is one of The Fall's most loved releases and is often hailed as one of the greatest albums of the 1980s  Unique and challenging, this LP has also been mastered from HD files. (2015)
FUNKADELIC "STANDING ON THE VERGE OF GETTING IT ON – (GATEFOLD)"  SEWA-040 (WESTBOUND)
Originally released in 1974, Funkadelic's sixth studio album features the return of the blistering guitar work of Eddie Hazel, along with the consistently brilliant keyboards of future Talking Head Bernie Worrell.
FUNKADELIC "TALES OF KIDD FUNKADELIC – (GATEFOLD)"  SEWA-054 (WESTBOUND)
1976's Tales of Kidd Funkadelic was released after George Clinton & Co. had left Westbound for Warner Bros. Clinton delivered a collection of recently recorded outtakes (some leftover jams, songs, and funk pieces) which were compiled into this album.
HOOKER, JOHN LEE "BURNIN'"  VJ-1043 (VEE JAY)
HOWLIN' WOLF "HEART LIKE RAILROAD STEEL: MEMPHIS & CHICAGO BLUES 1951-57"  BB-2001 (BLUES BALL)
J.B.'s "DOING IT TO DEATH – 180-GRAM"  PE-5603H (PEOPLE)
J.B.'s "DOING IT TO DEATH"  PEOP-5603 (PEOPLE)
J.B.'s "FOOD FOR THOUGHT – 180-GRAM"  PEOPLE-5601H (PEOPLE)
J.B.'s "FOOD FOR THOUGHT – PURPLE VINYL"  PE-5601CV (PEOPLE)
J.B.'s "FOOD FOR THOUGHT"  PEOP-5601 (PEOPLE)
1972 LP PRODUCED BY JAMES BROWN
J.B.'s INTERNATIONALS "JAM II: DISCO FEVER"  POLYDOR-6153 (POLYDOR)
JAM "ALL MOD CONS"  POLY-6188 (POLYDOR)
JOY DIVISION "UNKNOWN PLEASURES – 180-GRAM"  82564618390 (FACTORY)
Joy Division's classic debut album on 180gm heavyweight vinyl. Replicating original album artwork, cut from the 2007 masters. A real masterpiece.
JOY, BENNY "STORY VOL. 2  ROLLIN' TO THE JUKEBOX ROCK"  ED-347 (NORTON)
LIGHTNIN' HOPKINS "BLUE LIGHTNIN'"  JEWEL-5000 (JEWEL)
MIDNITERS, THEE "IN THEE MIDNITE HOUR!!!"  ED-315 (NORTON)
POUNDING 1964-67 EAST LA ROCK'N'ROLL! ORIGINAL WHITTIER RECORDINGS OF THIS LEGENDARY GROUP'S TOP MID SIXTIES STOMPERS. ALL KILLER, LOUD TEENAGE HOWLERS!
MITCHELL, WILLIE "ROBBIN'S NEST"  FPH-1314-1 (HI)
The twelfth album by trumpeter, bandleader, producer, and Hi Records co-owner Willie Mitchell, originally released on Hi in 1970. Reissue. (2017)
MUNSTERS "INSPIRED BY THE TV CHARACTERS THE MUNSTERS – ORANGE VINYL"  RGM-0747 (REAL GONE MUSIC)
PEEBLES, ANN "STRAIGHT FROM THE HEART"  FP-1410-1 (FAT POSSUM)
First-time vinyl reissue of "Original Soul Sister" Ann Peeble's third album Straight From the Heart, originally released on Hi Records in 1972. Contains "How Strong Is a Woman," and "I Feel Like Breaking Up Somebody's Home Tonight." (2015)
PRETTY THINGS "PARACHUTE – (GATEFOLD)"  RARE-515 (RARE EARTH)
SCOTT-HERON, GIL "REVOLUTION WILL NOT BE TELEVISED"  RCA-6994 (RCA)
W/cover art illustration by Carmine Coppola. Album liner notes by Neil Tesser. An essential classic that stands the test of time.
SHORTER, WAYNE "NIGHT DREAMER"  BN-4173 (BLUE NOTE)
SMITHS "HATFUL OF HOLLOW – 180-GRAM (GATEFOLD)"  WB-65882-1H (WARNER BROS)
SMITHS "LOUDER THAN BOMBS – 2xLP / 180-GRAM (GATEFOLD)"  SIRE-529382 (SIRE)
SMITHS "MEAT IS MURDER – 180-GRAM"  R1-520965H (RHINO)
SMITHS "STRANGEWAYS, HERE WE COME – 180-GRAM"  R-520966 (RHINO)
Recorded as the relationship between Morrissey and Johnny Marr was beginning to disintegrate, 1987's Strangeways, Here We Come would serve as the Smiths' graceful swan song. Ironically, both Morrissey and Marr consider it to be the group's best. 180-gram.
SMITHS "WORLD WON'T LISTEN – 2XLP"  2564665881 (WARNER)
18 TRACKS Including the HIT Singles "PANIC", "ASK" and "SHOPLIFTERS OF THE WORLD UNITE".
SONICS "BUSY BODY!!! LIVE IN TACOMA 1964"  ED-913 (NORTON)
Ferocious Northwest live radio broadcasts from the Tacoma Sports Arena and the Red Carpet
TEMPTATIONS "SKY'S THE LIMIT"  GS-957 (GORDY)
TEMPTATIONS "SOLID ROCK"  GORD-961 (GORDY)
[    ]   $11.99  VARIOUS ARTISTS  "KICKSVILLE VOL. 2"  ED-291 (NORTON)
INCL. RARE 1957 HASIL ADKINS! RAW ROCKAB
VARIOUS ARTISTS  "SOUVENIRS OF THE SOUL CLAP VOL. 1"  ED-398 (NORTON)
Jonathan Toubin's New York Night Train offers the world's greatest dance parties – now JT's hand picked two platters worth of dance floor favorites for your own instant party! Includes cuts by Chessmen, Ronnie Love, Ruby Johnson, and more! (2015)
VARIOUS ARTISTS  "SUN RA: INTERPLANETARY MELODIES"  ED-352 (NORTON)
Unissued early R&B, doo wop, soul and general weirdness from El Saturn feat. COSMIC RAYS, CRYSTALS, NU SOUNDS, QUALITIES, JUANITA ROGERS and SUN RA!
VELVET UNDERGROUND "1969 LIVE WITH LOU REED – 2xLP (GATEFOLD)"  MERC-6643017 (MERCURY)
DOUBLE LP GATEFOLD – 17-track collection selected for over 8 hours of Live performance mastertapes
VELVET UNDERGROUND "WHITE LIGHT / WHITE HEAT"  VERV-5046 (VERVE)
ESSENTIAL 2ND ALBUM
WASHINGTON, GINO "LOVE BANDIT"  ED-295 (NORTON)
MORE RARE & UNISSUED DETROIT GEMS SOUL L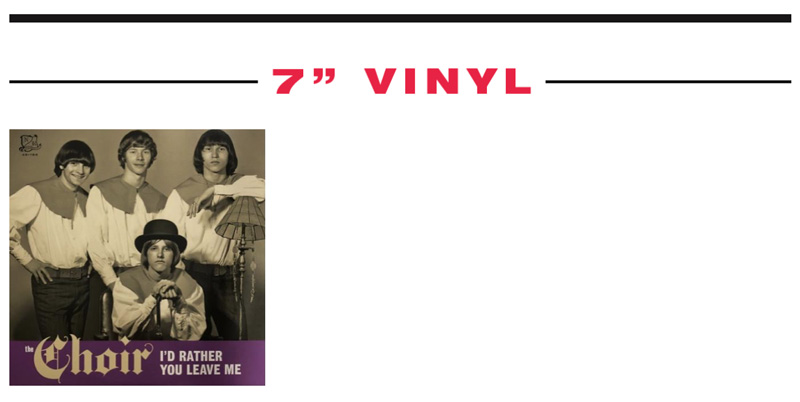 BROOKS, LA LA "WHAT'S MINE IS YOURS / THE ONE WHO REALLY LOVES YOU"  ED-45-180 (NORTON)
La La does King Khan and BBQ and a non-LP take on Mary Wells!
CHOIR "I'D RATHER YOU LEAVE ME / I ONLY DID IT 'CAUSE I FELT SO LONELY"  45-198 (NORTON)
Wally Bryson, age 16, delivers a double shot of what they're come to call power pop- predating his Raspberries by five years- absolutely the greatest
MAD DADDY "MAD DADDY MEMORIAL EP VOL. 1"  45-200 (NORTON)
Present on this EP is Pete Myers' zoomeratin' "What Is A Fisterris?" b/w a tight packed flip of vintage Daddy chatter Cleveland radio ads. Mad Daddy exited this earthly orbit of his own volition on October 4, 1968
VELVET UNDERGROUND "SINGLES 1966-69 – 7×7″ BOXSET"  S-7002 (SUNDAZED)
A seven-disc box set honoring the legendary New York combo's 7" vinyl output in their rare mono versions. The set features exact reproductions of
Velvet Underground singles, two of them with their original picture sleeves! New liner notes by David Fricke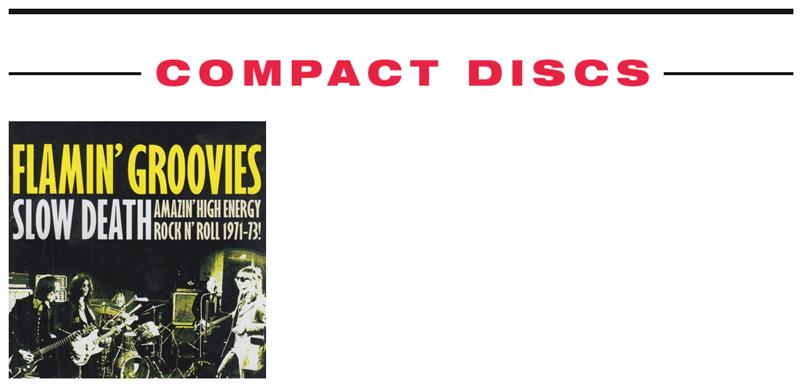 FLAMIN' GROOVIES "SLOW DEATH"  CED-297 (NORTON)
SUPERB COLL. OF DEMOS 1971-1973 KILLER!
KIMBROUGH, JUNIOR "YOU BETTER RUN: THE ESSENTIAL"  FP-80340-2 (FAT POSSUM)
Gathering the best of his all-too-brief recording career, You Better Run: The Essential Junior Kimbrough includes most of his best-known songs, including "Done Got Old," "Meet Me in the City," "You Better Run," and "All Night Long."