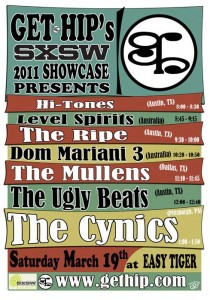 Dear fans and friends, GET HIP RECORDINGS has prepared a fabulous lineup for this year's SXSW showcase! Here are the details:
Get Hip Recordings official SXSW showcase:
Saturday March 19th
EASY TIGER PATIO
709 E. 6th St. Austin, TX.

The Hi-Tones (Austin, TX) 8:00 pm
Level Spirits (Australia) 8:45 pm
The Ripe (Austin, TX) 9:30 pm
Dom Mariani 3 (Australia) 10:20 pm
The Mullens (Dallas, TX) 11:10 pm
The Ugly Beats (Austin, TX) 12:00 am
The Cynics (Pittsburgh, PA) 1:00 am
And here are some other day shows our bands are playing during the festival:
The CYNICS: previewing all the songs from their upcoming new album "Spinning Wheel Motel" (April 2011, Get Hip Recordings) and bringing their Spanish rhythm section for the first time to Austin, Texas!
Friday March 18th – 3 pm  –  SPIDERHOUSE With Green Lady Killers, Soundtrack of Our Lives, The Woggles, High Dials, The Ripe and more!
Sunday March 20th – 6 pm – SIDEBAR's Uncle Doug's Chili Dog Fest 6 PM With Doug Gillard Electric, Golden Boys, December Boys, Ugly Beats, Guadalupe Plata and more!
The UGLY BEATS:
Wednesday, March 16 – 4pm – GINGERMAN
Thursday, March 17 – 1pm – SPIDERHOUSE
Saturday, March 19 – 4pm – Antone's Records
Sunday, March 20 – ? – Creekside  & Sidebar!
See you there!