NEW EXCLUSIVE RELEASE by THE REAL KIDS on ACE OF HEARTS Records! Available Now: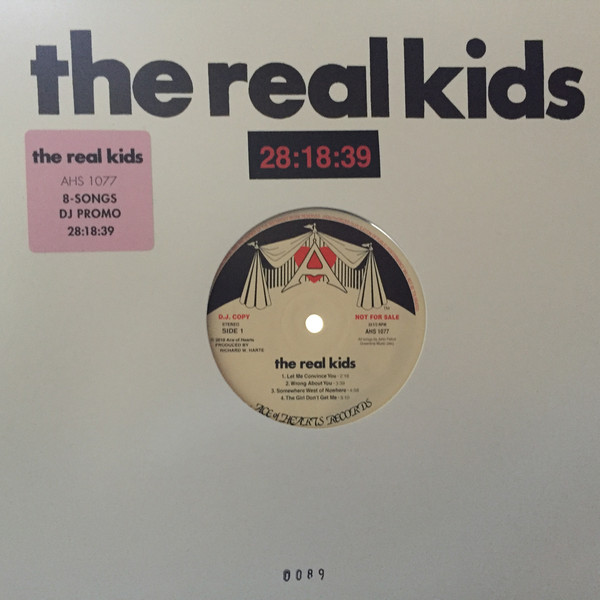 REAL KIDS "28:18:39"  AHS-1077 (ACE OF HEARTS)
New 8-song DJ Promo Record with Download card. Brand new songs in-your-face, catchy and raw as only the Real Kids can do! Recorded at Q Division studios and mastered at Sterling sound. The Real Kids: John Felice, Billy Coyle + DickyOakes. (2019)
Boston Groupie News album review:
28:18:39 (the title and length of the album) is back to basics Real Kids. There are no keyboards, harmonicas, mandolins or any instruments other than guitars and drums.
Two songs, "Hot Dog" and "Bad To Worse", are part of taking care of business by recording those early songs in a studio, where 'til now they've only be available in taped live performances. Then there is one cover, "Baby Blue" and five new originals.
The thing about the first song "Let Me Convince You" is that it's just so spot on a classic Real Kids song and performance that you can hardly believe that it is new. There's so much to be said on just that account but here let's just say that John has come through again and that Rick Harte was there to record it.
"Wrong About You" has a loping and looping guitar line duped by the bass that sweeps you up right from the get go. Lyrically it's about a relationship problem which is primo Real Kids subject matter – always. At the end of the song the guitar has a neat fast vibrato. You can tell Rick knew this by listening to the 25 second fade out where the guitar, heavy on fuzz and tremolo, rings airily and then shape shifts into some feedback. It's sound for sound's sake.
The third cut "Somewhere West of Nowhere" is a bit of a change. It's not a ballad but John sings with a wistful voice. It ends with the guitars cranking away.
As "The Girl Don't Get Me" is another typical Real Kids classic: the stern riff in the bass outlines, the simple chords. There some distorted guitar that comes in twice. It's all to the service of just saying "the girl don't get me". Hearing that phrase in John's voice is what it's all about.
"Hot Dog" is a rocker via Eddie Cochran. John has always taken inspiration from this era of rock. When you hear the thick rip rocking guitar leads you know all is right. The guitars trade off from left to right speaker at one point. They 'bring it down' near the end in the way we have heard them do so many times in live performances on other songs.
If you heard just this one song you wouldn't know when it was recorded, it's timeless Real Kids material. Felice had his ideas of what he wanted to sound like way back at the beginning in the early 70's and he's never diverged from that. That's really the story of this whole album.
"Who Wouldn't Want To Be The One that You Love" is a mid-tempo heartbreak song. Rick has captured an English Invasion tone to the guitars. There is a particular double guitar sound they get on this song that's familiar if you've heard John and Billy Cole play live. It's a beautiful song and one of our favorites.
The next song goes up tempo again with "Bad to Worse". It's so good to finally have a studio version of this.
The cover of "Baby Blue" by Badfinger wraps things up. Billy Cole gets to sing on this. John loves those figures on the low guitar strings and that's what this song revels in. A Real Kids album of all covers – that would be a project.
During the whole album the ring of the guitars – or their bite, the inflections of John's voice, the drum pick-ups and the way the warm bass seems to carry some tunes all by itself, are all joys beyond the songs themselves… and all those new songs!
This is Real Kids 2018 and they sound fantastic.