EXTENDED!!! SUMMER SALE!!!
GET HIP CD'S $6 til the end of AUGUST!
Stay tuned for more BIG Sales all Summer!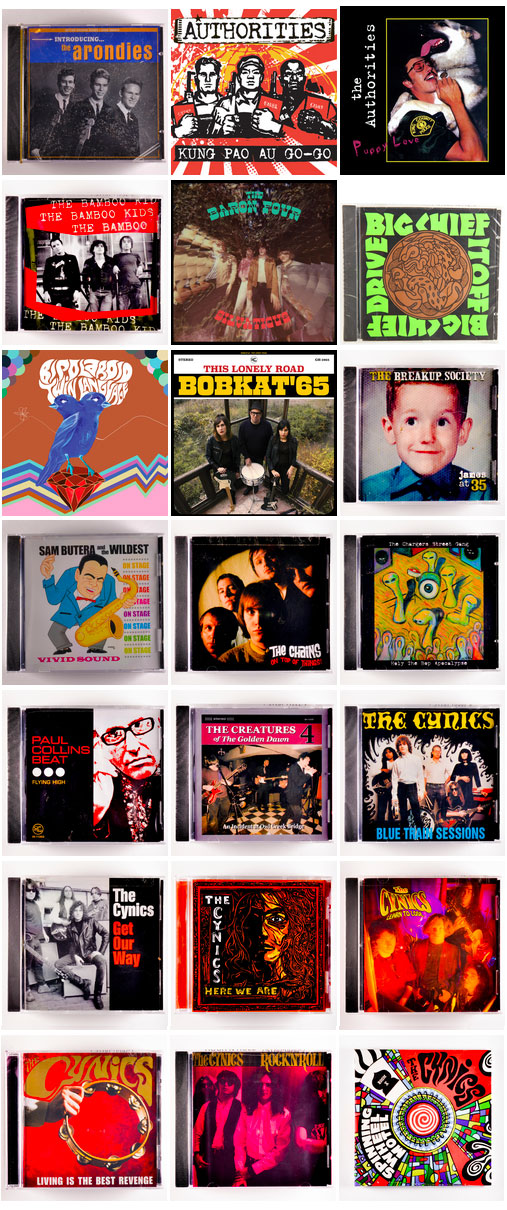 ARONDIES "INTRODUCING…"  GHAS-5069CD (GET HIP ARCHIVE SERIES)
INSTRUMENTAL & VOCAL 60s TEEN GARAGE!
AUTHORITIES "KUNG PAO AU GO-GO"  GH-1160CD (GET HIP)
New studio album by Stockton, California Punk Rock legends! Recorded in 2010/11 at 3110 Studios in Vancouver, BC and produced by Brian Barr. Mixed by David Carswell. 13 songs that show the band's power+Feat. D.O.A.'s Joey Shithead on vocals in one track
AUTHORITIES "PUPPY LOVE"  GH-1042CD (GET HIP)
Remastered reissue of the Get Hip-EV 1996 release. The Authorities explode with 14 fast, short ones on this album. Recorded 1982 –83 and sounding a bit like early Descendents without the juvenile or pop sensibilities.
AVIATION BLONDES "EDGE OF FOREVER"  GH-1155CD (GET HIP)
A short and sweet 7-song debut CD by Pittsburgh's new Power Pop band! The Aviation Blondes play an energized, tuneful brand of rock 'n roll full of delicious pop hooks, loud guitars and brazen attitude and  mesmerizing female vocals.
BAMBOO KIDS "S/T"  GH-1125CD (GET HIP)
U.S. DEBUT BY NYC POWER TRIO! TIGHT BOUNDLESS ENERGY WITH HOOKS & SONGS TO BOOT
BARON FOUR "SILVATICUS"  GH-1178CD (GET HIP)
The explosive second album by British R&Beat mavericks The Baron Four contains 10 original blasts and two covers–featuring ex-Vicar Mike Whitaker on vox/bass and garage guru Miole (The Embrooks, Higher State) on guitar. (2017)
BIG CHIEF "DRIVE IT OFF"  GH-1004CD (GET HIP)
Big Chief is back! A collection of some of ex-Necro Barry Henssler and crew's hard-rocking singles collected in one killer volume. Ten tracks including "Brake Torque," "Iron Pimp," "Crackhore," "Chrome Helmet," and five more. (1994)
BIPOLAROID "TWIN LANGUAGE"  GH-1164CD (GET HIP)
"Twin Language" is the fourth full-length album by NOLA garage rockers Bipolaroid. Carrying the lo-fi aesthetic of pioneers Guided By Voices, the band has abandoned the 7-minute psych jam this time around for song fragments and brevity.
BOBKAT'65 "THIS LONELY ROAD"  GH-1965CD (GET HIP)
The debut album by the Asturias (ES) power trio combines original tracks with a handful of well-chosen covers. Songs range from moody ballads to punk-tinged rants, all delivered with BK'65's unique Kiddie Teenbeat Garage Rock vibe. (2017)
BREAKUP SOCIETY "JAMES AT 35"  GH-1120CD (GET HIP)
Fantastic first album by Pittsburgh's own rockin' Pop band feat. Ed Masely of the Frampton Brothers. Anthemic pop songs with clever lyrics and big sond. For fans of Fountains of Wayne i.e.
BREAKUP SOCIETY "NOBODY LIKES A WINNER"  GH-1142CD (GET HIP)
SECOND ALBUM BY PITTSBURGH POWER-POP COMBO TRANSPLATED TO PHOENIX!
BREAKUP SOCIETY "SO MUCH UNHAPPINESS, SO LITTLE TIME"  GH-1163CD (GET HIP)
3rd release by Pgh Pop band transplanted to Phoenix, AZ finds them expanding the scope of their sound without turning their back on the pop sensibilities. There are still plenty of rockers, & a song co-written with John Wesley Harding w/REM's Pete Buck+
BUTERA, SAM &THE WILDEST "ON STAGE!"  GHAS-5008CD (GET HIP ARCHIVE SERIES)
AMAZING LIVE RECORDING BY LOUIE PRIMA'S ORIGINAL SAX PLAYER! INCLUDES REALLY GREAT ORIGINAL COVER ART BY WAYNO
CARSICKNESS "1979-1982"  GH-1173CD (GET HIP)
17-track retrospective album from seminal Pittsburgh Punk band! Remastered from original masters for best possible in-your-face sound. These songs stand the test of time and show a band full of raw talent and originality. Liner notes by Michael Chabon.
CHAINS "ON TOP OF THINGS!"  GH-1106CD (GET HIP)
INCREDIBLE DEBUT MONTREAL'S BEST GARAGE
CHARGERS STREET GANG "HOLY THE BOP APOCALYPSE"  GH-1105CD (GET HIP)
KILLER CLEVELANDRAWK! FUN & FURY IN ONE!
CHARGERS STREET GANG "THROUGH THE WINDSHIELD"  GH-1115CD (GET HIP)
2ND ALBUM BY CLEVELAND'S KILLER PUNK BAN
COLLINS, PAUL BEAT "FLYING HIGH"  GH-1138CD (GET HIP)
FIRST NEW ALBUM IN 12 YEARS BY THE NERVES AND THE BEAT'S FOUNDER! GREAT POWER-POP THAT PICKS UP WHERE HIS 1979 GENRE MASTERPIECE LEFT OFF ONLY  A BIT MORE PACED AND REFLECTIVE BUT WITH THE SAME CATCHY-AS-HELL GOOD MELODIES THAT MAKE HIM A CLASSIC
CREATURES OF THE GOLDEN DAWN "AN INCIDENT AT OWL CREEK BRIDGE"  GH-1122CD (GET HIP)
BRAND NEW ALBUM BY PENNSYLVANIA GARAGE ROCK MAINSTAYS! AFTER ALBUMS ON DIONYSUS AND COLLECTABLES IN THE 90s THE BAND WENT TO HIATUS. THIS NEW FANTASTIC MARKS THEIR RETURN, MORE ENERGETIC AND ROCKING THAN EVER.  A MUST FOR FANS
OF CYNICS, LYRES AND SO ON.
CYNICS "BLUE TRAIN SESSIONS"  GH-1000CD (GET HIP)
USA INCLUDES 5 BONUS TRAX NOT ON LP
CYNICS "GET OUR WAY"  GH-1030CD (GET HIP)
USA THIS MAY BE THEIR BEST ALBUM EVER!
CYNICS "HERE WE ARE"  GH-1141CD (GET HIP)
7TH AND MOST LIKELY BEST ALBUM TO DATE BY THE ALMIGHT CYNICS, WHO CONTINUE TO AMAZE AUDIENCES WORLDWIDE WITH THEIR  SONGWRITING TALENT AND EVER-INSPIRING ENERGETIC LIVE SHOWS. THE SONGS RANGE FROM FOLK-ROCK BALLADS TO FUZZED-OUT
PUNKERS & SOME SURPRISES!
CYNICS "LEARN TO LOSE"  GH-1008CD (GET HIP)
4TH FULL LENGTH STUDIO ALBUM GARAGE-ROCK POWER FROM PITTSBURGH, PA.'S FINEST
CYNICS "LIVING IS THE BEST REVENGE"  GH-1050CD (GET HIP)
NEW ALBUM BY BEST LIVE (& STUDIO) GARAGE
CYNICS "NO SIESTA TONITE: LIVE IN MADRID 1990"  GH-1014CD (GET HIP)
GREAT CARTOON ART,16 TRAX,GREAT SOUND!

CYNICS "ROCK'N'ROLL"  GH-1020CD (GET HIP)
REMASTERED REISSUE OF CRITICALLY ACCLAIMED BEST SELLING 3RD ALBUM FROM 1990 – INCLUDES ONE BONUS TRACK! THIS IS ONE OF THE BEST GARAGE ALBUMS OF ALL TIME
CYNICS "SIXTEEN FLIGHTS UP"  GH-1010CD (GET HIP)
RE-ISSUE OF SECOND ALBUM W/BETTER SOUND! ONE OF 80'S BEST PSYCHEDELIC GARAGE ALBUMS WITH TOUCHES OF 60'S FOLK-ROCK. CD CONTAINS 16 TRACKS (4 NON-LP)
CYNICS "SPINNING WHEEL MOTEL – (GATEFOLD)"  GH-1150CD (GET HIP)
Latest and probably BEST ever album by Pittsburgh Garage-Punk legends! The Kastelic-Kostelich Vocals/Guitar team got the esteemed collaboration of Spanish rhythm section extraordinaire and comes out shining bright in this Jim Diamond produced masterpiece!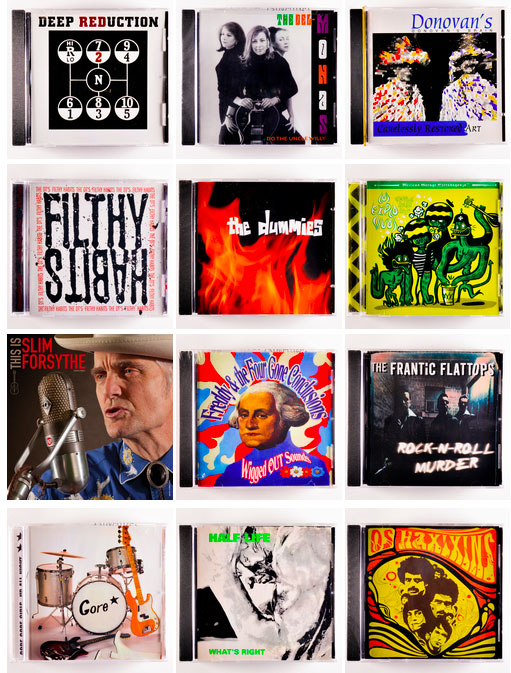 DEEP REDUCTION "2"  GH-1095CD (GET HIP)
RADIO BIRDMAN'S DENIZ TEK & ROB YOUNGER!
DEEP REDUCTION "S/T"  GH-1065CD (GET HIP)
RADIO BIRDMAN'S DENIZ TEK NEW PURE PUNK
DELMONAS "DO THE UNCLE WILLY"  GH-1113CD (GET HIP)
BRITISH GIRL GARAGE PRE-HEADCOATEES
DIZBUSTER "GUN LIGHTER CRICKET"  GH-1021CD (GET HIP)
USA DEBUT CD RIPPIN POWER ROCK FROM L.A.
DONOVAN'S BRAIN "CARELESSLY RESTORED ART"  GH-1069CD (GET HIP)
The debut album by Montana Psych-poppers Donovan's Brain features a fantastic lineup of guest musicians including Fastbacks' Kurt Bloch and R.E.M.'s Scott McCaughey, plus a surprising cover of Guided by Voices' "Smothered in Hugs." (1998)
DONOVAN'S BRAIN "ECLIPSE & DEBRIS"  GH-1080CD (GET HIP)
NEW PSYCHEDELIC MASTERWORK BY MONTANA BA
DONOVAN'S BRAIN "TINY CRUSTACEAN LIGHT SHOW"  GH-1091CD (GET HIP)
THIRD ALBUM BY LUMINARY MONTANA PSYCH
DT's "FILTHY HABITS"  GH-1137CD (GET HIP)
BRAND NEW EXCLUSIVE ALBUM BY BELLINGHAM, WA'S BRIGHTEST, TOUGHEST AND FINEST R&R COMBO! FEAT. THE JANIS JOPLIN-ESQUE IRRESISTIBLE SEXY GROWL OF DIANA YOUNG-BLANCHARD & THE FAB GUITAR LICKS OF ESTRUS HEADHONCHO DAVE CRIDER. CHUCK FULL OF KILLER ORIGINALS!
DT's "NICE 'N' RUFF: HARD SOUL HITS! VOL. 1"  GH-1136CD (GET HIP)
BELLINGHAM, WA. POWERHOUSE HARD ROCK'N'ROLL FEAT. DAVE CRIDER (MONOMEN, WATTS & ESTRUS RECORDS HEADHONCHO) AND POWERFUL VOCALIST DIANA YOUNG-BLANCHARD. 10-SONG KILLER COVERS ALBUM!
DUMMIES "S/T"  GH-1026CD (GET HIP)
LONG-AWAITED DEBUT ALBUM! DISTORTED PUNK
ENFIELDS/FRIENDS OF THE FAMILY "SONGS OF TED MUNDA"  GHAS-5000CD (GET HIP ARCHIVE SERIES)
ANOTHER FINE OBSCURE 60'S PIECE RESCUED BY OUR ARCHIVE SERIES. IT'S FOLK-ROCK IN THE PRIMITIVE LEFT BANKE VEIN.
EXPLOSIVOS, LOS "S/T"  GH-1147CD (GET HIP)
Wild garage-punk from Mexico City! Fast, loud, frenetic and psychotic sounds by 4 crazy mexicanos!!
EXPLOSIVOS, LOS "SONIDOS ROCANROL!!!"  GH-1153CD (GET HIP)
FORSYTHE, SLIM "THIS IS SLIM FORSYTHE"  GHFS-6002CD (GET HIP FOLK SERIES)
Northern Tier troubadour Slim Forsythe presents 10 songs and stories in the Classic Country/Mountain Gospel tradition, with five homages to the likes of Hank Williams and Jimmie Rodgers and five stunning, homespun originals. (2017)
FORTUNE & MALTESE "AND THE PHABULOUS PALLBEARERS"  GH-1057CD (GET HIP)
MICHIGAN'S GARAGE-FUN PURVEYORS! Best of comp of LP + 7″ singels + Unreleased Tracks!
FRANTIC FLATTOPS "ROCK-N-ROLL MURDER"  GH-1082CD (GET HIP)
FABULOUS THIRD CD BY ROCHESTER R&R TRIO
FREDDY & THE FOUR-GONE CONCLUSIONS "WIGGED OUT SOUNDS"  GH-1110CD (GET HIP)
FREDDY FORTUNE NEW GARAGE-BEAT SENSATION
GONE IN SIXTY SECONDS "BRIMSTONE & BOTTLEROCKETS"  GH-1006CD (GET HIP)
STRONG PUNK ROCK W/ A HEAVY EDGE
GORE GORE GIRLS "STRANGE GIRLS"  GH-1096CD (GET HIP)
DETROIT RAW R&R GIRL TRIO GREAT DEBUT AL
GORE GORE GIRLS "UP ALL NIGHT!"  GH-1112CD (GET HIP)
GORGEOUS DETROIT GIRL GARAGE 2ND ALBUM!
GREEN PAJAMAS "GHOSTS OF LOVE"  GH-1090CD (GET HIP)
CD REISSUE OF 1990 PSYCH-POP BOMP LP
HALF LIFE "WHAT'S RIGHT"  GH-1003CD (GET HIP)
16 HOT CUTS! BEST STRAIGHT-EDGE PUNK FROM PGH. PA. FEAT. GEARHEAD HEAD HONCHO MIKE LAVELLA
HAXIXINS, OS "S/T"  GH-1144CD (GET HIP)
Raw & Primitive psyhedelic Garage-punk from Sao Paulo, Brazil! This killer debut album was originally released on LP by Groovie records in Portugal, but ours has 2 more new cuts! Fuzzed-out farfisa-infused authentic sixties sound mostly sang in Portuguese
HEAD & THE HARES "S/T"  GH-1037CD (GET HIP)
The deluxe reissue of these Roman fuzz-punks' self-titled debut (c. 1992) features a bonus cover of The Byrds classic "Feel a Whole Lot Better." If you dig mid-60s New England garage-beat/folk-rock like The Optic Nerve, this one's for you! (1997)
HEADCOATEES, THEE "GIRLSVILLE"  GH-1011CD (GET HIP)
From the "Sisterhood of Suave" Girlsville is Thee Headcoatees classic Garage album. From the boss cover of "Wild Man" to the hilarious "Dirty Old Man" they bring you the Headcoats sound from another perspective.
HEADCOATS, THEE "W.O.A.H! BO IN THEE GARAGE"  GH-1022CD (GET HIP)
Originally released on Hangman Records, this BO DIDDLEY covers album by Billy Childish and company is a fantastic lo-fi Garage-drenched tribute to one of R&R's greatest heros. Done in his own style with equal parts humor and respect, this is now true gem
HIGH SCHOOL SWEETHEARTS "HEELS 'N' WHEELS"  GH-1129CD (GET HIP)
PART TRASH, PART PANACHE- GUITAR FUELED- PACKED W/HOOKS & RIFFS! PUNK, POP & GARAGE CONVERGE WITH BRILL BUILDING MELODIES, THIS 2ND ALBUM ON GET HIP IS SURE TO PLEASE!
HIGH SCHOOL SWEETHEARTS "PASSING NOTES"  GH-1078CD (GET HIP)
AWESOME BLONDIE-INFL. POP-PUNK DEBUT
HIGHWAY 13 "BEEN UP TO THE DEVIL'S BUSINESS"  GH-1060CD (GET HIP)
EXCELLENT DEBUT BY PGH'S ROCKABILLY TRIO

HIGHWAY 13 "THRILL SHOW!"  GH-1084CD (GET HIP)
2ND CD BY AWESOME PGH. ROCKABILLY TRIO
HUNS "LIVE AT THE PALLADIUM 1979"  GH-1041CD (GET HIP)
THE MOST AMAZING TEXAS PUNK ALBUM! GREAT
IRVING KLAWS "PAJAMA PARTY"  GH-1094CD (GET HIP)
2ND RELEASE BY PSYCHOTIC GARAGE NY TRIO!
IRVING KLAWS "PERVASONIC SOUNDS OF…"  GH-1083CD (GET HIP)
EXCELLENT DEBUT WILD GARAGE-PSYCHO-BILLY
JET LAG "BEAUTIFUL SCARS"  GH-1118CD (GET HIP)
SPANISH POP GEM! US RELEASE+4 BONUS CUTS
KAISERS "SHAKE ME!"  GH-1103CD (GET HIP)
Fifth and probably best album by the Scottish kings of Merseybeat! Fabulous sound and infectious pop melodies executed with mastery that rivals the original greats of the genre (think Gerry and the Pacemakers) but with the tough edge of the Garage sound
KEIM, ZACK "FIRST STEP"  GHFS-6001CD (GET HIP FOLK SERIES)
On his solo debut, Zack Keim (Nox Boys) presents 10 tracks of bare-bones acoustic folk rock; a collection of melancholy ballads and serene love songs steeped in '60s-era Dylan-esque affectation. Produced by Pete Drivere (Blue Ash). (2017)
KRAVIN' "A"s "KRAVE ON!"  GH-1019CD (GET HIP)
Neat combination of Beatles and the Zombies inspired material injected with an extra dose of beat. This band could have rocked the Cavern club with the best of them! '60s style Beatle-esque pop.
LAST VEGAS "LICK 'EM & LEAVE 'EM"  GH-1117CD (GET HIP)
DEBUT ALBUM BY HOT R&R COMBO FROM CHICAGO WITH 70s STYLE
LAST VEGAS "SEAL THE DEAL"  GH-1133CD (GET HIP)
FANTASTIC SECOND ALBUM FEAT. NEW LINEUP! MORE ROCKING, MORE LOUD AND IN-YOUR-FACE WITH A 70s FEEL AND LOTSA SWAG. HARD R&R FROM CHICAGO AT ITS BEST!
LEARS "STORY SO FAR…"  GH-1058CD (GET HIP)
JINGLE JANGLE POP WITH PSYCHEDELIC PUNCH
LEGENDARY TIGER MAN "MASQUERADE"  GH-1145CD (GET HIP)
Brand new album by suave cramps-y amazing one-man band from Portugal! Now with a more Sophisticated and the help of a stellar array of musicians backing him up, he has Recorded one seriously haunting, beautifully executed album.
LOONS "LOVE'S DEAD LEAVES"  GH-1074CD (GET HIP)
Debut album by The Loons, featuring members of Tell-Tale Hearts and The Hoods. Its 12 original tracks showcase a range of styles from savage punk to atmospheric pop with a tinge of psychedelia. An explosive album sure to stand the test of time. (1999)
M-80's "IN A FURY"  GH-1005CD (GET HIP)
GARAGE-PUNK/60s R&B INFL. FROM VIRIGINIA – PRE-BIG BOBBY & THE NITECAPS
MAINLINERS "BRING ON THE SWEETLIFE"  GH-1128CD (GET HIP)
SOOOOOO GREAT! NEW, ORIGINAL GARAGE SOUL FROM STOCKHOLM. EVERY CUT A WINNER. SINCERE, SMOOTH, CONFIDENT-  WITH ATTITUDE AND SONGS TO BACK IT UP

MANUAL SCAN "ALL NIGHT STAND: THE BEST OF (1980-1992)"  GH-1043CD (GET HIP)
FANTASTIC RETROSPECTIVE BY 80'S MOD BAND
MIRACLE WORKERS "MOXIE'S REVENGE"  GH-1028CD (GET HIP)
GREAT 80'S GARAGE-PUNK RE-ISSUE,A MUST!
MOCKERS, LOS "ORIGINAL RECORDINGS 1965-1967"  GHAS-5065CD (GET HIP ARCHIVE SERIES)
REISSUE OF AWESOME 60'SGARAGE LP FROM URUGUAY! VERY INFLUENCES BY THE ROLLING STONES WITH LOTS OF GREAT ORIGINAL SONGS! CD INCLUDES NON-LP BONUS TRACKS!
MOD FUN "PAST FORWARD"  GH-1025CD (GET HIP)
GREAT RETROSPECTIVE BY 80'S POP MOD & PSYCH TRIO FROM NJ
MONDO TOPLESS "FREAKING OUT"  GH-1154CD (GET HIP)
12 excellent 60's garage covers comprised the new album by Philly's raw organ-fueled garage combo, the 5th in their career and 3rd for Get Hiip recordings. All the basic garage elements are there: fuzz guitar, snotty vocals, cheesy organ
MONDO TOPLESS "GO FAST!"  GH-1107CD (GET HIP)
PHILLY ORGAN-DRENCHED RAW GARAGE-ROCK
MONDO TOPLESS "TAKE IT SLOW"  GH-1132CD (GET HIP)
SECOND ALBUM FOR GET HIP BY OVER-THE-TOP RAUNCHY PHILLY GARAGE ROCKERS
MOTHERFUCKER 666 "S/T"  GH-777CD (GET HIP)
STRONG ALBUM BY PUNK-ROCK ALL-STAR BAND! FEAT. JEFF DAHL, MIKE METOFF AND LAZY COWGIRLS ORIGINAL RHYTHM SECTION! INFECTIOUS MELODIC PURE R&R
MOUNT McKINLEYS "INDESCRIBABLE HIGH RISE SOUNDS OF TODAY"  GH-1071CD (GET HIP)
PGH.'S #1 GARAGE-SURF BAND, SECOND ALBUM
MOUNT McKINLEYS "PORTRAIT OF A MINDBENDER"  GH-1033CD (GET HIP)
MIND-ALTERING SURF-GARAGE FROM PGH.
MOUNT McKINLEYS "STACKED UP (AND GET IT!)"  GH-1072CD (GET HIP)
NEW ALBUM & FIRST W/THEREMIN PLAYER!
MR. ZERO "VOODOO'S EROS"  GH-1070CD (GET HIP)
SQUARES & HEADCOATS MEM. NEW RAW GARAGE
MULLENS "IT'S HARD TO IMAGINE"  GH-1143CD (GET HIP)
4th album by Dallas, Texas garage-punk combo, this time with the original lineup + a second guitar player! Best songwriting to date includes jangly garage stompers like the beautiful "Esmeralda" and drivin' punk rockers like the title track & more!
MULLENS "S/T"  GH-1062CD (GET HIP)
KICK-ASS DEBUT BY BEST DALLAS PUNK-ROCK!
MULLENS "TOUGH TO TELL"  GH-1093CD (GET HIP)
GREAT PURE ROCK & ROLL 3RD CD BY DALLAS
MYSTIC EYES "OUR TIME TO LEAVE!"  GH-1001CD (GET HIP)
Includes 4 bonus tracks. Terrific debut album by Buffalo, NY 80's Garage-Pop band.

MYSTIC EYES "WHOLE WORLD IS WATCHING"  GH-1016CD (GET HIP)
LONG-AWAITED 2ND ALBUM,GREAT GARAGE-POP
NEANDERTHALS "THE LATEST MENACE TO THE HUMAN RACE"  GH-1063CD (GET HIP)
AMAZING 50'S R&R-STYLE W/HI-DOSE OF FUN!
NEATBEATS "FAR & NEAR"  GH-1066CD (GET HIP)
AWESOME 60'S STYLE GARAGE-POP FROM TOKYO
NERVEBREAKERS "HIJACK THE RADIO!"  GH-1134CD (GET HIP)
VINTAGE VINYL & STUDIO SESSIONS, VOLUME ONE: An anthology of mid to late 70s studio recordings, some of which ended up on the Nervebreakers' late-70's 7″ vinyl releases on Wild Child Records, some on the 1979 Texas punk LP comp. 15 Trax incl. 4 non-LP
NERVEBREAKERS "WE WANT EVERYTHING!"  GH-1032CD (GET HIP)
KILLER DALLAS, TEXAS PUNK BAND! Vocals by T. TEX EDWARDS and Feat. The hit "MY GIRLFRIEND IS A ROCK" and many others catchy punk anthems!
NEW SALEM WITCH HUNTERS "HOT SAUCE & HAPPENINGS"  GH-1017CD (GET HIP)
CLEVELAND'S GARAGE-ROCK MASTERS 3RD CD
NEW SALEM WITCH HUNTERS "S/T"  GH-1038CD (GET HIP)
REISSUE OF 1986 DEBUT ALBUM BY CLEVELAND SEMINAL GARAGE-ROCKERS WHO JUST CELEBRATED THEIR 20TH ANNIVERSARY! ROOTS R&R AND 60'S GARAGE WITH JANGLY GUITARS AND GREAT VOCALS & MELODIES
NITWITZ "DARK SIDE OF THE SPOON"  GH-1079CD (GET HIP)
DUTCH PUNK-ROCK EXTRAORDINAIRE! DEBUT AL
NOX BOYS "OUT OF TOUCH"  GH-1187CD (GET HIP)
Sophomore album by Pittsburgh Garage-Punk combo. Produced by The Cynics' Gregg Kostelich who also plays bass on all tracks! Very nice mix of jangly garage and fuzzed-out angst fueled tracks that totally deliver. (2019)
NOX BOYS "S/T"  GH-1167CD (GET HIP)
This is the self-titled debut from Pittsburgh, PA's preeminent teenage garage-punk band, the Nox Boys! Featuring 11 tracks of hard-edged, in-your-face, angst-filled rock 'n' roll from the heart of the Steel City.
PAINT FUMES "IF IT AIN'T PAINT FUMES IT AIN'T WORTH A HUFF"  GH-1176CD (GET HIP)
PAINT FUMES "WHAT A WORLD"  GH-1186CD (GET HIP)
Second album for Get Hip by our favorite Punk trio from North Carolina! Brilliant songs full of angst and unhinged energy in an introspective self-deprecating and chaotic style that yet comes out unscathed and triumphant!
PAYBACKS "HARDER & HARDER"  GH-1121CD (GET HIP)
DETROIT RAWK DARLINGS SECOND ALBUM! (2004)
PAYBACKS "KNOCK LOUD"  GH-1111CD (GET HIP)
BEST NEW DETROIT R&R BAND OF THE CENTURY
PILSNER "AUTOSUGGESTION"  GH-1075CD (GET HIP)
DEBUT CD BY PGH.'S HARD-DRIVIN PUNK BAND
POP RIVETS "FUN IN THE U.K."  GH-1024CD (GET HIP)
Billy Childish British punk wave band formed in 1977! This album was originally released in the US in 1979 by Pittsburgh's own Jim's Records. Unpolished, sound and very exciting sound!

POW WOWS "BROKEN CURSES"  GH-1171CD (GET HIP)
The sophomore album by Toronto garage-punks Pow Wows features 10 unstoppable new tracks overflowing with '60s-influenced fuzz guitar, dynamic rhythms, and wild, amped-up vocals. (2015)
POW WOWS "NIGHTMARE SODA"  GH-1158CD (GET HIP)
Toronto, Canada's hottest new young combo Debut Album!!! FLOWER PUNK with a distinctive sound that will immediately set them apart from all other new bands… Get Ready!
PREACHER'S KIDS "WILD EMOTIONS"  GH-1109CD (GET HIP)
MISSISSIPPI GARAGE-ROCK-BLUES-PUNK BEST
PRIESTS "TALL TALES"  GH-1127CD (GET HIP)
Rochester, NY cool Garage-Rock band latest release produced by Tim Kerr! Dark, moody with a heavy groove and a hi-dose of The Cramps style. Great Deluxe gatefold jacket!
PROTRUDI, LINK & THE JAYMEN "HIT & RUN!"  GH-1051CD (GET HIP)
23-track all-instrumental monster! Link Protrudi and the Jaymen were whippin' up the meanest, grungiest instro-raunch this side of Link Wray long before the "surf revival." Incl. their first two steamin' LPs, Drive It Home and Missing Links on one CD.
RAINY DAY SAINTS "ALL THESE STRANGE GHOSTS"  GH-1162CD (GET HIP)
Cleveland's underrated singer/songwriter/guitaris/drummer/producer Dave Swanson has had a solid lineup full of talent for his long-loved project RAINY DAY SAINTS and it's reflected in this new album: tight and brilliant both in songwriting and production.
RAINY DAY SAINTS "DIAMOND STAR HIGHWAY"  GH-1131CD (GET HIP)
CLEVELAND, OHIO STRAIGHT-OUT POWER-POP COMBO SECOND ALBUM – DRAWING FRO MTHE BEST 60s/70s AND 80s POP INFLUENCES DAVE SWANSON AND HIS BAND CREATE A POWERFUL NEW R&R GEM
RAINY DAY SAINTS "REFLECTED"  GH-1152CD (GET HIP)
Amazing third album by underratted Psychedelic Garage Rock band from Cleveland!
RAINY DAY SAINTS "SATURDAY'S HAZE"  GH-1116CD (GET HIP)
PERFECT POP MELODIES & ROCK JAMS FROM CL
RAZZELS "SUCK MY FIRST IMPRESSION"  GH-1061CD (GET HIP)
DEBUT ALBUM BY BUFFALO, NY POP-PUNK TRIO
RAZZELS "THROTTLE"  GH-1089CD (GET HIP)
STRONG 2ND CD BY BUFFALO MELODIC PUNK TR
RESONARS "BRIGHT & DARK"  GH-1081CD (GET HIP)
Debut CD by the intriguing and amazing superb pop combo from Tucson, AZ
RESONARS "LUNAR KIT"  GH-1108CD (GET HIP)
2ND FABULOUS ALBUM BY BRIILIANT POP BAND FROM TUCSON, AZ. GREAT MELODIES WIH BUZZING GUITARS AND HARMONIES GALORE
RESONARS "NONETHELESS BLUE"  GH-1139CD (GET HIP)
ON THIS THIRD ALBUM BRIGHT ARIZONA POPSTERS CONTINUE TO MINE THE FIELD OF TOP-SHELF PSYCHEDELIC-POP WITH THE BEST RESULTS TO DATE WITH VOCALS MORE SELF-ASSURED THAN EVER & EMINENTLY CATCHY SONGS
RIPE "INTO YOUR EARS"  GH-1161CD (GET HIP)
Jake Garcia, original lead guitaris for the Ugly Beats steps up as leader of the fantastic Pop-Psych-Garage trio The Ripe and creates a debut album full of pop gems with powerful sound and outstanding songwriting. Recorded at Circo Perroti in Spain!
ROCKET 455 "GO TO HELL"  GH-1097CD (GET HIP)
GREAT COMP. BY DETROIT TOUGH PUNK-ROCK B
SCIULLI, STEPHEN "HIGH IN THE MOUNTAIN"  GHFS-6005CD (GET HIP FOLK SERIES)
Haunted Americana from the Alleghenies: Stephen Sciulli (Carsickness) blends an eclectic array of folk instruments (dobro, banjo, dulcimer) with ethereal electronics, creating 10 otherworldly tracks of "country music from another country." (2017)
SHUTDOWN 66 "WELCOME TO DUMPSVILLE"  GH-1104CD (GET HIP)
U.S. DEBUT AUSTRALIA'S GARAGE-PUNK KINGS! RAW, WILD R&B INFUSED GARAGE WITH GNARLY VOCALS, KILLER ORGAN AND SOLID RIFFS FEAT. EXCELLENT ORIGINAL SONGS LIKE FINK IS THE KING AND THE TITLE TRACK AND THEIR PUNK ANTHEM SHUTDOWN 66!
SILVER TONGUED DEVIL "RED-EYED & TONGUE-TIED"  GH-1087CD (GET HIP)
BRUTAL DEBUT ALBUM BY PGH. PUNK MEETS ME
SINISTER SIX "SINISTERIA!"  GH-1052CD (GET HIP)
AMAZING NEW ALBUM! SEATTLE GARAGE-PUNK
SIR FINKS "(TRES MEXICANOS) DEL SUR DE TEXAS"  GH-1146CD (GET HIP)
22-Track Retrospective album by Corpus Christi, TX fantastic SURF-ROCK trio! 1995-2001 recordings including all their Wildebeest releases, comp cuts and a few unreleased songs! Killer artwork and fun liner notes with the band's story, photos, flyers etc
SIRENS "S/T"  GH-1119CD (GET HIP)
RAVING GLAM PUNK ROCK DEBUT ALBUM BY ALL-STAR GIRL QUARTET FROM DETROIT! COVERS OF SUZI QUATRO, SLADE, GARY GLITTER, HOLLYWOOD BRATS & OTHER KILLER GLAM GEMS… THIS RAWKS!
SLEEPYKID "MONDAY MORNING SMILE"  GH-1123CD (GET HIP)
GREAT DEBUT ALBUM BY NEW BAND FROM THE ASHES OF CLEVELAND'S OWN MOD POP THE REVELERS (SPINART). INSPIRED GARAGE POP WITH SOME BRILLIANT MOMENTS
SOME KIND OF ANIMAL "S/T"  GHFS-6006CD (GET HIP FOLK SERIES)
The debut album by Pittsburgh "soulful indie folk rock" quartet SKOA features 11 tracks laced with lyrical imagery and melodic harmonies–earnest, masterfully crafted music that is at once modern and timeless. (2017)
SPECTORS "BEAT IS MURDER: COCKFIGHTS & CAKEFIGHTS 1992-1996"  GH-1045CD (GET HIP)
COCKFIGHTS & CAKEFIGHTS 1992-1996 COMP.
SQUARES "SQUARIFICATION"  GH-1035CD (GET HIP)
BEST FRENCH PRIMITIVE GARAGE-BEAT NEW CD
STEEL MINERS "BALLIN"  GH-1068CD (GET HIP)
LAST CD BY PGH. PUNKROCK CATCHY & FAST!
STEMS "TERMINAL COOL: ANTHOLOGY 83-86"  GH-1130CD (GET HIP)
ONE OF AUSTRALIA'S FINEST EXPORTS OF THE 80s AND 90s, THE STEMS COMBINE GORGEOUS POP MELODIES WITH GREAT GARAGE RIFFS AND BACKBEATS. THIS BRILLIANT RETROSPECTIVE COLLECTS SONGS FROM THE BAND'S HEYDAY INCLUDING AND FEATURES SOME GREAT UNRELEASED MATERIAL!
SUBSONICS "EVERYTHING IS FALLING APART"  GH-1034CD (GET HIP)
PRIMITIVE R'N'R W/V.U. INFLUENCE ATLANTA
SUBSONICS "FOLLOW ME DOWN"  GH-1064CD (GET HIP)
ATLANTA'S BAD-ASS BITTERSWEET POPSTERS
SWAMP RATS "DISCO STILL SUCKS!"  GHAS-5067CD (GET HIP ARCHIVE SERIES)
PRIMAL 60'S PUNK & GARAGE FROM PITTSBURGH! EXCELLENT CD FEAT. CRUDE PUNKERS (PSYCHO, LOUIE LOUIE, HEY FREAK, TOBACCO ROAD) AND FANTASTIC MELODIC GARAGE (HERE THE RE AND EVERYWHERE, I'M GOING HOME) A MUST FOR FANS OF THE SONICS ET AL
TRASH VEGAS "GROOVEYARD"  GH-1009CD (GET HIP)
COOL 1990'S GLAM-ROCK ALA NEW YORK DOLLS/JOHNNY THUNDERS FROM PITTSBURGH
UGLY BEATS "BRAND NEW DAY"  GH-1170CD (GET HIP)
Following up on the success of MOTOR!, your favorite Texas garage band has committed 12 new songs to wax, including instant hard rockin' classics, hook-heavy powerpoppers and lush folk-rock as well as terrific homages to Tim Hardin and The Buckaroos! FAB!
UGLY BEATS "BRING ON THE BEATS!"  GH-1126CD (GET HIP)
Outstanding Garage combo from Austin, Texas DEBUT ALBUM! Off-the-hook Farfisa-infected sounds designed to make you dance to the beat! Great original songs + 2 freakbeatin' covers of The (Dutch) OUTSIDERS and The EASYBEATS!
UGLY BEATS "MOTOR!"  GH-1156CD (GET HIP)
The Ugly Beats are back on wax with their third and strongest record yet! Whether it's jangly guitars, soaring harmonies or a one-two punch you crave, this record will have you gunning your gas pedal from the first track to the last. 12 killer songs!
UGLY BEATS "STARS ALIGN"  GH-1185CD (GET HIP)
Stellar new release by Austin's favorite jangly Garage crew! Stars Align features your favorite ageless teen punks further refining their pounding folk-jangle sound on their fifth LP: 11 originals + a terrific take on the Real Kids' classic She Come Alive
UGLY BEATS "TAKE A STAND"  GH-1140CD (GET HIP)
SECOND ALBUM BY AUSTIN, TEXAS #1 GARAGE BAND. THIS ALBUM FEATURES A FULL BAND VOCAL-APPROACH, MIXING CLASSIC UB CROWD PLEASERS LIKE TAKE A STAND AND YOU'RE THE ONE WITH GORGEOUS MID-TEMPO NUGGETS LIKE MILLION DOLLAR MAN AND GET IN LINE. BRILLIANT!
VARIOUS ARTISTS  "BALTIMORE'S TEEN BEAT"  GHAS-5009CD (GET HIP ARCHIVE SERIES)
Reissue of ultra-rare early 60's Dome Records original LP (pressing of 500 sod out fast in 1966)  comp of teen garage bands from the Baltimore, MD area. These bands made up the Baltimore sound, contributing to the Garage Band Sound of the sixties.
VARIOUS ARTISTS  "FREE FLIGHT: UNRELEASED DOVE RECORDING STUDIO CUTS 1964-69"  GHAS-5012CD (GET HIP ARCHIVE SERIES)
AMAZING COMPILATION FROM MINNESOTA 60s LABEL! SUPERB PACKAGE/ 25 TRACKC FEAT. CALICO WALL, MICHAEL YONKERS, MAGPIES, MIKE WAGGONER, MERCYMEN and many more!
VARIOUS ARTISTS  "SABRE RECORDS STORY"  GHAS-5005CD (GET HIP ARCHIVE SERIES)
THUNDER ROCKS,LOW ROCKS… MI. 50s R&R
VARIOUS ARTISTS  "SOULFUL SOUNDS FROM SOULVILLE"  GHAS-5018CD (GET HIP ARCHIVE SERIES)
SUPERB COLLECTION OF THE 60'S SOUL LABELS SOULVILLE AND JAYWALKING! INCLUDES HUGE BOOKLET FULL OF PHOTOS, LINER NOTES AND STORIES!
VARIOUS ARTISTS  "SOUND OF POVERTY: ANYWAY SINGLES 92-93"  GH-1023CD (GET HIP)
GAUNT, NEW BOMB TURKS, BASSHOLES +9 OTHER GREAT INDIE BANDS FROM COLUMBUS, OH. 1990s
VARIOUS ARTISTS  "TRASH BAG / SIKES: SPLIT EP"  GH-1182CD (GET HIP)
Steel City noise-punk meets indie hip hop on this split EP. Trash Bag contributes three snotty, attitude-fueled anthems, each track reinterpreted and redubbed by Pittsburgh producer/emcee SIKES. Not for the narrow-minded. (2017)
VINCENT, SONNY "BIZARRO HYMNS"  GH-1172CD (GET HIP)
The legendary Sonny Vincent (The Testors) returns with 15 raw new tracks bristling with explosive '77 Punk attitude and fuzzed-out blues rock euphoria. Features Scott Asheton (The Stooges) and Torben Wesche. (2015)
VIV AND THE SECT "THIS WILL PASS"  GH-1174CD (GET HIP)
Debut album by outstanding Garage-Psych band from Mexico City! Powerful, fuzzy, moody, in-your-face with excellent original songs and amazing guitar riffs. Mastered by Jim Diamond. A must for garage fans! The new garage generation is alive and well.


IF YOU HAVE ANY QUESTIONS, PLEASE CONTACT US
mailorder@gethip.com | Phone: 412-231-4766
OUR MAILING ADDRESS
Get Hip Recordings
1800 Columbus Ave.
Pittsburgh, PA 15233 (USA)