New Releases from CHAPUTA, GET HIP, DRASTIC PLASTIC, ACE, BIG BEAT, KENT, THIRD MAN Records and much more!!!
You can also shop at our Record Store in Pittsburgh!
OPEN Monday to Saturday 12-6 pm. MASK required!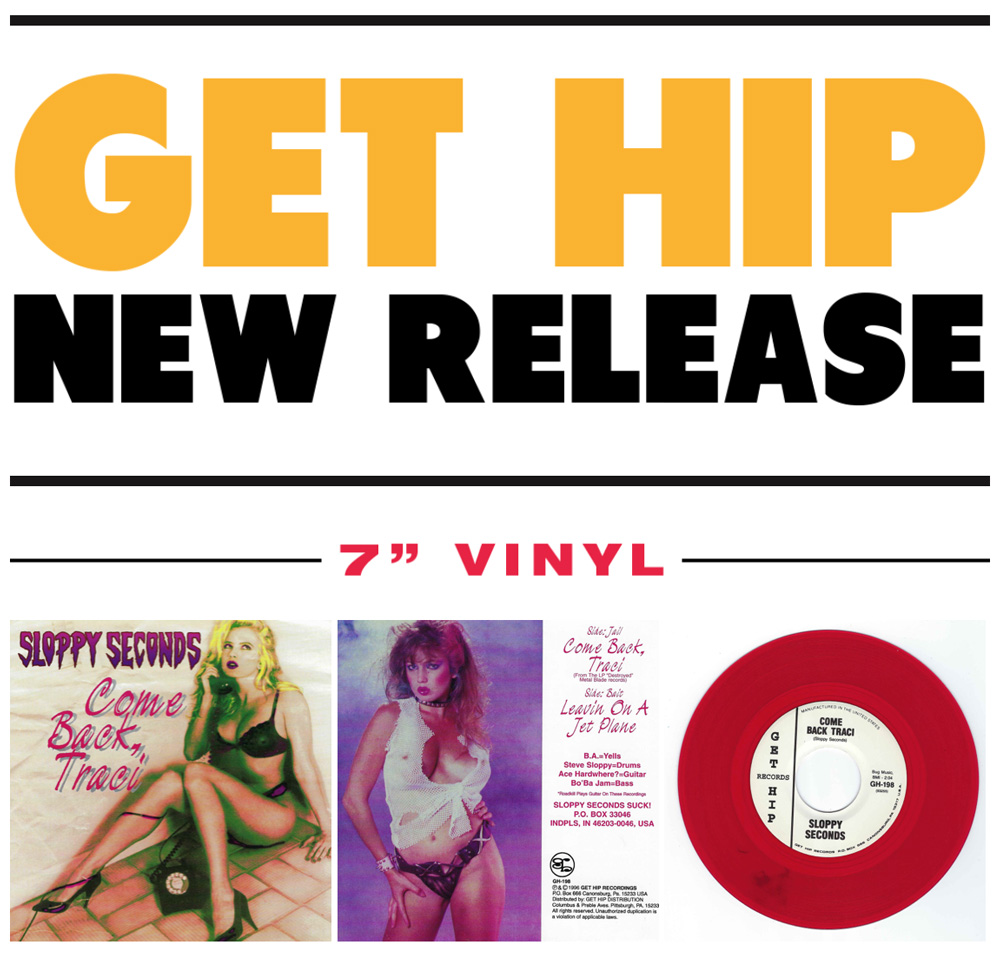 SLOPPY SECONDS "COME BACK, TRACI/LEAVIN ON A JET PLANE – RED VINYL"  GH-198
(GET HIP)
MIDWEST POP-PUNK FAVORITES SLOPPY SECONDS PAY TRIBUTE TO PORN QUEEN TRACI LORDS! REISSUE LTD. ED. RED VINYL!
Sloppy Seconds is a Ramones-influenced punk band, from Indianapolis, Indiana, that started in 1984. They gained notoriety in the underground punk scene with gritty and controversial songs like "Come Back, Traci," "I Don't Want to be a Homosexual", "Jani is a Nazi", "I Want 'em Dead" and "So Fucked Up." The band's unusual and controversial lyrics encompass pornography, classic horror movies, classic television shows, comic books, alcohol, being fat, and getting drunk.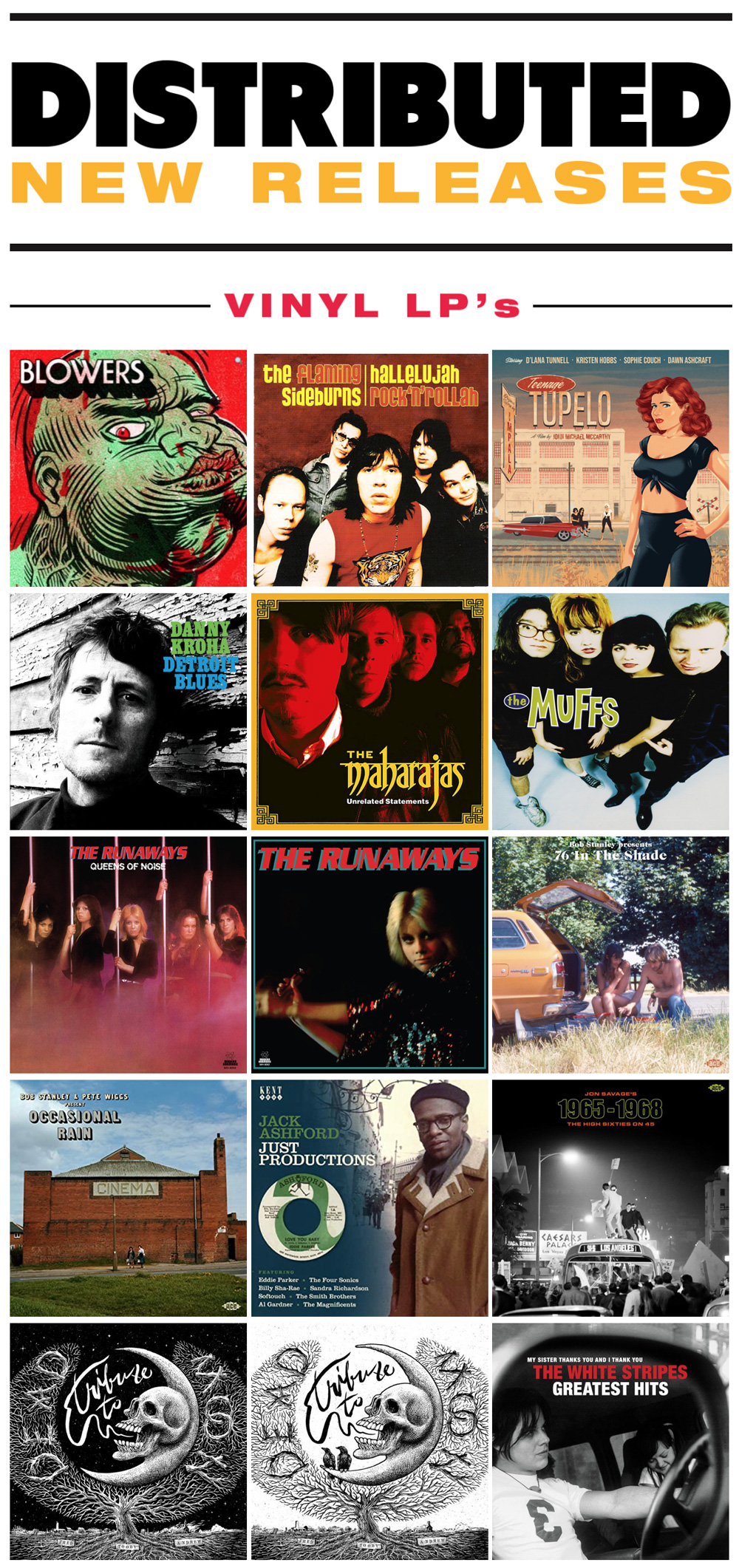 BLOWERS "S/T"  CHR12-008 (CHAPUTA)
A rough and raw shot of garage punk from down under, BLOWERS' self-titled debut album features a three-pronged vocal attack delivering songs themed around giving zero fucks.
COCTEAU TWINS "VICTORIALAND"  4AD-0193-LP (4AD)
FLAMING SIDEBURNS "HALLELUJAH ROCK'N'ROLLAH – COLOR VINYL"  ISCO-12005 (CHAPUTA)
The long-out-of-print album "Hallelujah Rock'n'Rollah" is finally re-issued. It comes on mustard vinyl together with an exclusive poster picturing the
band at the time of making the album.
IMPALA "TEENAGE TUPELO: ORIGINAL SCORE – GATEFOLD WITH POSTER"  CHR-12006 (CHAPUTA)
A southern fried Fellini exploitation masterpiece with a swanky strutting r&b love letter from the band IMPALA. Amazing. One of the best soundtracks
that you have never heard of.
KROHA, DANNY "DETROIT BLUES"  TMR-705 (THIRD MAN)
Danny Kroha's Detroit Blues could be considered part two of his solo debut LP – Angels Watching Over Me.
MAHARAJAS "UNRELATED STATEMENTS – COLOR VINYL"  ISCO-12007 (CHAPUTA)
The long-out-of-print album "Unrelated Statements", The Maharajas second album, is finally re-issued. It comes on red vinyl together with an exclusive
poster picturing the band at the time of making the album.
MUFFS "S/T (140-GRAM STANDARD BLACK VINYL)"  DRLP102 (DRASTIC PLASTIC)
Reissue of the fantastic Debut album with faithful yet updated origianl CD artwork. Hi-energy signature one-of-a-kind sound combines Ramones-style
power chords w/Blondie's punk power pop attitude and Kim Shattuck's wild screams and sweet voice!
OHIO PLAYERS "PAIN"  SEWA-004 (BGP)
RUNAWAYS "QUEENS OF NOISE"  MH-8094 (MODERN HARMONIC)
Second album released just months after their Debut. It cranks up the intensity, paiting stark pictures of teenage rrebellion across a stunning set of
original songa.
RUNAWAYS "S/T"  MH-8093 (MODERN HARMONIC)
1976 Debut album that catapulted them into fame and made them cherry bombs of icon and influence in Rock n Roll, changing the face (and gender)
forever. Full of tough, snarling tales of misbehavior that continu to be a source of inspiration.
VARIOUS ARTISTS  "76 IN THE SHADE"  XXQLP2-073 (ACE)
Saint Etienne's Bob Stanley has put a compilation together that sonically evokes the summer of 1976 itself, its sweet heat and almost narcotic lethargy.
VARIOUS ARTISTS  "BOB STANLEY & PETE WIGGS PRESENT OCCASIONAL RAIN"  XXQLP2-070 (ACE)
VARIOUS ARTISTS  "JACK ASHFORD'S JUST PRODUCTIONS"  KENT-519 (KENT)
VARIOUS ARTISTS  "JON SAVAGE'S 1965-1968: THE HIGH  SIXTIES ON 45"  XXQLP2-060 (ACE)
Spread over four sides of two 33rpm 12-inch albums, this is a love letter to the 7-inch 45rpm single. Deluxe packaging w/gatefold packaged and illustrated inner sleeves. Orange vinyl.
VARIOUS ARTISTS  "TRIBUTE TO DEAD MOON 2×10-inch"  CHR-10004 (CHAPUTA)
19 bands paying tribute to Fred, Toody and Andrew
VARIOUS ARTISTS  "TRIBUTE TO DEAD MOON VOL. 2 2X10-inch"  CHR-10007 (CHAPUTA)
Another 19 bands paying tribute to Fred, Toody and Andrew
WHITE STRIPES "GREATEST HITS – 2XLP"  TMR-700 (THIRD MAN)
You already know! This is the definitive Greatest Hits for one of the new century's greatest bands. Get 'em while they're hot!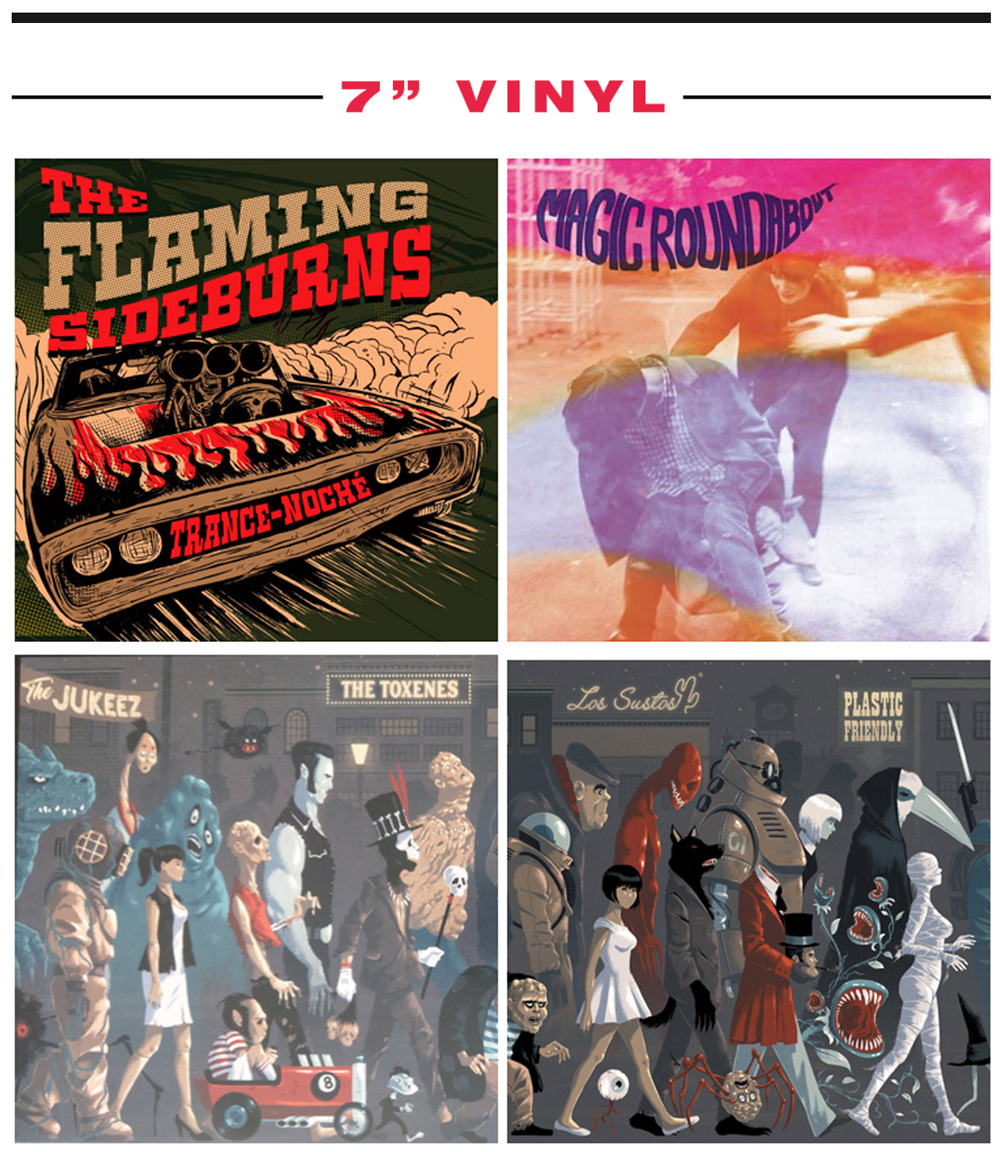 FLAMING SIDEBURNS "TRANCE-NOCHE"  CHR-7026 (CHAPUTA)
The EP's double A side with "Trance-Noche" and "Neverending" is an appetizer for the forthcoming full length album. The B side "New Daylight" is an
outtake from the same recording session and will not be available in any other format.
MAGIC ROUNDABOUT "SNEAKY FEELIN / SONG FOR GERARD LANGLEY"  TMR-709 (THIRD MAN)
There were talks of a flexi-disc that, for whatever reason, never saw the light of day. By the end of the 80s, Magic Roundabout had all gone their
separate ways, the recordings they'd made together thought to be lost forever…until now.
VARIOUS ARTISTS  "MONSTER PARADE VOL. 1: THE JUKEEZ AND THE TOXENES"  CHR-7025 (CHAPUTA)
Volume 1 of MONSTER PARADE series featuring THE JUKEEZ and THE TOXENES
VARIOUS ARTISTS  "MONSTER PARADE VOL. 2: LOS SUSTOS AND PLASTIC FRIENDLY"  CHR-7027 (CHAPUTA)
Volume 2 (of 3) of MONSTER PARADE series featuring LOS SUSTOS (Mexico) and PLASTIC FRIENDLY (Spain)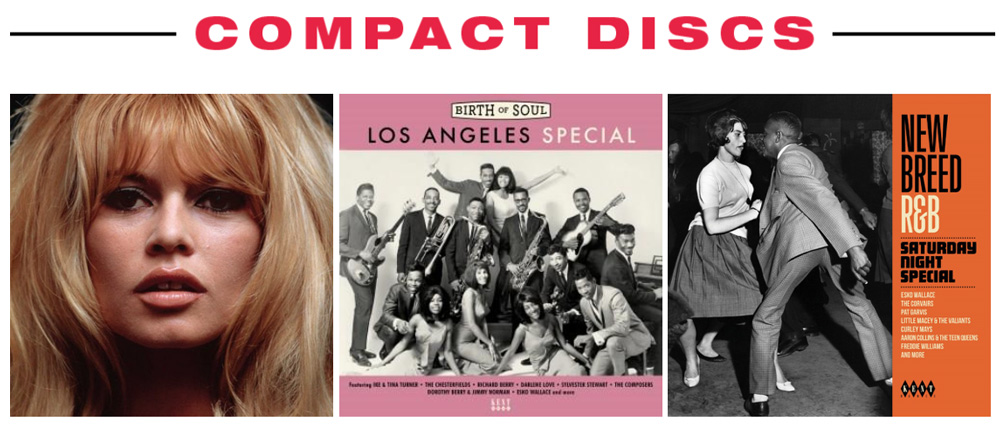 BARDOT, BRIGITTE "LA BELLE ET LE BLUES"  CDTOP-1551 (ACE)
VARIOUS ARTISTS  "BIRTH OF SOUL: LOS ANGELES SPECIAL"  CDKEND-496 (KENT)
Ace has very strong links with Los Angeles labels – from our original licensors Modern to 50s labels such as Combo, Flash and Flip and 60s soul imprints Mirwood and Money were also acquired
VARIOUS ARTISTS  "NEW BREED R&B SATURDAY NIGHT SPECIAL"  CDKEND-492 (KENT)
New Breed is back with a historical bang. Its R&B pedigree is inestimable.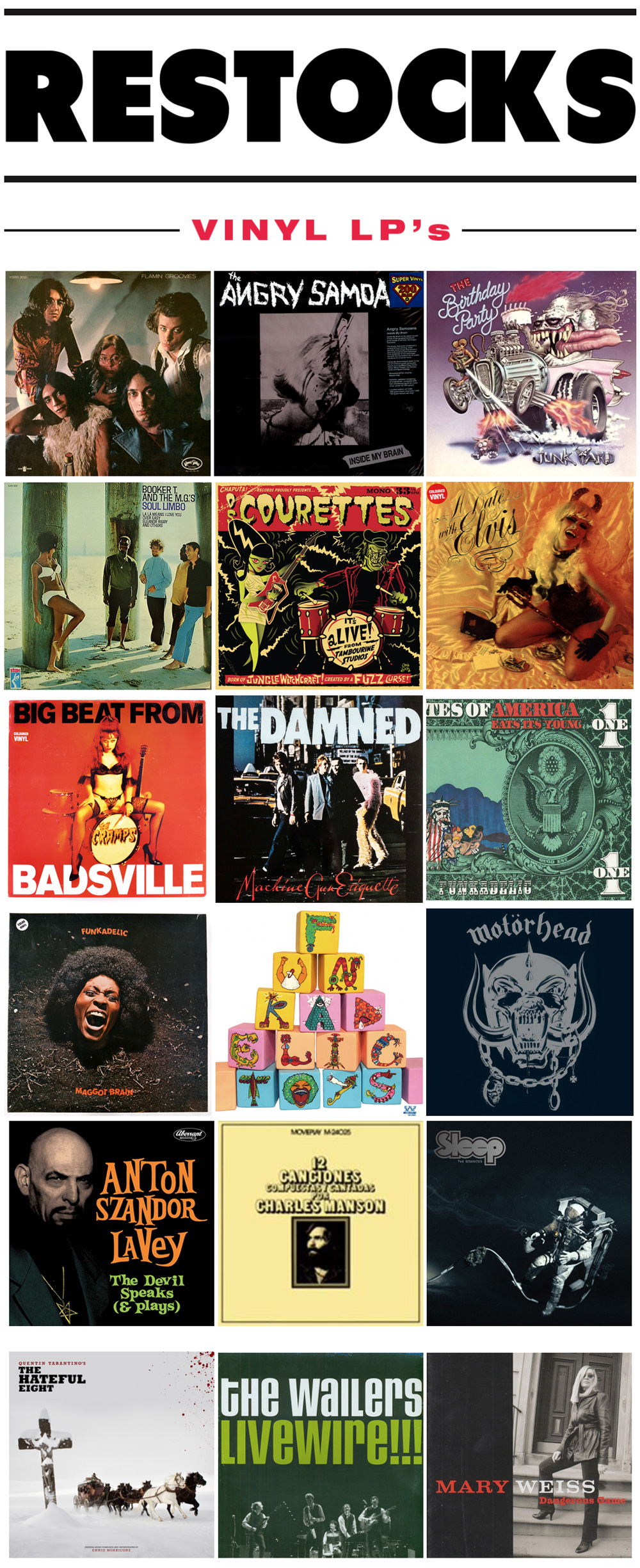 999 "BIGGEST PRIZE IN SPORT – GREEN VINYL"  DPRLP46C (DRASTIC PLASTIC)
Named for the British emergency phone number, 999 was among the first wave of punk bands to emerge in 1977. 1980's Biggest Prize is often
considered their masterpiece, one of punk rock's greatest albums. Pressed on green vinyl. Limited to 500. (2014)
A-BONES "EARS WIDE SHUT"  ED-393 (NORTON)
The A-bones first new album in five years features 13 killer cuts! Recorded live and wild in the rehearsal room on Super Bowl weekend! Don't miss it!
(2014)
A-BONES "NOT NOW!"  ED-345 (NORTON)
The A-Bones return with a 15 song platter recorded at Manhattan's posh underground NY Hed Studios and engineered by the great Matt Verta-Ray.
Cool originals + covers of the Animals, Clovers and a guest appearance by Dave "Baby" Cortez!
ACE OF CUPS "IT'S BAD FOR YOU BUT BUY IT!"  HIQLP-061 (BIG BEAT)
ACT-UPS "Something To Forget LP + 7-inch"  CHR-12002-7010 (CHAPUTA)
14-track comp. celebrating 15 years of Act-Ups! Includes free 7″ with 4 new songs. Ltd. Ed. 500 copies with Ricardo Reis cover art. "A monster made up of one volt of Iggy, one hambone of Pickett, one shot of Hank & two injections of Jeffrey Lee" -Ruta 66
ADICTS "SONGS OF PRAISE"  SMT-8 (DWED)
Reissue of legendary (and long out of print:) debut LP from Ipswich Punk lads. Published in 1981 in the band's own label, their upbeat anthemic
sound established them as one of the most popular Punk Rock bands of the 80s. With original artwork!
ADKINS, HASIL "ACHY BREAKY HA HA HA"  ED-239 (NORTON)
USA THE HAZE GOES COUNTRY! 14 NUTTY TRAX
ANGRY SAMOANS "INSIDE MY BRAIN – 200-GRAM"  DPRLP-21H (DRASTIC PLASTIC)
Reissue of SoCal hardcore band Angry Samoans' 1981 debut "Inside My Brain." This album helped usher in the era hardcore punk alongside bands
like Black Flag, Minor Threat, and Agent Orange. Pressed on 200-gram vinyl. Limited to 1,500 copies.
BIRTHDAY PARTY "JUNKYARD – ORANGE VINYL"  DPRLP30C (DRASTIC PLASTIC)
Released in 1982, The Birthday Party's final full-length album is some of the most influential music to emerge from the early '80s post-punk
renaissance, full of incessant melodies and anarchic noise. Reissued on Red-Orange wax. Limited to 1500. (2016)
BOOKER T. & THE M.G.'s "SOUL LIMBO"  SXE-009 (STAX)
This classic 1968 Stax album features a band of musicians who were set to become the ultimate soul rhythm section of all time. Here are 11 rarities
and unissued sides from a group of artists with a surprisingly enduring career. Reissue. (2010)
BROOMS "HERE THEY COME!"  GROO-066LP (CHAPUTA)
Hi-quality neo-garage rock performed with a Vox Continental organ, fuzz guitars and voodoo drums. The band hails from the epicentre of Portuguese
rock'n'roll, the city of Barreiro
CARR, JAMES "A MAN NEEDS A WOMAN"  KEND-215 (ACE)
1968 LP REISSUE 16 CUTS FROM U.K. ED.
COCTEAU TWINS "HEAD OVER HEELS – 180-GRAM"  CAD-3709-1 (4AD)
Originally released in late 1983, Cocteau Twins' sophomore album departed from the stark sound of their debut, meshing wordless, dreamlike vocals
with lush, textured guitar. Features "Sugar Hiccup" and "Musette & Drums." Remastered reissue. (2018)
COCTEAU TWINS "STARS & TOPSOIL: A COLLECTION (1982-1990) – 2xLP (GATEFOLD)"  CAD-2K19-1 (4AD)
This 18-track collection gathers the best songs from legendary Scottish New Wave band Cocteau Twins' 4AD years (1982-1990). Includs "Blind Deaf
Dumb," "Pink Orange Red," "My Love Paramour," "Lazy Calm," "Sugar Hiccup," and more. (2000)
COURETTES "Live at Tambourine Studios – 10-inch"  CHR-10002 (CHAPUTA)
Here's Chaputa! Records part in enabling the spread of Courette's syndrome to sweep the world. This FUZZTASTIC thing will keep yon rabble babbling
until the next "studio" instalment. Killer Scandinavian Garage Punk!
CRAMPS "A DATE WITH ELVIS – ORANGE VINYL"  WIKAD-46 (BIG BEAT)
This 1985 outing from the coolest band in the universe asks the question 'How Far Can Too Far Go?' and snaps back with an answer before you can
say 'Aloha From Hell.'
CRAMPS "BIG BEAT FROM BADSVILLE – CREAM VINYL"  WIKAD-210 (BIG BEAT)
Once more the band that dares to be different dives into the Devil's gutbucket and comes up gasping with 14 cuts to push your panic button. Music of
anti-social significance to be enjoyed naked on roller skates, semi-conscious or both.
CRAMPS "BLUES FIX – 10″ EP"  BLUE-1 (BIG BEAT)
Vinyl reissue of The Cramps' 1992 CD single. "Blues Fix" features four cover tracks, three of which are exclusive to the EP: Lightning Slim's "It's Mighty
Crazy," Walter Brown's "Jelly Roll Rock," and "Sheriff & The Ravels' "Shombalor." (2014)
CRAMPS "LOOK MOM, NO HEAD! – RED VINYL"  WIKAD-101 (BIG BEAT)
Dames, booze, chains, boots, two heads, sex change, and that's just the first two little numbers. Slip outa something clinging, and let Lux Interior and
lggy Pop tell you all about their mini skirt blues…but who's wearin' it?
CRAMPS "ROCKINNREELININAUCKLANDNEWZEALANDXXX – COLOR VINYL"  WIKAD-132 (BIG BEAT)
On August 30, 1986, The Cramps played the final night of their 'Date With Elvis' World Tour. The venue was The Galaxy in Auckland, New Zealand.
This official bootleg is available again for the first time since its original pressing in 1987.
CRAMPS "SMELL OF FEMALE"  NED-6 (ACE)
recorded at New York's Peppermint Lounge with Powers on guitar, the quartet slams out a then mostly entirely new set of songs with, as expected,
appropriate covers as needed.
DAMNED "GO!-45 – 180-GRAM / RED VINYL"  HIQLP-030 (CHISWICK)
First punk band to release a single; first punk band to release an album…'nuff said! Chiswick are proud to present a 14-track "Best Of" compilation
featuring all the hits from Stiff, Chiswick, IRS and NEMs. Pressed on 180-gram color vinyl. (2015)
DAMNED "MACHINE GUN ETIQUETTE"  WIKD-333 (ACE)
BRITISH PUNK MUST
DEAD WEATHER "SEA OF COWARDS – 180-GRAM (GATEFOLD)"  TMR-025 (THIRD MAN)
Released in 2010, the critically lauded second album by The Dead Weather (f/ Jack White and members of The Kills, QOTSA, and Greenhornes)
contains "Blue Blood Blues," "Die By The Drop," and nine more blues-rock anthems. Repressed on 180-gram vinyl. (2016)
DEATH IN JUNE "BURIAL – 200-GRAM"  DPRLP73H (DRASTIC PLASTIC)
Released in 1984, the band's second album features studio recordings on the A side and a live recording at Clarendon Hotel in London on October 6,
1983 on the B-side. A true darkwave classic. Reissued on 200-gram black wax. Limited to 1000. (2016)
DUKE, DORIS "I'M A LOSER"  KEND-242 (KENT)
This album is considered by many – including the late Dave Godin – to be the greatest deep soul album of all time. (2010)
ESQUERITA "VINTAGE VOOLA"  NORTON-202 (NORTON)
CRAZY 50'S R&R LITTLE RICHARD'S SCHOOL!
EXTROVERTS "SUPPLE"  BEAT-77 (BEAT GENERATION)
The Extroverts are one of those true punk-power pop gems unknown to the mainstream public, but not forgotten by those who remember their old days
back in 1979-82, when they shared the same bill with the likes of D.O.A, Subhumans & other Canada punk faves
FLAMIN' GROOVIES "FLAMINGO – (GATEFOLD)"  KS-2031 (KAMA SUTRA/NORTON)
Gonna Rock Tonite/Comin' After Me/Headin' For The Texas Border/Sweet Roll Me On Down/Keep A Knockin'/Second Cousin/Childhood's
End/Jailbait/She's Falling Apart/Road House
FLAT DUO JETS "GO GO HARLEM BABY"  TMR-059 (THIRD MAN)
Reissue of Flat Duo Jets' third album, originally released in 1991 on Sky Records. The band's deliciously dirty and rough brand of rockabilly is
unrivaled, and this disc is perhaps their finest. Includes "TV Mama," "Apple Blossom Time," and 14 more.
FLAT DUO JETS "RED TANGO"  ED-250 (NORTON)
CRAZED NEW COLL. OF INSANE INSTRUMENTALS
FLAT DUO JETS "SAFARI"  ED-230 (NORTON)
USA 19 ROCKIN' TRACKS
FUNK INC. "SUPERFUNK"  BGPD-1060 (BGP)
One of two 1973 albums from the then-new pretenders of jazz funk, now finding a whole new dance floor audience for their superfunk sound.
Superfunk is the group's fourth studio album, originally issued on Prestige. Reissue. (2009)

FUNKADELIC "AMERICA EATS ITS YOUNG – 2xLP (GATEFOLD)"  SEW2-029 (WESTBOUND)
Funkadelic's fourth album, originally released in 1972: Equally sleazy, political, heartfelt, and just plain bizarre, America Eats Its Young was, and
remains, one of the few double albums of the 1970s that warranted every single minute of wax.
FUNKADELIC "MAGGOT BRAIN – 180-GRAM / PEACH VINYL (GATEFOLD)"  HIQLP-020 (WESTBOUND)
Funkadelic's 1971 masterpiece, a dark vision of what the future holds articulated through George Clinton's slightly hazy vision and Eddie Hazel's
astounding guitar work. Pressed on 180-gram color vinyl packaged in a gatefold sleeve.
FUNKADELIC "STANDING ON THE VERGE: THE BEST OF FUNKADELIC – 2xLP"  SEW2-151 (WESTBOUND)
This compilation is the very first that looks at Funkadelic's entire career, from their previously unreissued debut 45 for their own Funkedelic (sic) label
through to their chart-topping 45s for Warner Brothers. Features 20 groundbreaking hits. (2009)
FUNKADELIC "TOYS – 12″ EP"  SEWD-133 (WESTBOUND)
This incredible EP is comprised of five previously abandoned Funkadelic tracks, rescued from deep within the Westbound vaults. The collection
includes a storming version of the Parliaments' "Heart Trouble" and the gospel-styled "Talk About Jesus." (2008)
HANOI ROCKS "TWO STEPS FROM THE MOVE – 180-GRAM"  DPRLP90H (DRASTIC PLASTIC)
This fast and furious album opens with CCR cover "Up Around the Bend" and is filled with their biggest hits with songwriting assistance from Ian Hunter
of Mott th
HENTCHMEN "THREE TIMES INFINITY"  ED-294 (NORTON)
MIGHTY DETROIT HENTCHBEAT NEW ALBUM!
IKETTES "FINE FINE FINE"  KENT-063 (KENT)
FABULOUS GIRL R&B SOUL POWER!
JACKSON, MILLIE "CAUGHT UP"  SEW-003 (SOUTHBOUND)
Jackson's reputation was made by the release of Caught Up in 1974 and Still Caught Up in '75. Both albums deal with infidelity; the combination of
spoken word raps and forceful, risque lyrics was to become Millie's trademark for years. Reissue. (2018)
JAMES, ETTA "GOOD ROCKIN' MAMA: HER 1950s ROCK'N'ROLL DANCE PARTY – 180-GRAM / PINK VINYL"  HIQLP-009 (ACE)
Etta James returns to Ace vinyl with this hot rockin', specially conceived compilation of her very best up-tempo sides for Modern Records, recorded
between 1954 and 1958. Fourteen tracks to make you jive, stroll and rock'n'roll from beginning to end!
LaVEY, ANTON SZANDOR "DEVIL SPEAKS (& PLAYS)"  ABERRANT-002 (ABERRANT)
Well known as the founder of the Church of Satan, LaVey was also a skilled musician with a taste for weird, creepy, and old-timey sounding tunes. This
compilation presents six such tracks and a satanic mass recorded in 1968. Limited to 300. (2017)
LITTLE ANN "DETROIT'S SECRET SOUL"  KENT-518 (KENT)
A great Soul album from the vaults of David Hamilton's Detroit studio tapes. A must for rare soul fans of the Wigan Casino dance style.
LOVE & ROCKETS "SEVENTH DREAM OF TEENAGE HEAVEN – BLUE VINYL (GATEFOLD)"  DPRLP59C (DRASTIC PLASTIC)
Love and Rockets' (feat. former members of Bauhuas) 1985 debut combines Bauhaus's signature gothic sound with new, divergent elements of glam rock, pop, and synthpop psychedelics, On opaque red vinyl. Limited to 1,500 copies. (2014)
MANSON, CHARLES "12 CANCIONES COMPUESTAS Y GRABADAS POR – (GATEFOLD)"  M-24025 (MOVIPLAY)
Released in 1970, 12 Songs features a dozen original tracks from the twisted mind of Charles Manson. Ranging from folk to psych to "plain creepy weirdness," these songs have been covered by The Beach Boys, GG Allin, GNR. Reissue. Limited to 300. (2016)
MANTS "BUG ROCK INVASION! – 10-INCH COLOR VINYL"  CHR-10003 (CHAPUTA)
Slack-jawed humans of the planet Earth: prepare yourselves for the "Bug Rock Invasion!" Canada's most reviled rubber-headed garage rock mutants
THE MANTSare back with a new record. 7 new ham-fisted "Slop-o-Sonic" songs recorded straight to tape!
MELVINS "HOUDINI – 180-GRAM (GATEFOLD)"  TMR-295 (THIRD MAN)
Released in 1993, The Melvins' best-selling fifth album was a conscious attempt by the band to make a record that wouldn't alienate their fans while
also be enjoyed by the band itself. Six tracks are produced by Kurt Cobain! Remastered reissue. (2016)
MILKSHAKES "20 ROCK'N'ROLL HITS"  WIKM-20 (ACE)
U.K. MEDWAY GARAGE MUST-HAVE LP!
MORLY GREY "ONLY TRUTH – 2xLP (GATEFOLD)"  LP-5349 (SUNDAZED)
FIRST-EVER LEGITIMATE REISSUE!  After countless boots, this world-renowned hard-psych classic gets the treatment it deserves. This expanded
edition comes to you from the original analog master tapes with the original poster & 7 bonus Trax!
MOTORHEAD "S/T – WHITE VINYL"  WIK-2 (CHISWICK)
In celebration of its 40th anniversary Chiswick presents a special facsimile edition of Motörhead's debut album featuring the silver logo and white color
vinyl from the original 1977 issue. Includes a fully illustrated inner sleeve. (2017)
MOTORHEAD "WHAT'S WORDSWORTH? RECORDED LIVE 1978 – RED VINYL"  WIKM-209 (CHISWICK)
This live album was recoded in 1978 but not released until 1983. Wilko Johnson organized a charity event on Feb. 18, 1978 at the Roundhouse to
raise money to help preserve some William Wordsworth manuscripts. Includes nine killer live tracks. (2017)
NOMAD, NAZ & THE NIGHTMARES "GIVE DADDY THE KNIFE CINDY"  WIK-21 (BIG BEAT)
Recorded by the 1984 incarnation of The Damned, this "imagained 1967 film soundtrack" features 12 songs by influential '60s psych bands, including
covers of "Action Woman," "She Lied," "I Had Too Much To Dream (Last Night)," and more! (2017)
NUMAN, GARY "PLEASURE PRINCIPLE"  BBQ-010-1 (BEGGARS BANQUET)
Released in 1979, The Pleasure Principle is Gary Numan's third studio album and first under his own name. Containing the megahit single "Cars," the
album pushed Numan to superstar status and helped introduce electro-pop to the U.S. Reissue. (2015)
NURSE WITH WOUND "ECHO POEME: SEQUENCE NO. 2 – 200-GRAM"  DPRLP74H (DRASTIC PLASTIC)
Released in 2005, Steven Stapleton's avant-garde masterpiece consists of a single 49-minute track of female vocals spoken, chanted, and looped to
create a haunting meditation and evoke pathos. First pressing on 200-gram vinyl. Limited to 500. (2016)
PARTISANS "S/T – 180-GRAM"  BEAT-42 (BEAT GENERATION)
The Partisans formed in South Wales in 1978. Influenced by bands like The Clash and The Ramones, they released back-to-back 45's in 1981 and '82,
followed by their debut LP in '83. A seminal step for British Punk. Reissue. Limited to 500. (2013)
PAVEMENT "QUARANTINE THE PAST: THE BEST OF – 2xLP (GATEFOLD)"  OLE-900-1 (MATADOR)
This album's 23 fully remastered tracks span the entirety of Pavement's career from 1989 to 1999, from the scratchy and mysterious sounds of their
early vinyl-only releases to the rich, multilayered warmth of their final recordings. (2010)
PIXIES "DOOLITTLE"  CAD-905-1 (4AD)
Second studio album by legendary American indie rock band The Pixies – originally released in 1989. Contains the singles "Here Comes Your Man,"
"Monkey Gone to Heaven," "Debaser," and "Wave of Mutilation." Reissue.
PUBLIC NUISANCE "GOTTA SURVIVE"  TMR-087 (THIRD MAN)
Unreleased for over 20 years, this masterpiece of late-60s, American garage rock is available on wax once again. Sacramento-based Public Nuisance
specialized in gritty, baroque psychedelia that was too hard for the hippies, too poppy for the punks. (2012)
PURE HELL "NOISE ADDICTION – 180-GRAM"  BEAT-59 (BEAT GENERATION)
Pure Hell is the world's first all-Black punk outfit. Formed in Philadelphia in 1974, the group relocated to NYC and later released their sole single,
"These Boots…" (1978). Noise Addiction was recorded the same year but released in 2005. Reissue. (2016)
QINAWI, METQAL "S/T"  AKENAT-001 (AKENATON)
Born in Luxor in 1929, Metqual developed an intense artistic career based on rescuing folk traditions from Southern Egypt. Armed with a rebab
(coconut shell violin), the themes he evokes are pastoral and rural visions and love. Limited to 500. (2017)
QUEENS OF THE STONE AGE "LIKE CLOCKWORK – 2xLP (GATEFOLD)"  OLE-1040 (MATADOR)
Seld-described as "an audio documentary of a manic year," QOTSA's seventh studio album is the band's first full-length collection of all new material
since 2007's Era Vulgaris. Includes the hit single "My God Is the Sun." (2013)
RADIATORS "GHOSTOWN 40TH ANNIVERSITY"  HIQLP2-069 (CHISWICK)
RADIOHEAD "OK COMPUTER – 2xLP (GATEFOLD)"  XL-781-1 (XL)
OK Computer is the third studio album from Radiohead. Released in May 1997, it features the singles "Paranoid Android," "Karma Police," "Lucky," and "No Surprises." It won the Grammy for Best Alternative Music Performance in 1998. Reissue. (2016)
SELLWOODS "EIGHT GREAT SHAKERS – 10-INCH"  CHR-10005 (CHAPUTA)
This 8-song 10″EP is guaranteed to get your hips shakin' and your bones breakin'! EIGHT GREAT SHAKERS delivers the GO-GO ACTION every 60's
cavepunker craves! Every track on this record is hotter than a pocket full-o-firecrackers!!!
SLEEP "SCIENCES – 2xLP (GATEFOLD)"  TMR-547 (THIRD MAN)
Sleep's first full-length album of new recordings since 1998. Years after the release of Dopesmoker in 2003, the sonic titans reaffirm their place at the
top of the riff pyramid with this brand-new double album, The Sciences. (2018)
SMITH, LONNIE LISTON & THE COSMIC ECHOES "EXPANSIONS"  HIQLP-067 (ACE)
SONICS "BUSY BODY!!! LIVE IN TACOMA 1964"  ED-913 (NORTON)
Ferocious Northwest live radio broadcasts from the Tacoma Sports Arena and the Red Carpet
SORE LOSERS "OST – DOUBLE GATEFOLD LP"  CHR-12004 (CHAPUTA)
Hot Rod Juvenile Delinquents From Outer Space come to Memphis to KILL HIPPIES! Shot on 16mm between Tupelo and Memphis in 1996, The
Sore Losers is a Southern Psychedelic Sexploitation Cinematic Romp & Stomp with a killer Lo-Fi Garage/Punk
VARIOUS ARTISTS  "ALIENS, PSYCHOS & WILD THINGS"  ED-289 (NORTON)
RARE & UNISSUED 60'S VIRGINIA GARAGE
VARIOUS ARTISTS  "BELLISSIMA! MORE 1960s SHE-POP FROM ITALY"  XXQLP-056 (ACE)
Comprising soaring big beat ballads, the occasional guitar-driven nugget and other feminine pop gems of the stylish Italian variety, this follow-up to
Ciao Bella shows there's great musical talent beyond the English speaking borders!
VARIOUS ARTISTS  "C'EST CHIC!: FRENCH GIRL SINGERS OF THE 1960s – 180-GRAM / COLOR VINYL"  HIQLP-005 (ACE)
Compilation of classic songs from the '60s French yé-yé era, featuring tracks by France Gall, Brigitte Bardot, Françoise Hardy, and more! Pressed on
180g blonde vinyl in a heavy duty gatefold sleeve.
VARIOUS ARTISTS  "CIAO BELLA! ITALIAN GIRL SINGERS OF THE '60s – 180-GRAM / WHITE VINYL (GATEFOLD)"  HIQLP-025 (ACE)
An incredible 12-track compilation of '60s Italian Girl Pop singers featuring songs by Carmen Villani, Patty Pravo, Rita Monico, Isabella Iannetti, Mina, Nada, Catherine Spaak, and more. (2015)
VARIOUS ARTISTS  "FORT WORTH TEEN SCENE VOL. 1 – (GATEFOLD)"  ED-304 (NORTON)
VINYL VERSION OF TEXAS GARAGE SERIES 1964-1967, FEATURING CYNICS (DIFFERENT!), BARONS,  AND MORE
VARIOUS ARTISTS  "GIRLS WITH GUITARS – 180-GRAM / RED VINYL"  HIQLP-024 (ACE)
This 12-track compilation features groovy guitar-toting all-girl bands Goldie & the Gingerbreads from New York, the Girls from Los Angeles, the Debutantes from Detroit, the Liverbirds from Merseyside, and more! Pressed on 180-gram crimson vinyl.
VARIOUS ARTISTS  "GIRLS WITH GUITARS TAKE OVER! – 180-GRAM / ORANGE VINYL"  XXQLP-051 (ACE)
This 12-track collection of guitar-toting all-girl bands, drop-dead female frat rock, and axe-centric she-pop features Karen Verros' eccentric freakbeat,
the jangly pop of the teenage Chymes, and the raw garage mastery of Girls Take Over. (2017)
VARIOUS ARTISTS  "HATEFUL EIGHT (OST) – 2xLP (GATEFOLD)"  TMR-364 (THIRD MAN)
The soundtrack to Quentin Tarantino's 2015 Western The Hateful Eight features a dedicated score by legendary composer Ennio Morricone as well as
songs by Roy Orbison, The White Stripes, and more. Includes two posters and a 12-page booklet. (2015)
VARIOUS ARTISTS  "I'VE HAD ENOUGH! UNISSUED SIXTIES GARAGE ACETATES VOL. 4"  ED-344 (NORTON)
Blue Embers-Don't Want To See You/Henchmen-Jack Of All Trades/Unknown-Voodoo/Creation's Disciple/Michelle's Menagerie-Stay Away/Unknown-
I've Had Enough/Sideburns-You're No Good/Jagged Edge-Gonna Find My Way/Henchmen-Walk With Me Baby + MORE!
VARIOUS ARTISTS  "LOVIN' MIGHTY FIRE: NIPPON FUNK ∙ SOUL ∙ DISCO 1973-1983 – 2xLP (GATEFOLD)"  XXQLP2-046 (BGP)
Howard Williams (Japan Blues show) curates an incredible 14-track playlist of Nippon soul music from the early '70s to the early '80s. The bluesy funk
of Lily; the soul-diva brilliance of Minako Yoshida; and the sultry steaminess of Mari Natsuki. (2017)
VARIOUS ARTISTS  "MAD MIKE MONSTERS VOL. 3 – (GATEFOLD)"  ED-340 (NORTON)
VARIOUS ARTISTS  "MOD JAZZ – 2xLP / 180-GRAM / ORANGE VINYL"  HIQLP2-011 (KENT)
Mod Jazz delves deep into the Prestige archives (with added tracks from Riverside, Battle, Galaxy, and Fantasy), unearthing 25 classics by jazz masters like Billy Hawks, Cannonball Adderley, Mongo Santamaria, Otis Spann, and Jack McDuff. (2013)
VARIOUS ARTISTS  "PHIL'S SPECTRE: A WALL OF SOUNDALIKES – 180-GRAM / RED VINYL"  HIQLP-043 (ACE)
Phil Spector did not produce the tracks on this LP. They all just sound as if he might have. Spanning the period 1963-67, here are a dozen
convincing mirror images of his Wall of Sound: tracks by Jerry Ganey, Maureen Gray, and The Knickerbockers. (2016)
VARIOUS ARTISTS  "PLANET MOD: FROM THE SHEL TALMY VAULTS – 2xLP / 180-GRAM / RED VINYL (GATEFOLD)"  XXQLP2-052 (BIG BEAT)
Shel Talmy is revered as the producer responsible for distilling the cathartic, kinetic sound of mod rock to disc. Planet Mod gathers two dozen
examples of his work, with tracks by John Lee Hooker, Jay Hawkins, The Untamed, The New Breed and more! (2018)
VARIOUS ARTISTS  "SONS OF CHAPUTA – 10-INCH"  CHR-10001 (CHAPUTA)
8-track comp on 10" red vinyl featuring the wildest sounds from Portugal… That's 8 bands covering 8 garage punk rock "standards" in a way you never
heard before. Act-Ups, Dirty Coal Train, Parkinsons, Jack Shits, D30, Bruto & the Cannibals +
VARIOUS ARTISTS  "SONS OF CHAPUTA VOL. 2 10-INCH COLOR VINYL"  CHR-10006 (CHAPUTA)
Original songs from The Ideals, The Journeymen's, Thee Headcoatees, 13th Floor Elevators, The Creeps, The Wanderer's Rest, Murphy & The Mob
and The Deviants covered by 8 bands we love incl: WATER DANIELS, FLAMING SIDEBURNS, ROUTES, LA SECTA, SMOGGERS etc
VARIOUS ARTISTS  "SOUTHERN FUNKIN': LOUISIANA FUNK & SOUL 1967-1975 – 2xLP"  BGP2-168 (BGP)
While Louisiana was best known for producing zydeco blues and "swamp pop," it has an equally rich funk heritage. BGP collects 22 of the state's finest
R&B cuts from the '60s and '70s, including songs by Tabby Thomas, Bill Parker, and Eddy Giles. (2005)
VARIOUS ARTISTS  "TRAIN TO NOWHERE! UNISSUED SIXTIES GARAGE ACETATES VOL. 3"  ED-343 (NORTON)
Fanatics-Woman/Noblemen-I'm Gone/Dave And The Wanderers-My Heart Is In Pain/Six Minus One-Fun And Games/Bedlam's Offspring-I'll Be
There/Wombats-Hey/Method-Free As The Wind/Muphets-One Thing/Juveniles-Let Me Tell You Girl/Fanatics-Bitter Bells + MORE!
VARIOUS ARTISTS  "YOU TORE MY BRAIN! SIXTIES GARAGE ACETATES VOL.  5"  ED-362 (NORTON)
Clobberin' fifth volume of brutal unissued garage crunchers by the Fanatics, Pharaohs, Invictas, IVbidden, Sir Winston and the Commons, mo'!
VELOSO, CAETANO "S/T"  TMR-548 (THIRD MAN)
"…one of the most revolutionary albums released into the worldwide tumult of the 1960s." – Pitchfork
VELVET UNDERGROUND & NICO "S/T (BANANA COVER) – (GATEFOLD)"  VERVE-5008 (VERVE)
GATEFOLD JACKET
WAILERS "LIVEWIRE!!!"  NW-904 (NORTON)
1965-67 BEST OF COLLECTION+RARE PICS…
WASHINGTON, GINO "OUT OF THIS WORLD"  ED-268 (NORTON)
1ST EVER COLL. '62-64 DETROIT SOUL STOMP
WEISS, MARY W/REIGNING SOUND "DANGEROUS GAME"  ED-323 (NORTON)
First ever solo album from the original lead singer of the Shangri-Las! Thirteen original songs plus a cover of the Shangs' Heaven Only Knows! Backed
by the Reigning Sound – more details to come next time!
WHITE STRIPES "ICKY THUMP – 2xLP / 180-GRAM (GATEFOLD)"  TMR-162940 (THIRD MAN)
The White Stripes Icky Thump On 180g 2LP Set From Warner Brothers Records
WRAY, LINK "EARLY RECORDINGS"  CH-6 (ACE)
Second longest running title in the Ace catalogue and deservedly so for the King of the KERRRRRANNNNGGGGGGGGG Guitar.
YOUNG JESSIE "HIT, GIT & SPLIT – 180-GRAM / GREY VINYL"  HIQLP-027 (ACE)
An updated version of the seminal 1982 Ace album from the still active Young (Obediah) Jessie, featuring rockin' rollin' R&B as sharp as the crease on a well-tailored pair of peg pants. Pressed on 180-gram color vinyl. (2015)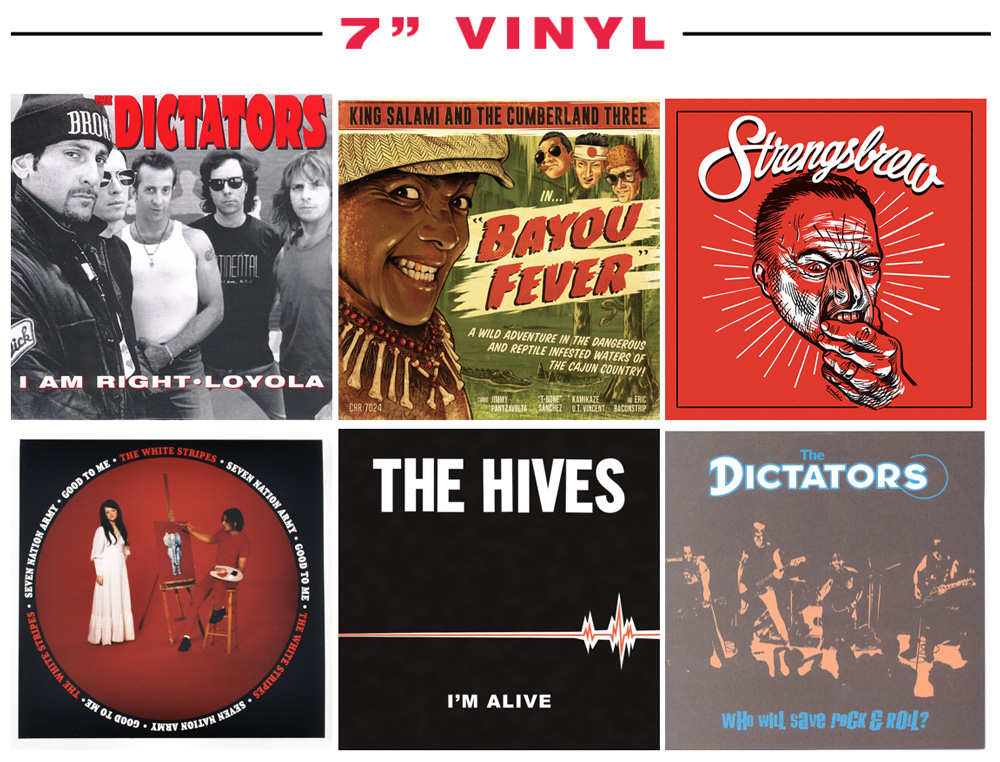 BROOMS "DIRTY MINDS EP"  CHR-7022 (CHAPUTA)
Hailing from Portugal's rock capital Barreiro, The Brooms have a new EP out. Dirty Minds is a pure rock'n'roll song – fast, furious and electrifying –
while She's In Love unveils the bands' mellow side, in a song that's as sweet as sour.
C.J. & THE CASUALS "STUDY HALL/ZOMBIE"  ED-45-871 (NORTON)
Over the top deranged newly discovered obscuro single! Leering JD vocals and torrid instro! Truly bent!!!
CHURCH KEYS "OOGY WAWA/ALE UP"  ED-45-078 (NORTON)
MONKEY BEAT NON-LP JUNGLE CALAMITY
CURLEE WURLEE "C'est Destructif EP"  CHR-7011 (CHAPUTA)
CURLEE WURLEE!'s brand new EP featuring a DANCEFLOOR-KILLER in French and three more in English consisting of a power pop punk song, a
punkabilly and a for a change, a quite moody tune as number four.
DICTATORS "I AM RIGHT / LOYOLA"  ED-45-052 (NORTON)
NEW YORK R&R LEGENDS ARE BACK W/A BANG!
DICTATORS "WHO WILL SAVE ROCK AND ROLL? / SAVAGE BEAT"  ED-45-071 (NORTON)
LATEST SINGLE BY NYC VETERAN PUNKROCKERS
FOGGY NOTIONS "NEED A LITTLE LOVIN' / TAKE ME BACK AND HOLD ME – BLUE VINYL"  DJ-501CV (SUNDAZED)
"Take Me Back and Hold Me" is a beyond-frantic rocker supercharged with wild guitar and wailing harmonica, while "Need a Little Lovin'" is a perfectly-
moody folk-rocker drenched with electric guitars. Great '60s-era-Chicago garage floor-fillers! (2016)
HIVES "I'M ALIVE / GOOD SAMARITAN"  TMR-626 (THIRD MAN)
It's been nearly two decades since the Swedish rock-n-roll heroes The Hives unleashed their debut album on the world and almost 5 years since new
music has been released.
JOLLY GREEN GIANTS "BUSY BODY/CAUGHT YOU RED HANDED"  ED-45-829 (NORTON)
BRUTAL SONICS STYLE NW POUNDEROOS!
KING SALAMI & THE CUMBERLAND THREE "BAYOU FEVER EP"  CHR-7024 (CHAPUTA)
Brand new blasting 7″ featuring Bayou Fever on side A (taken from Kiss My Ring LP) and Supersonic an amazing instrumental as B side. Satisfaction
guaranteed!
LOLA LOLA "KILLED A MAN IN A FIELD/SOMEBODY'S ALWAYS TRYING"  CHR-7020 (CHAPUTA)
With their roots in the ever pulsating and innovative creative movement in the city of Porto, LOLA LOLA were formed in 2014, from the union of a very
experienced and tested musical trio.
MAHARAJAS "OPPOSITES ATTRACT/OVERLORD"  CHR-7018 (CHAPUTA)
You think you've heard garagerock and knows all about it – but as people say, "You ain't heard nothin' yet"
This new 7" of The Maharajas it's all power, guts and thoughts from one of the most brilliant bands out of Sweden
OBLIVIAN, JACK & THE SHEIKS "Every Little Thing Goes Wrong EP"  CHR-7016 (CHAPUTA)
Great 4-song Ep. Side A recorded by Keith Cooper at What Ever It Takes Studio and mixed by Andrew McCalla at Bunker Audio. Side B recorded and
mixed by Andrew McCalla at Bunker Audio
SELLWOODS "Two Stroke Smoke EP"  CHR-7017 (CHAPUTA)
Latest slab-o-wax recorded by Portland, Oregon's notorious 60's garage-hot rod-punkers from Portland. Recorded hot'n'wild and lo-fi down in the
basement by Davey (Berkham) Sellwood. We are certain these blisterin' four tracks will fry yer noggin!
SMOGGERS "YOU CAN LISTEN/TU YA DEBES CAER"  CHR-7012 (CHAPUTA)
New single feat. Two fuzzy hits by Malaga, Spain Garage-trash duo! YOU CAN LISTEN, written by Fernando Smogger and TÚ YA DEBES CAER,
based on Crimson Shadows' song "You Can't Come Down"
STRENGSBREW "I DON'T NEED MYSELF/BE MYSELF AGAIN"  CHR-7023 (CHAPUTA)
Great debut single by new supergroup feat. KEITH STRENG (The Fleshtones), ROBERT ERIKSSON (The Hellacopters), MANS MANSON (The
Maggots), JIM HENEGHAN (The Solution)
VARIOUS ARTISTS  "LYRES & NEW CONOLLY FIVE – SPLIT"  ED-45-9648 (NORTON)
ROLLING STONES 45: GOT A WITNESS/STONED
VARIOUS ARTISTS  "PARKINSONS / KING SALAMI & CUMBERLAND 3 – SPLIT SINGLE"  CHR-7013-14 (CHAPUTA)
4 track gatefold double 7″ packed with a fantastic illustration by our pal Rui Ricardo
inspired on the movie King Kong
VARIOUS ARTISTS  "SMOGGERS / SATELLITERS – SPLIT DOUBLE SINGLE"  CHR-7008-9 (CHAPUTA)
The Smoggers and The Satelliters bring up two new songs from each band for this special Double single. Get ready to be amazed! This 4 track
gatefold double 7″ packed with a fantastic illustration by the great Rui Ricardo.
VELVET UNDERGROUND "SINGLES 1966-69 – 7×7″ BOXSET"  S-7002 (SUNDAZED)
A seven-disc box set honoring the legendary New York combo's 7" vinyl output in their rare mono versions. The set features exact reproductions of
Velvet Underground singles, two of them with their original picture sleeves! New liner notes by David Fricke
WHITE STRIPES "DEAD LEAVES AND THE DIRTY GROUND / STOP BREAKING"  TMR-170 (THIRD MAN)
WHITE STRIPES "SEVEN NATION ARMY / GOOD TO ME"  TMR-262 (THIRD MAN)
WILD EVEL & THE TRASHBONES "OUTLAW/LEAVE ME ALONE"  CHR-7021 (CHAPUTA)
Two new instant garage punk classics by Vienna, Austria killer band formed by The Incredible Staggers singer with members of former teenbeaters The
Roadrunners
WILDE, GARY "KEEP ON WALKING E.P."  GROO-0117EP_CH7-004 (CHAPUTA)
Former band manager Gary Wilde's bone-chilling four-song EP features two live recordings captured in L.A. in the late '80s coupled with a duo of new
covers backed by the legendary Fuzztones. These latter tracks pay homage to Music Machine and Penthouse V.
YOAKAM, DWIGHT "TOMORROW'S GONNA BE ANOTHER DAY (LIVE) / HIGH ON THE MOUNTAIN OF LOVE (LIVE)"  TMR-363 (THIRD MAN)
Country legend Dwight Yoakam took to Third Man's studio to record two of the swingin'est covers yet heard in the Blue Room: "Tomorrow's Gonna Be Another Day" by The Monkees b/w "High On The Mountain Of Love," popularized by The Beach Boys. (2016)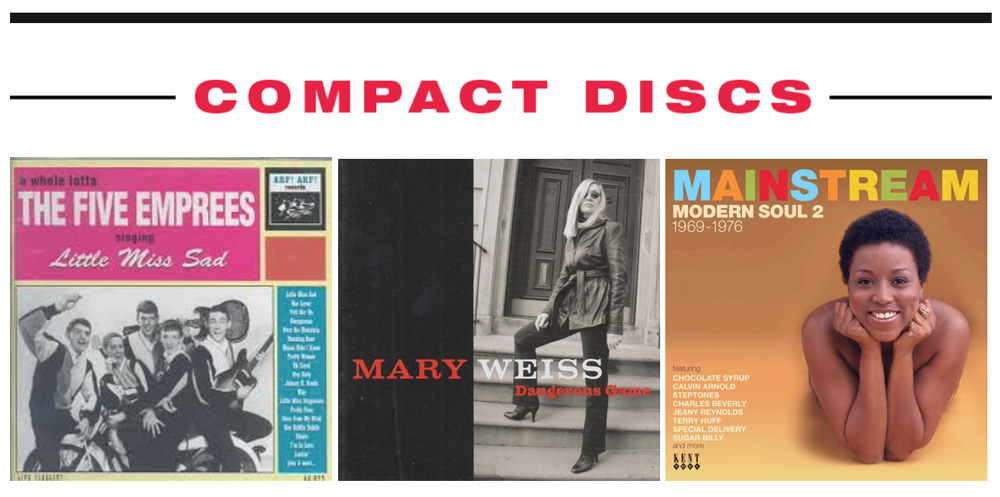 CHOCOLATE WATCHBAND "MELTS IN YOUR BRAIN…NOT ON YOUR WRIST – THE COMPLETE RECORDINGS 2CD"  CDWIK2-249 (BIG BEAT)
GATHERS EVERY NOTE RECORDED & RELEASED  DURING THE 60'S BY THIS DEFINITIVE SAN JOSE PSYCH-PUNK OUTFIT. 44 TRACKS IN
ALL – 2 CDS!
ESQUERITA "VINTAGE VOOLA"  CED-202 (NORTON)
WILDEST PIANO POUNDIN' R&B, NON-LP CUTS!
FIVE EMPREES "LITTLE MISS SAD – COMPLETE STUDIO RECORDINGS 1965-1968"  AA-095 (ARF ARF)
COMPLETE 60'S STUDIO OUTPUT FROM THIS BENTON HARBOR, MI, TEEN GARAGE COMBO. FULL ALBUM PLUS SINGLES AND RARE  OUTTAKES
HILLS, GILLIAN "ZOU BISOU BISOU: TOUT EN FRANCAIS: THE YE-YE YEARS 1960-1965"  CDTOP-1507 (ACE)
"British Bardot" Gillian Hilll was a young, rising star in the '60s yé-yé scene. Encompassing sentimental ballads, beaty numbers plus Hill's own well-
crafted compositions, this 24-track "best of" comprises original material and covers. (2017)
POWDER "KA-POW!: AN EXPLOSIVE COLLECTION 1967-68"  CDTOP-323 (BIG BEAT)
A 26-track retrospective of Brit-influenced San Francisco trio Powder's late '60s output. Powerpop and freakbeat nuggets 'Turn Another Page', 'Gladly'
and 'Magical Jack' indicate what an unusual and accomplished group Powder was. Fully remastered.
VARIOUS ARTISTS  "MAINSTREAM MODERN SOUL 2 1969-1976"  CDKEND-468 (KENT)
These 23 tracks maintain Mainstream's quality '70s soul reputation with a spread of classic songs by Charles Beverly, Randolph Brown, Special
Delivery, Chocolate Syrup, Alice Clark, Sugar Billy, Calvin Arnold, Linda Perry, and more! (2017)
VARIOUS ARTISTS  "MOD JAZZ AND THEN SOME!"  CDKEND-416 (KENT)
This compilation gathers 24 obscure jazz, blues, and latino charts from the heart of Black America – a bevy of rare classics rescued from the Prestige
archives. Features tracks by Etta Jones, Shirley Scott, King Curtis, Googie Rene, B.B. King, and more!
VARIOUS ARTISTS  "YET MO' MOD JAZZ"  CDKEND-184 (KENT)
Kent returns with another 26-track helping of 1960s Mod Jazz and Club classics featuring tracks by Ray Charles, Herbie Mann, King Curtis, Mose
Allison, Esther Phillips, Jackie Ivory, Mel Torme, Dave Pike, Lavern Baker, and more. (2000)
WEISS, MARY W/REIGNING SOUND "DANGEROUS GAME"  CED-323 (NORTON)
First ever solo album from the original lead singer of the Shangri-Las! Thirteen original songs plus a cover of the Shangs' Heaven Only Knows! Backed by the Reigning Sound – more details to come next time!

IF YOU HAVE ANY QUESTIONS, PLEASE CONTACT US
orders@gethip.com | Phone: 412-231-4766
Get Hip Recordings
R.J. Casey Industrial Park
1800 Columbus Ave.
Second Floor
Pittsburgh, PA 15233 (USA)
(store located on the second floor)
Our store is now open Monday through Saturdays 10 am to 6 pm!
MUST WEAR MASK!