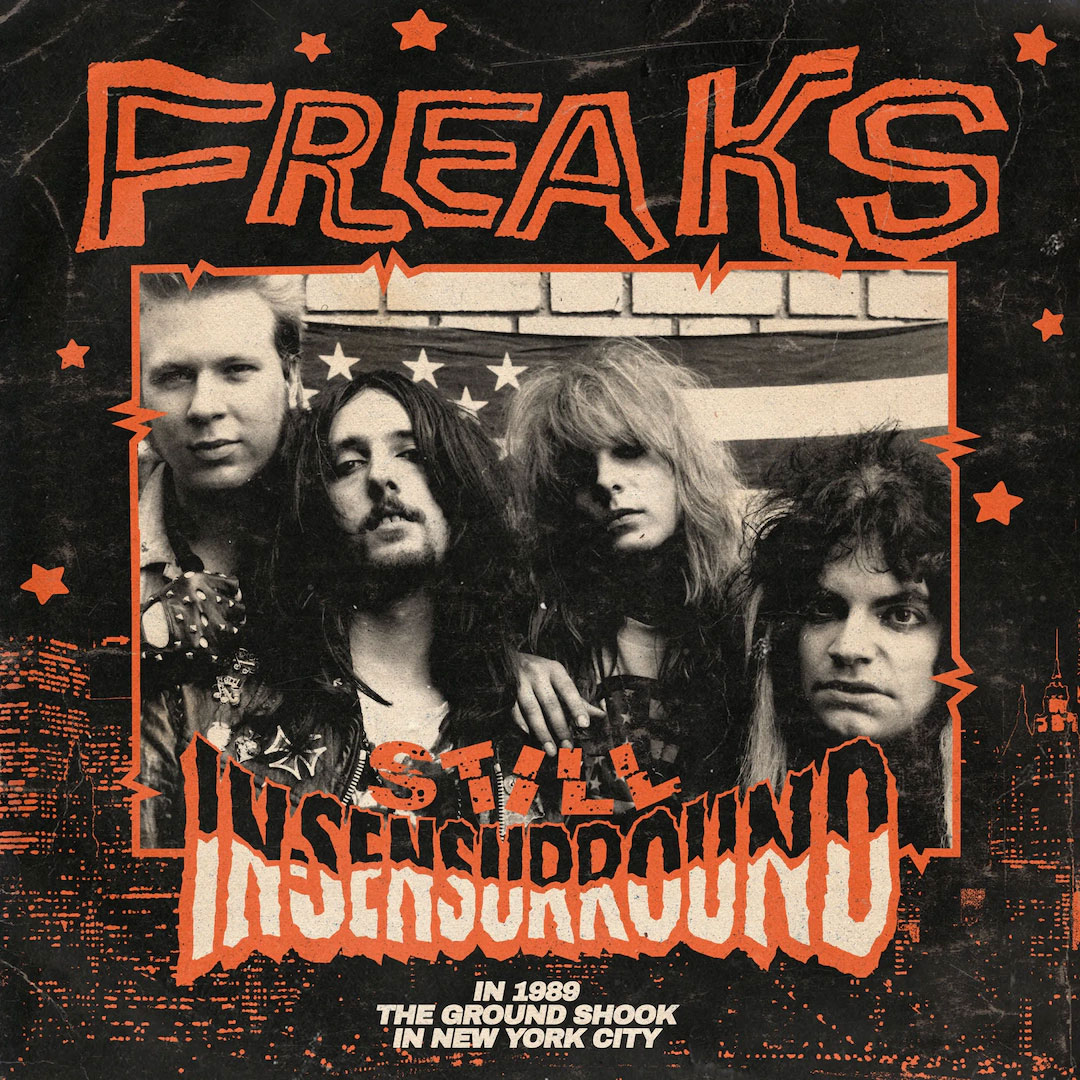 FREAKS "STILL IN-SENSURROUND"
DOUBLE LP GATEFOLD
Deluxe extended Reissue of seminal LP from female-fronted essential underground New York City band feat. Howie Pyro that existed 1986-1989 and remains a vital Missing Link between the previous underground scene and the Alt-rock explosion of the 90s.
Release date: April 28, 2023
Freaks – yes, no "The" – were an important underground New York City-based Rock and Roll band that grew out of the late-1970's and early-1980's Punk and Garage scenes. They existed between 1986 and 1989 and today remain a vital Missing Link between what was in that previous underground and what would soon become the Alternative Rock Explosion of the Nineteen Nineties.
This female-fronted – a rarity in those years – band was composed of seasoned veterans. Lead vocalist/rhythm guitarist, Andrea Matthews Kusten (ex-The Outta Place, future-Fuzztones); bassist Howie Pyro (ex-The Blessed, future-D Generation and Danzig); lead guitarist, John Fay (ex-The Tryfles); and drummer Eric Eckley comprised the classic lineup. Musically, they fused their deep and deeply-shared Punk, Garage, Psychedelia, Acid, Glitter, Thrash, Proto-Metal and trash/pop culture obsessions into one cohesive sonic package they branded, Heavy Orange Rock. Live, they were a glittery, grimey shock troop. Like their heroes Kiss, they wanted to be the band you never saw.
Freaks played every room in the Tri-State area, often with notable local and national bands – Raging Slab and Soundgarden, included. As they were fans-first, they helped kickstart the careers of many others – most notably the then-teenaged Lunachicks, who have recently reunited. They released one self-financed 7" EP as well as the In-Sensurround LP on Resonance records. Sadly, the band imploded soon after the LP's release due to the pressures of having too many lineup changes in too short a period of time. Howie, Andrea and John all moved on to different projects while Eric retired from performing. Unfortunately, Howie – who in decades since had become a globally-respected DJ and museum-status pop culture collector/curator – passed away in Two-Thousand Twenty-Two. His vast collection is now in storage with bills that now need to be paid.
To honor that legacy, Andrea and John assembled and released the brand new, limited edition "Still In-Sensurround" retrospective 2xLP on their own Orange Productions with nearly all material taken from the master tapes. It covers everything they ever recorded – including their mind blowing Pippi Skelter mini-opera – which was only available on cassette – as well as their contribution to the long-lost Shonen Knife tribute album on Gasatanka records. All proceeds from the record go to Howie's estate, which seeks to preserve his legacy intact.
Freaks debut also available on CD: