Best Reason* to Go to SXSW: Get Hip!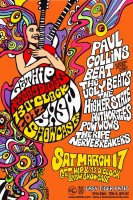 * Besides the 4-day Blurt/Dogfish Head party at Ginger Man, of course!
By Fred Mills
One Austin tradition we observe every year is closing SXSW with the annual showcase from our friends at Get Hip Records. I mean, seriously – what better way to blow out the remaining synapses prior to hopping a flight home than with some kickass garage and psych? (Check out our 2011 coverage of SXSW – the Get Hip bash is reviewed at the end.)
This year looks to be no different – glom onto the poster above and the roster below, and then see if you can come up with a better option for Saturday night. And if you do, don't bother telling me, 'cos I'm already queued up outside the Easy Tiger patio and won't be able to year ya!
Pittsburgh legendary garage label is back to SXSW with an outstanding 7-band lineup showcase that features an unbelievable range of artists. Here's the scoop:
Nervebreakers (Dallas, TX) Legendary Texas punk-rock band, most popular for their tremendous punk anthem "My Girlfriend Is A Rock". Featuring original lineup! The band's new collection of hits  "Hijack The Radio" will be out on Get Hip this Spring.
The Ripe (Austin, TX) "Into Your Ears" is The Ripe's debut full-length album; a record which is colorful in sound and blends into many shades of power pop, folk, and psychedelic rock. The recordings were actualized at Circo Perrotti studios in Gijon, Spain with vintage Abbey Road/BBC gear where the band indulged in free musical fantasy and wild expression. Please turn it up!
Pow Wows (Toronto, Canada) Killer punk-rock/garage-psych quartet! Their acclaimed Debut album "Nightmare Soda" is out now on Get Hip!
The Higher State (Kent, UK) Featuring members of The Embrooks and Mytreated, this British Garage-psych quartet presents their latest and greatest album, out now on 13 O'clock Records.
The Ugly Beats (Austin, TX) Austin's undisputable kings of Garage Rock! Their 3rd (and best album to date) for Get Hip, "Motor!", is out now!
Paul Collins Beat feat. Peter Case (NYC, NY / L.A., CA) two power-pop legends playing together again! Set list will include songs from The Beat – a few from the recently reissued "The Kids are the Same" on Get Hip- plus favorite tracks from The Nerves and The Plimsouls!
The Authorities (Vancouver, Canada / Stockton, CA) Legendary California punk-rock of Killed by Death fame! Their fast and furious songs always have really great lyrics and unforgettable melodies. In their brand new album on Get Hip "Kung Pao A Go Go" they prove they have not lost an ounce of the fire that made them stand out in the first place. Featuring Original lineup!