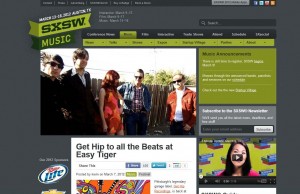 Pittsburgh's legendary garage label, Get Hip Recordings, is back at SXSW with an outstanding 7-band lineup showcase on Saturday the 17th on the Easy Tiger patio, anchored by the Paul Collins Beat featuring Peter Case. These two power-pop legends first played together in the mid-70's band The Nerves. Paul later formed The Beat and Peter started The Plimsouls. Their set list will include The Beat songs – a few from the recently reissued on Get Hip The Kids are the Same– plus Nerve and Plimsouls tracks!
From Dallas, legendary punk-rock band Nervebreakers, most popular for the anthemic "My Girlfriend Is A Rock," featuring their original lineup! The band's latest album on Get Hip Hijack The Radio will be out this Spring. Another veteran band with its original lineup: The Authorities, the legendary California punk-rock of Killed by Death fame! . In their brand new album on Get Hip Kung Pao A Go Go they prove they have not lost an ounce of the fire that made them stand out in the first place.
Adding to the fun on this night, The Ugly Beats, Austin's undisputable kings of Garage Rock. Their 3rd album for Get Hip –Motor!– is out now. Two bands with debut albums to preview: The Ripe from Austin and Toronto's Pow Wows. Featuring members of The Embrooks and Mytreated, the British Garage-psych quartet The Higher State presents their latest and greatest album on 13 O'clock Records.
It all adds up to a rockin' night of fun March 17th out on the patio at Easy Tiger. Register now to discover a world of music at SXSW 2012.